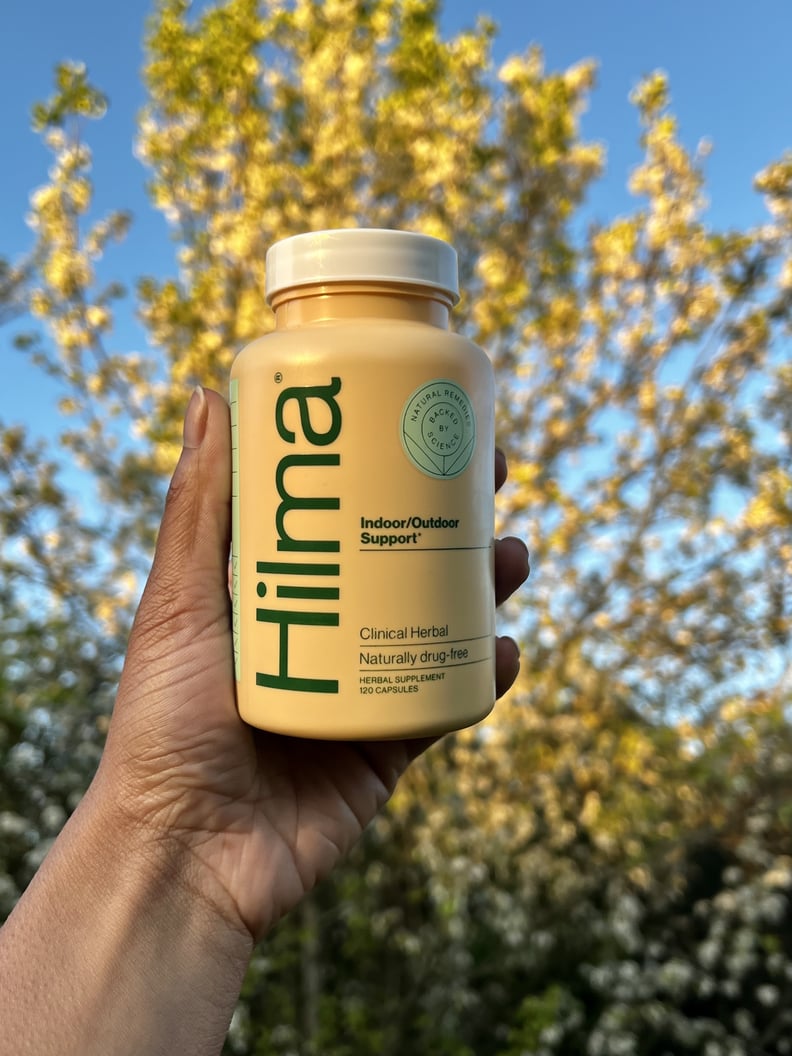 POPSUGAR Photography | Anvita Reddy
POPSUGAR Photography | Anvita Reddy
As POPSUGAR editors, we independently select and write about stuff we love and think you'll like too. If you buy a product we have recommended, we may receive affiliate commission, which in turn supports our work.
As the weather gets warmer and the florals start to bloom, there's nothing more uplifting than enjoying the outdoors in the springtime. Unfortunately, I deal with pretty bad allergies. From the constant sneezing and stuffy nose to the watery eyes and feeling all-around irritated and itchy, springtime allergies are the bane of my existence. Instead of enjoying the decent weather, I barricade myself indoors to keep away from pollen and freshly cut grass. It's not like I can carry an air purifier with me in the great outdoors. As much as I love the outdoors, I can take the hint that love is sadly not reciprocated. After hearing about Hilma's Indoor/Outdoor Support herbal supplement ($30), I jumped at the chance to test it out. It provides daily sinus support for common irritants like pollen and dust.
I have a fleet of medications to help me during my dreaded springtime allergies — Zyrtec, Claritin, Allegra, Benedryl, you name it, I've probably tried it out. Some of these don't work for me at all, and others help out a lot. But there's always a side effect that nearly outweighs the benefits — drowsiness. Hilma's Indoor/Outdoor Support herbal supplement is a nondrowsy solution to sinus irritation. It contains four research-backed herbal ingredients: nettles, PA-free butterbur, Tinospora, and spirulina. The brand's site claims that nettles provide daily sinus support for common irritants like pollen and dust; butterbur helps with sinus functions and response, specifically around the nasal pathway; Tinospora helps the overall immune system to stimulate macrophages that aid the body's ability to respond to seasonal transitions; and spirulina helps to promote clear breathing and overall sinus support. It's clean, gluten-free, and vegan as well!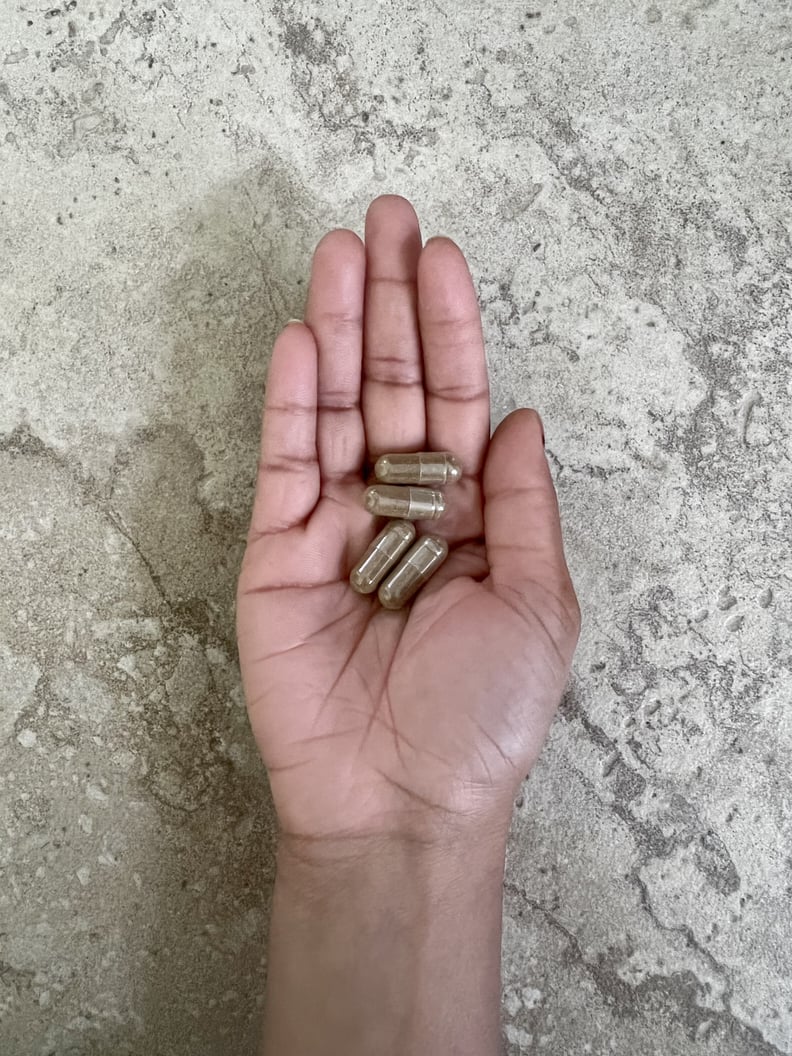 The directions say to take two capsules twice daily, once in the morning and once in the evenings — that's a total of four capsules daily. These pills are on the larger side, so I like to take them with a giant gulp of water. For the first few weeks, I took two in the morning before my tea or coffee and two right before bedtime. To truly test them out, I took these without my other allergy medications. From day one of using the supplements, I noticed a subtle but quick change. My eyes weren't watery, and my nose didn't feel irritated or stuffy. In fact, I barely had to sneeze all day. I can breathe easier and enjoy the outdoors without constantly feeling itchy and irritated. It felt like a regular day without dealing with allergies and irritants as well as drowsiness. The herbal supplements really kept my allergy symptoms at bay. I was truly shocked by how well it worked, and that too in comparison to the leading over-the-counter allergy medications.
Now that I knew these supplements work, I wanted to test out if I really needed to take four a day and if it's something I can take when needed rather than on a scheduled regimen to reap the benefits. I usually get allergies in the daytime rather than the nighttime, so for around a week or two, I only took two capsules in the morning and none at night. The results were pretty much the same. It diminished the feeling of irritation and stuffiness from the springtime allergies. I was able to even skip days when I didn't feel any allergy symptoms in general. Based on this, I'd say you can take the Hilma Indoor/Outdoor herbal supplements on a need-to-serve basis rather than as part of an everyday regimen.
If you're dealing with springtime allergies or dust allergies, the Hilma Indoor/Outdoor herbal supplement will help you breathe much clearer all year round. These work for me just as well as over-the-counter medications. They're perfect for those who want a nondrowsy alternative to diminishing the feeling of stuffiness and general irritation from your environment.
Ratings:
★★★★★