Laverne Cox Protects Her Mental Health Amid Anti-Trans Bills
Laverne Cox on Safeguarding Her Mental Health Amid Anti-Trans Legislation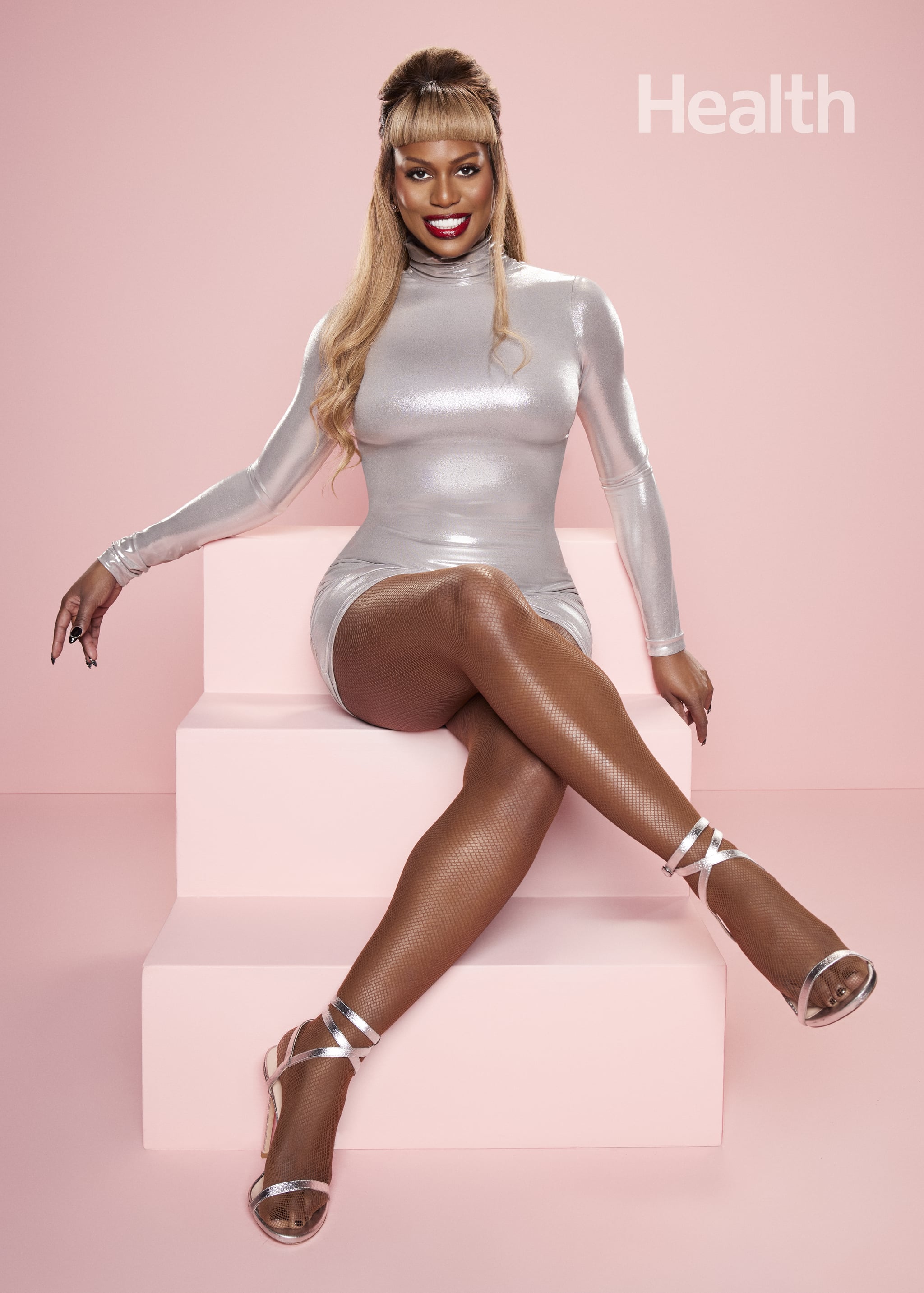 Laverne Cox on Health magazine's April 2022 issue. On sale March 11. Photo Credit: Chrisean Rose
Actress Laverne Cox has been a longtime advocate of transgender rights. But legislative attacks on the trans community have been tough to grapple with lately. "It's a miracle that I'm a Black transgender woman from Mobile, Alabama, who has managed to not just survive, but thrive," she told Health magazine in its April 2022 issue.
In the first week of 2022 alone, NBC News reports that lawmakers in at least seven states proposed anti-trans bills, and last month, Texas Governor Greg Abbott pushed to criminalize gender-affirming medical care for transgender youth as "child abuse." (Texas officials are already investigating parents of trans youth, and Texas Children's Hospital stopped prescribing hormone therapies.)
"I think of the violence against trans people—it has really [messed] me up," Cox told Health. She pointed to anti-trans bills introduced just last year that fail to even use the word "transgender" and by doing so, she said, "erases us as trans people." The "Orange Is the New Black" and "Inventing Anna" star continued to say that she's had to preserve her mental well-being in the face of that erasure.
"I'm responsible for my mental health. I'm responsible for how I respond or don't respond to trauma," Cox said. "I can have compassion for myself and grace for myself. I think we can simultaneously acknowledge systemic oppression and inequities and also say, 'In the face of this systemic oppression, what is my part in bettering my life? Bettering my mental health?'"
"My therapist defines trauma as too much too fast, or too little for too long."
Aside from taking news breaks at times, Cox has learned to embrace joy, referencing the act of resourcing — one of the six skills she says the Trauma Resource Institute's Community Resiliency Model lays out (note: she refers to the Trauma Resource Institute as the "Trauma Research Institute" in the interview). "[R]esourcing is just really about that thing that makes you feel good in your life. It might be a song. It might be the thought of a person. I'll think about my boyfriend cooking breakfast for me and I just light up inside," she explained. "We have to lean into those things that bring us joy. And the things that don't, we need to let them go to protect our mental health."
Cox also attends therapy, which she said helps her avoid being retraumatized when she's reprocessing past trauma. "You don't want to flood yourself revisiting that trauma because that can keep you from healing — you have to go slowly. My therapist defines trauma as too much too fast, or too little for too long."
In terms of grounding herself, Cox relies on breathing, feeling her feet on the floor, the smell of vanilla or lavender (POPSUGAR editors like this technique, too!), and putting on a fuzzy robe or rubbing her arms. It's about finding what can soothe her and let her body "know it's safe."