Zumba is one of those workouts where you're having so much fun that it doesn't feel like exercise at all. And you're not even thinking about the fact that it's an amazing cardio workout for your heart, it's scientifically proven to lift your mood, it tones your abs, legs, and arms, and it burns a crazy amount of calories. All you care about is that it's an hour-long dance party where you get to move your body to invigorating, sensual Latin beats.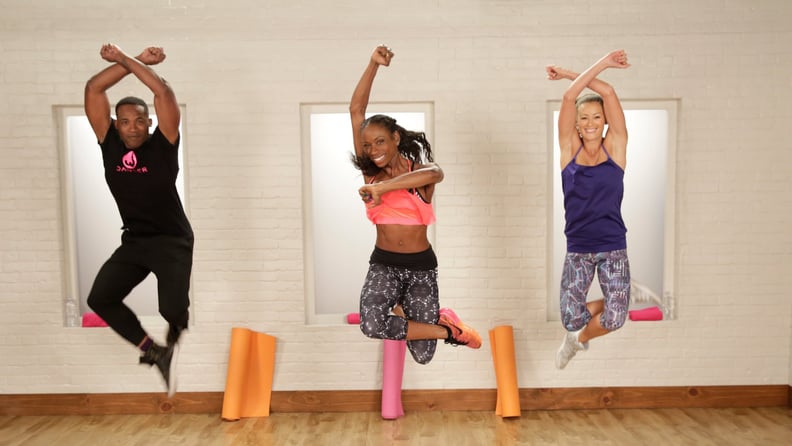 But let's get back to the calories for a second. While doing her salsa, samba, and merengue moves for an entire 60 minutes, a 150-pound woman ends up burning 599 calories! If you're 130 pounds, you'll burn 519 calories, and a 170-pound woman will burn 679.
Holy calories! That's almost as many as you'd burn on a 60-minute run (680 calories). And that's just doing moderate intensity. If you kick it up a notch and really get into it, you can burn more calories and build more muscles.
Our senior Fitness director, a Zumba regular, has tracked her weekly caloric burn using a heart rate monitor with a chest strap, and she regularly burns more calories in an hour of Zumba than she would running a 10-minute mile for an hour. She says this is because "you're moving your entire body in multiple planes of motion, not just front to back like you do in running, so you're recruiting a larger variety of muscles." She adds not to discount the effort needed to wave your arms overhead to the beat for multiple songs.
Here's how to boost the intensity and burn even more calories in your next Zumba class: try the high-impact versions of each move, so jump higher, squat and lunge lower, move those arms more, and just overall really get into it. The more fun you're having, the more calories you'll burn!