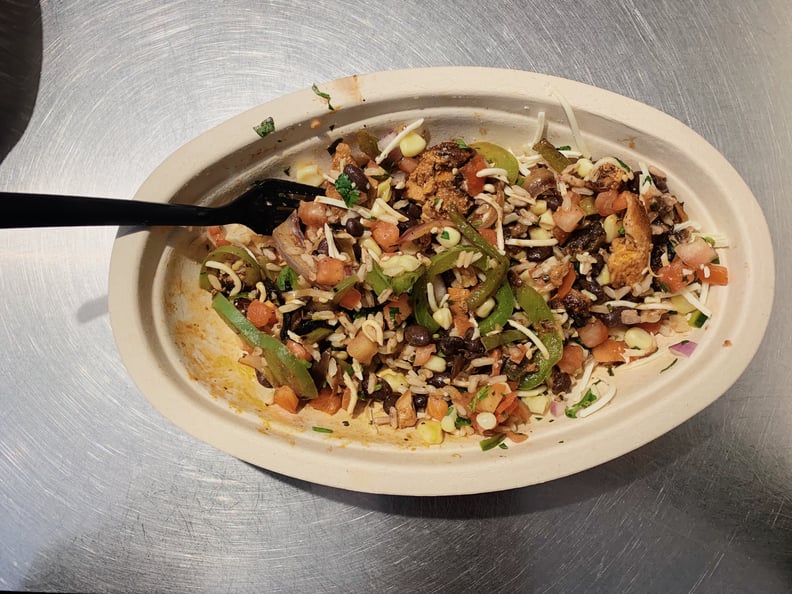 POPSUGAR Photography | Tamara Pridgett
POPSUGAR Photography | Tamara Pridgett
When I was a senior in high school, I was addicted to Chipotle (probably because I was ballin' on a budget). I ate there at least once a week with my then-boyfriend, and I vividly remember thinking I was so cool; I wasn't.
I'm happy to report that my cooking skills have improved tremendously since I was in high school. So good that I now cook 90 percent of my meals. But whenever I find myself not in the mood to cook or trying to get through an insanely busy week, I make my life slightly easier by grabbing food on the go.
I have my favorite healthy spots in New York City, but if I can't get to them, I'll stop at Chipotle. If you think you can't eat healthy at Chipotle, you're wrong. Check out my tried-and-true order ahead.
My Healthy Chipotle Order
I always opt for a burrito bowl, which means there's no tortilla. If you like the tortilla, ask for it on the side.
Next, I get brown rice (approximately 210 calories per serving) and black beans (approximately 130 calories per serving).
For my main protein, I usually get chicken (approximately 180 calories per serving), but sometimes I can't resist the barbacoa (approximately 170 calories per serving).
To top off my bowl, I ask for pico de gallo (approximately 25 calories), corn (approximately 80 calories), fajita vegetables (approximately 20 calories), and the smallest amount of cheese every blue moon.
I told you it's possible to eat healthy at Chipotle! Try this the next time you go, or put your own spin on this healthy bowl.