How to Indulge on Vacation Without Busting Your Bikini
You worked so hard to get your body slim and sculpted for your Summer vacation. And now that you've made it to your sunny and sandy destination, you're ready to slip off your cover-up, plop yourself onto a lounge chair, and sip a fruity cocktail. Go ahead, you deserve to do whatever you want and enjoy yourself, but before you do, here are some ways you can live it up without letting yourself go.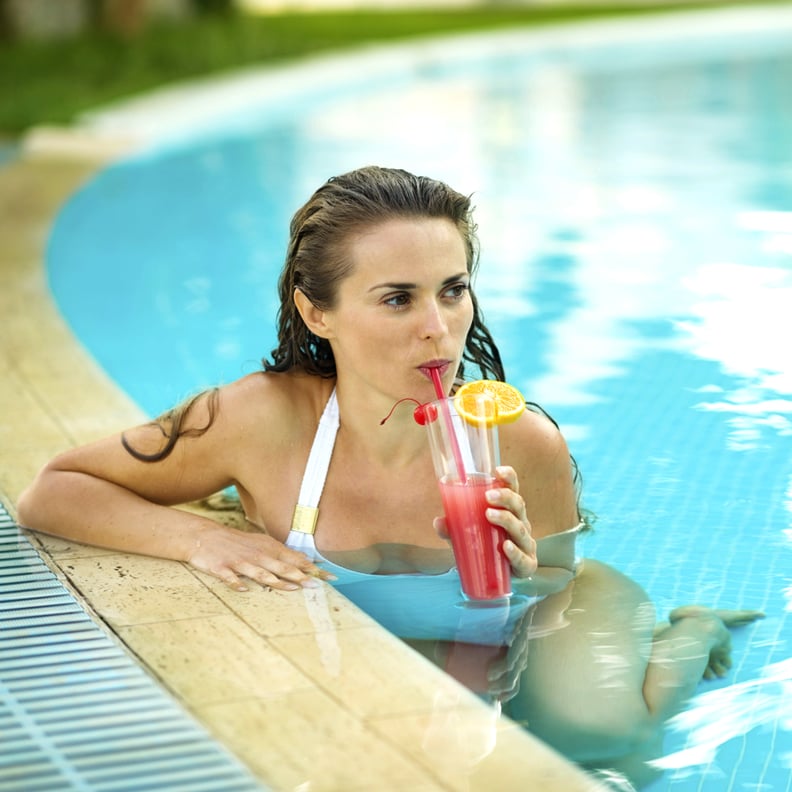 Focus on fitness: There are tons of yoga, surfing, or climbing retreats, depending on what you're into. If you run, sign up for a race in a city you've always wanted to visit, or grab your helmet and sign up for a bike tour.
A little every day: Even if a fitness retreat isn't your idea of relaxing, you can still include a little bit of movement in your daily plans. Be sure to pack these eight exercise essentials so you can work out in your room. Or check out the hotel's gym, go for a hike, sightsee on foot, play tennis or golf, or go snorkeling or water-skiing.
BYO snacks: Pack healthy snacks when you're on the go, so when hunger strikes, you can reach for a granola bar, some trail mix, popcorn, or whole wheat crackers instead of hitting the snack bar on the beach. Request a mini-fridge for your hotel room so you can store healthy snacks such as cheese, fruit, veggies, hummus, and yogurt. Or better yet, stay in a room that has its own kitchen. When you do the meal preparation, you have a better idea of how many calories you're consuming.
Avoid these: Whether it's breakfast, lunch, or dinner, if there's too much to choose from you're more likely to overeat. Avoid the all-you-can-eat spreads and eat cereal or sandwiches in your room, or if you must go out, order something similar to the healthy meals you're used to eating at home.
Plan to indulge: Hey, you are on vacation, so you can't expect yourself to eat right all day long. Choose one meal a day to eat what you want. If you eat a healthy breakfast and lunch, then you'll feel good about enjoying a decadent meal later that night.
Choose this booze: Order gin and tonics or vodka tonics instead of daiquiris or piña coladas. Those fruity cocktails are desserts in disguise, containing hundreds of calories, while a four-ounce gin and tonic contains about 100 calories. It also helps to alternate between alcoholic and nonalcoholic drinks to save calories.
Don't be lazy! Waitresses who come pool-side are very convenient, but you're more likely to keep ordering bevvys if someone continues bringing them. Make a rule that you have to visit the tiki bar yourself in order to get a drink. You'll probably end up drinking less, and you'll get a little exercise walking to the bar.
Go family style for dinner: Order a few entrées between your guests so you can have a little taste of everything instead of devouring an entire meal on your own.