How to Stay Safe at the Gym During COVID-19
How to Stay Safe at the Gym During COVID-19, According to Infectious-Disease Experts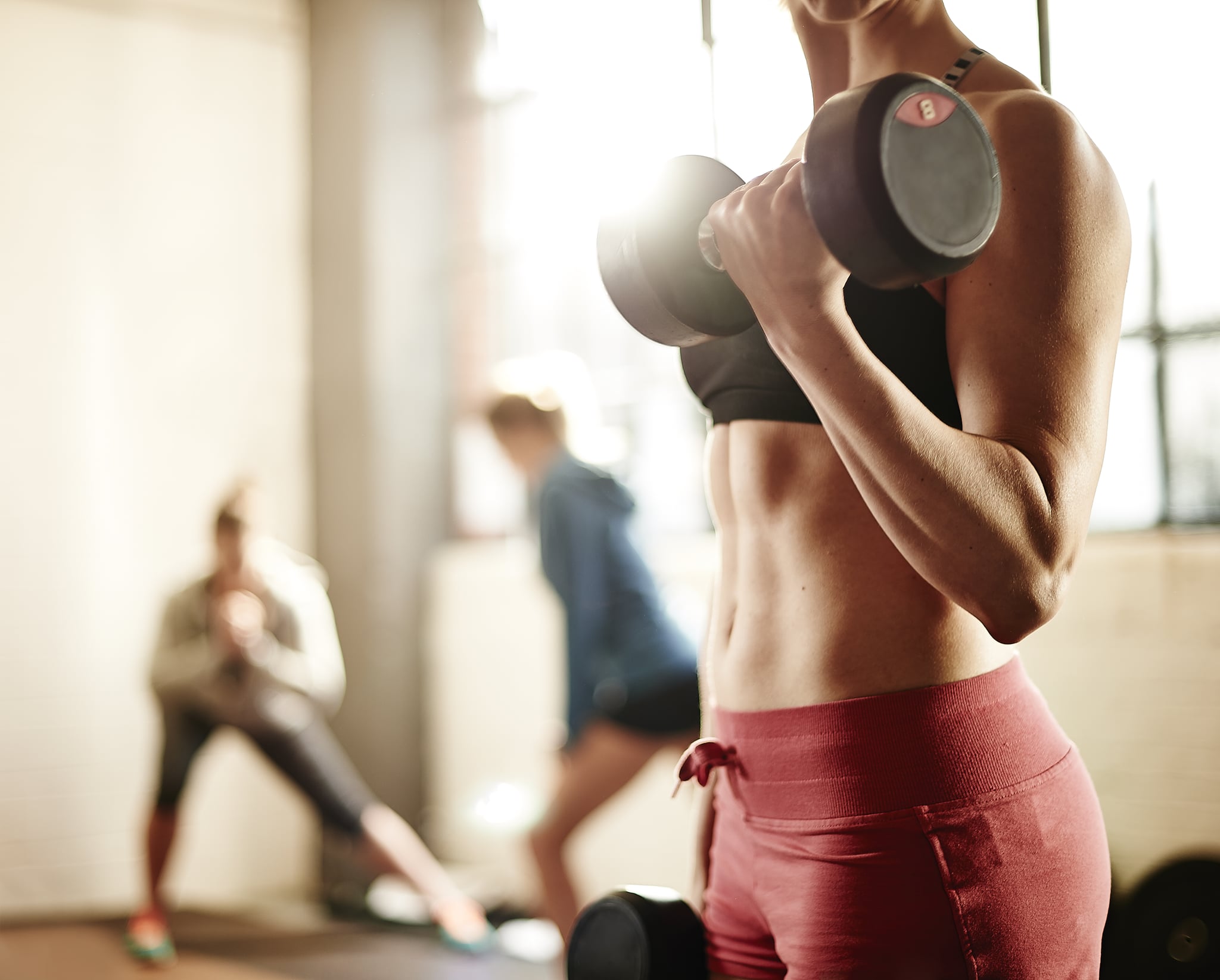 As cities and states continue to reopen, many people now have the option of returning to the gym. But it's important to remember that the spread of the novel coronavirus isn't over and, like every other business you visit, you should proceed with caution in order to stay safe at the gym during COVID-19. Regardless of the policies put in place by your particular gym, infectious-disease experts say you should take the following steps to be as safe as possible during your workouts.
1. Make Sure the Equipment Has Been Properly Cleaned
It's more important than ever for machines and weights to be wiped down between uses and deep cleaned after hours. So, "have a conversation with the gym about its new cleaning policy," Amber Noon, MD, an infectious-disease physician at Centura Health in Colorado, told POPSUGAR. Specifically, ask for information about what products they're using to clean the equipment and cross-check them against the list of EPA-approved disinfectants.
But it's more than just the cleaning product itself. "Ask how long they let the product sit before wiping it off," said Dr. Noon, noting that disinfectants can take up to 10 minutes to be effective.
If your gym doesn't have staff in place to clean pieces of equipment between patrons, you might also bring your own bottle of spray to disinfect machines before you use them — but again, you should give the product 10 minutes to work its magic. "In a gym environment where equipment is in demand, it could feel rude to spray something down and stand idle for 10 minutes," Dr. Noon said. However, she noted that if you're feeling stressed, rushed, or uncomfortable, you may want to ask yourself if it's a good time to be at the gym.
2. Practice Social Distancing
Your gym should space machines out so they're six feet apart — but if you're concerned that there's not enough distance between them, you may try coming at a time when you can leave a machine or two between you and the next person. "This is critical because folks working out vigorously aren't going to have masks on, most likely," Dr. Noon said.
Anthony Barile, MD, infectious-disease medical director at Health First in Florida, explained that not all gyms will have processes in place to help visitors maintain social distancing. If that's the case, Dr. Barile said you should do your best to ensure you're staying six feet from others. "You can go to the gym outside of peak hours, make sure you're not using the machine right next to someone else, or visit a less crowded location," he suggested. "By maintaining a six-foot distance from others, you're limiting opportunities for the virus to spread."
3. Bring Your Own Supplies
Both experts recommend bringing as many of your own supplies as possible, from hand sanitizer to yoga mats. Towels and water bottles are particularly important. Dr. Barile explained that bringing your own towel ensures you're not using one that's contaminated, and having your own water bottle means you won't have to touch a shared water fountain. Just remember to clean everything well after leaving the gym.
4. Don't Attend a Class With More Than 10 People
Dr. Noon emphasized the importance of monitoring class sizes. Stick with groups of 10 or less, and when you're in class, make sure you have at least a six-foot radius around you — the more space, the better. Many gyms will likely require advance registration for classes, but that doesn't necessarily mean that they'll opt to cap class sizes. Before attending a class, ask your gym about the rules they have in place. If they're allowing more than 10 people in class at once, it's best to sit it out. "The risk of contracting coronavirus goes up with the larger group sizes," Dr. Noon said.
5. Don't Bring or Use Gloves
Because gloves are often misused and can lead to cross contamination, Dr. Noon advises against using them at the gym. She said the best, safest bet is to thoroughly clean the equipment you use, apply hand sanitizer after each use, and wash your hands well after working out.
6. Wear a Mask When It's Safe
Make sure that you're wearing a mask in common areas before and after your workout, and don't take it off until you've exited the gym entirely. For safety reasons, it's best to rely on social distancing during aerobic workouts — but if you're doing yoga, Pilates, or a lower-intensity workout that won't elevate your heart rate or cause you to breathe heavily, Dr. Noon suggests keeping your mask on.
She also noted that, unless they're working out vigorously alongside you, all gym staff should wear masks. "For all the reasons we're wearing masks in general, you want these people to honor the benefits to public health," she said. If they're not, insist on it.
The Bottom Line
Dr. Noon said that if you take the above precautions, you're probably safe at the gym — but it isn't without risk. She recommends making individualized choices based on your specific situation. For example, if you're in a high-risk group or you live or work with someone in a high-risk population, you'll want to take that into account when deciding whether or not to return to the gym.
The safest way to get your exercise remains outdoors, according to Dr. Noon. She recommends looking into organizations that are offering outdoor activities like yoga classes. Similarly, Dr. Barile stressed that COVID-19 remains prevalent even though states are reopening. If you notice that your gym isn't taking the necessary precautions, he said working out at home or outdoors is still an effective and safer alternative.
POPSUGAR aims to give you the most accurate and up-to-date information about the coronavirus, but details and recommendations about this pandemic may have changed since publication. For the latest information on COVID-19, please check out resources from the WHO, CDC, and local public health departments.