Being at home with all-day access to the fridge and pantry can make it easy to overeat without realizing it. Whether you're working from home, caring for children, or just spending the day binging a show on Netflix, it can be challenging to resist your favorites snacks, and you might not even know you've been eating all day until you're suddenly out of a week's worth of snacks.
We spoke with four registered dietitians to find out how you can avoid mindless eating and keep yourself well-nourished while staying at home during the day. Read on for their advice on curbing cravings and raising your awareness about what you put into your body.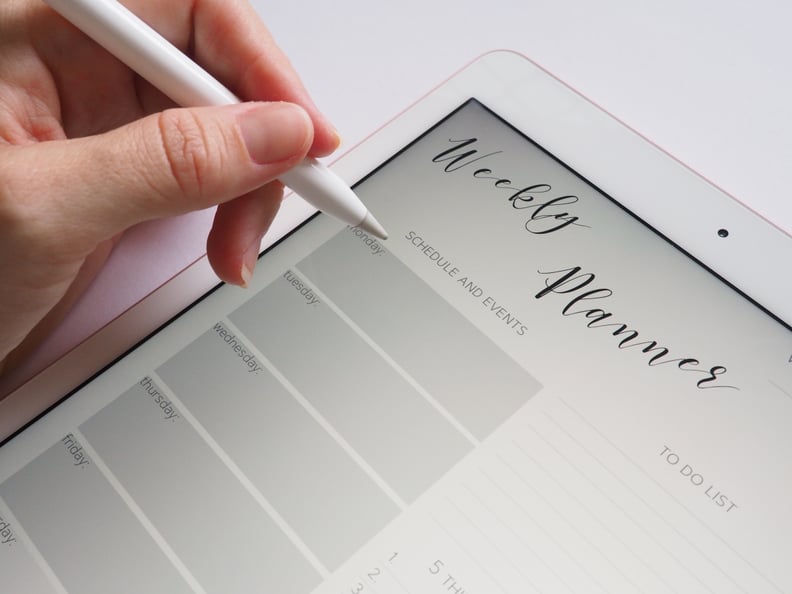 Plan Healthy, Balanced Meals in Advance
"Create a menu for the week listing out what you will have for breakfast and lunch," Rebecca Thomas RD, LDN, told POPSUGAR. "Take time to look it over to make sure you are planning meals that are both satisfying and balanced."
Not sure what makes up a balanced meal? Jamie Nadeau, RDN, broke it down as roughly "at least 20 grams of protein, a serving of carbohydrates, some fat, and one to two servings of non-starchy vegetables." She explained that meals lacking in protein, fiber, or volume will leave you hungrier and searching for snacks in between meals.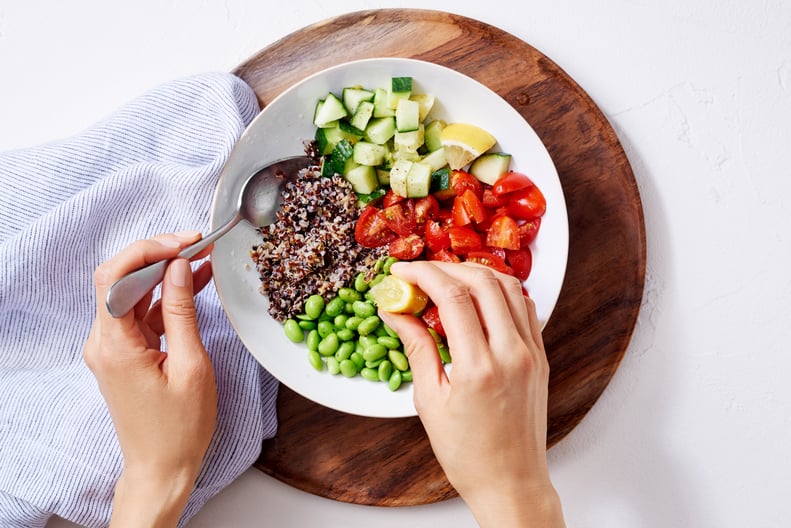 Eat at Scheduled Mealtimes
"When you're out of your routine it's really easy to just go through your day without a plan or a schedule," said Jamie. "One thing I highly recommend right now is to plan out your day, so that you know exactly what time you're going to eat meals, exercise, get work done, etc. Having a schedule to stick to and not 'winging it' can help to prevent mindless, boredom eating." So, don't just plan what you're going to eat, but also decide when you'll have your meals, and stick to those times.
Stay Hydrated
We often confuse hunger with thirst, according to Becky Kerkenbush, MS, RD-AP, a media representative of the Wisconsin Academy of Nutrition and Dietetics. She suggests having a glass of water when you feel hungry, and waiting 10-to-15 minutes to see if that's what your body really needs.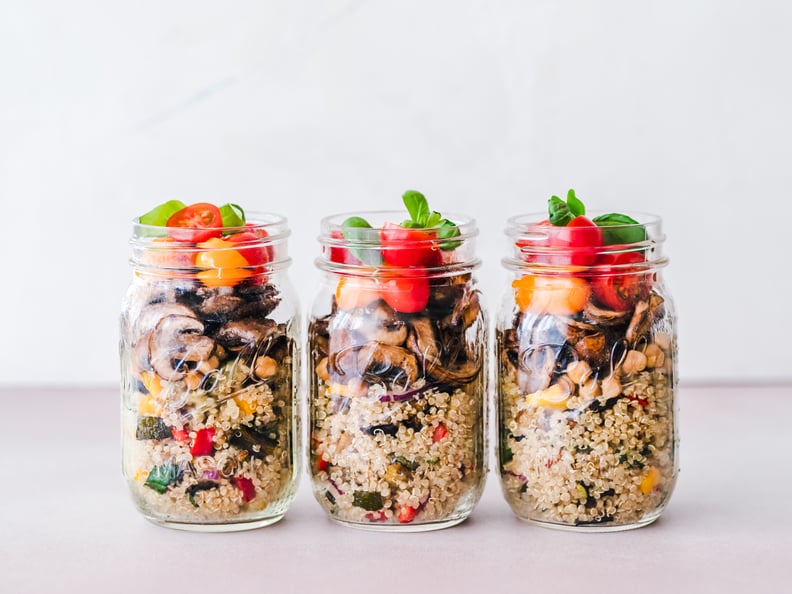 Keep Packing Your Lunch
If you're typically home on the weekdays, Rebecca suggests going through the process of preparing and packing your lunch, just as if you were going to work or school. "This will help keep you from foraging at lunch time for meals," she explained, noting also that trying to make a meal while hungry can lead to poor food decisions. It will also help you with portion control, as you'll be eating a preset amount rather than digging who knows how much from the pot.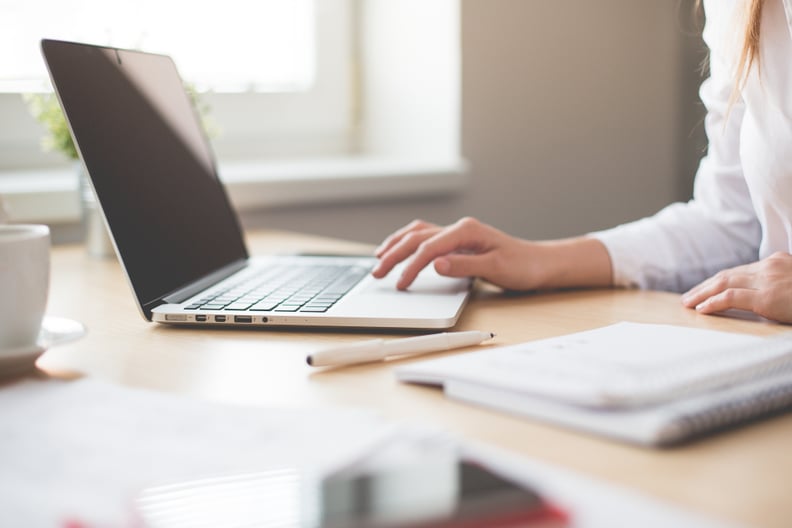 Don't Eat in Front of Your Computer
If you're working from home, "Step away from the computer while eating," Rebecca told POPSUGAR, emphasizing that separating your work zone from your eating zone will allow you to be more present while having breakfast or lunch. It's just way too easy to keep reaching for more when your attention is on something other than your food.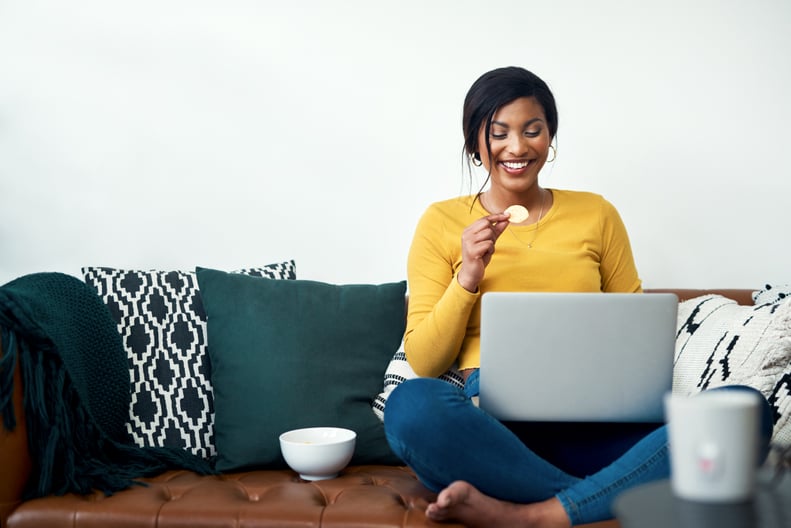 Avoid Emotional Eating or Eating out of Boredom
We're supposed to eat when we're hungry to fuel our bodies, but it doesn't always work that way. Eating out of boredom or to meet an emotional need can result in problematic overeating. "When you find yourself going for a snack, take a moment to reflect on how you're feeling. Are you actually hungry, or are you using food to cope with stress, anxiety, or loneliness?" said Kim Valenza, a registered dietitian nutritionist and certified diabetes educator. Kim suggested replacing food with healthier coping strategies, like meditation or a warm bath.
Rebecca told POPSUGAR about a method to help pay better attention to whether you're hungry or you're really trying to satisfy another need. "I use the HALT method," she said, "when my clients have a food craving, I ask them to evaluate: 'Am I Hungry, Angry, Lonely, or Tired?'" She explained that bringing awareness to the desire to emotionally eat is the first step in preventing overeating.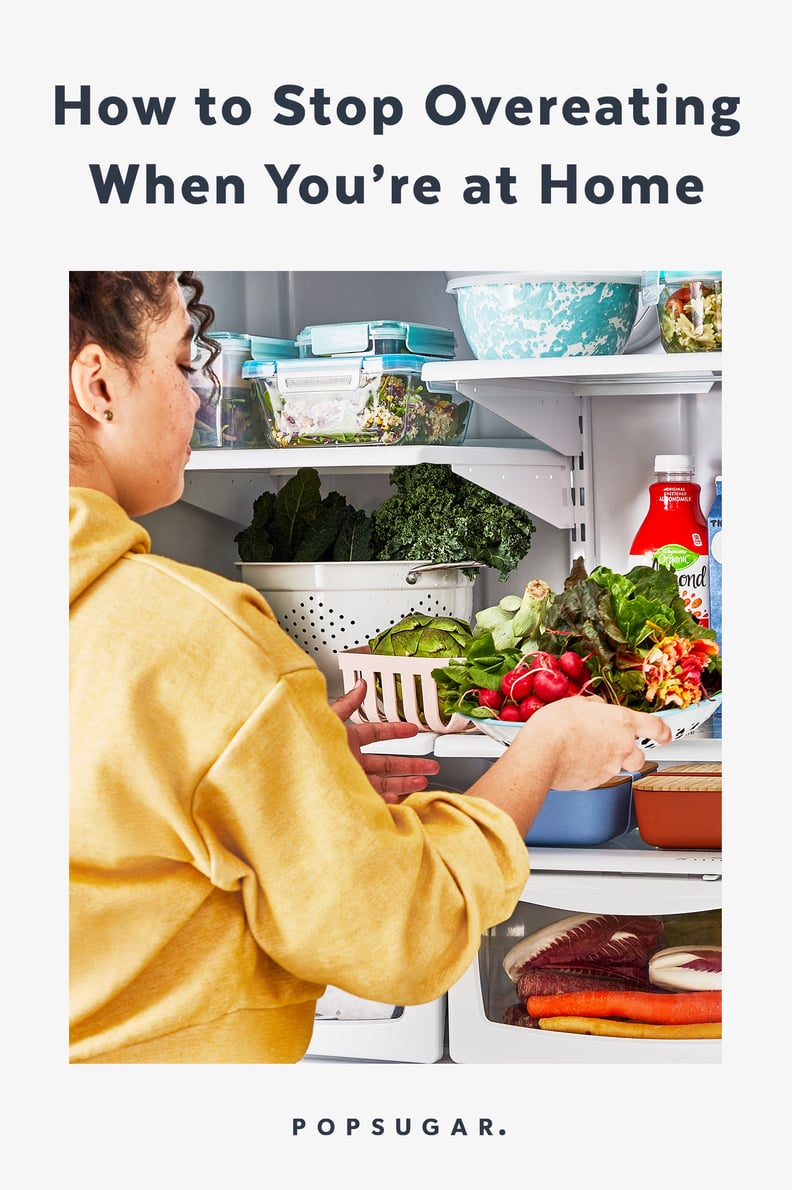 Pin it!