When I was in elementary school, every student had to take a yearly Presidential Fitness Test consisting of running a mile and doing shuttle sprints, pull-ups, sit-ups, push-ups, and toe reaches. Each year, I flawlessly excelled in each test except touching my toes. I've never been able to touch my toes. Because of this, I failed the fitness test while every other student in my class received a certificate of achievement.
I've tried everything in the book to improve my flexibility: stretching, yoga, workout bands. I always thought it was genetic, because no one in my family can touch their toes either. The actual act of toe touching isn't what bothers me, though — it's the tension it creates in my extremely tight hamstrings leading to my lower back. Through the years, I've quickly grown to just deal with it, still going after physically strenuous activities instead of sitting on the sidelines.
In fact, I was supposed to run the New York City Marathon last year, before it was cancelled due to COVID-19. The year prior I ran my first 5K, then spent months qualifying through a special 9+1 program for a guaranteed spot in this highly coveted event. Now, more than a year after the pandemic began, I'm back to training for the rescheduled marathon in November.
Typically, I do 20 minutes of stretches before a run to loosen up my body. But recently, while gearing up for the marathon later this year, I decided to invest in the Hyperice Normatec 2.0 Leg System ($899, originally $995). I wanted to see if these compression boots were worth the hype, and more importantly, if they would help improve my range of motion. They look like something you'd wear on an anti-gravity space mission — who wouldn't be curious?
Every editorial product is independently selected by our editors. If you buy something through our links, we may earn commission.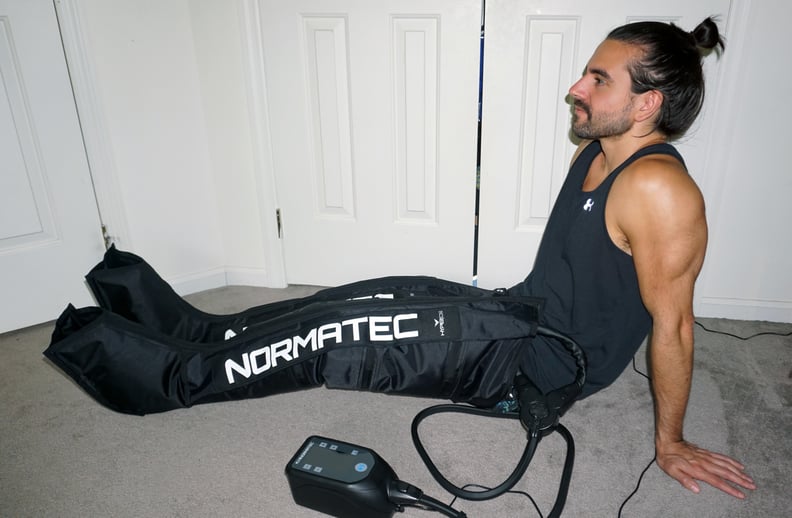 The Normatec system uses pulsated technology to help accelerate muscle recovery, by increasing blood flow and decreasing swelling and inflammation. This type of therapy can also help improve flexibility and get rid of the lactic acid that builds up in the muscles during exercise. That being said, it's important to remember that no product is a cure-all. I've still continued to do my stretching routine and use other products like my Theragun and bands.
After consistently using the compression boots three to five times a week for 30 minutes, I really do feel a difference.
What drew me to Normatec, specifically, is that this type of recovery product was once only available to professional athletes. This brand was the first to market to everyday athletes. And it has such a simple design and interface that it's nearly impossible to mess it up. After turning the system on and zipping in my legs, I select a level of intensity (it goes up to Level 7) and set the timer. You can also also select from five different zones, if you want the pulsing to focus on a specific area of your legs. I've seen photos of people using their Normatec boots in a chair, but I like to sit flat on the floor so my hamstrings are getting a stretch and my blood isn't rushing to my feet. I typically set the system to the highest setting for 30 minutes, and in the beginning, I actually felt sore after using it — but it was a good, post-workout type of sore.
While my focus is running, Normatec can be for any type of intermediate athlete who wants to boost their recovery. If you're a beginner, I'd recommend simply starting with a routine of stretches. But when you're ready for something more, I can honestly say that Normatec is worth the investment, at least if you're using the system regularly. After consistently using the compression boots three to five times a week for 30 minutes, I really do feel a difference. My legs don't seem as strained after longer runs, when they used to feel super tight and uncomfortable. And as I dive into marathon training, I'm looking forward to seeing even more progress — because while I still can't touch my toes, I'm literally inching closer.