Eli Lilly's Antibody Treatment Gets Emergency FDA Approval
Remdesivir Is FDA Approved — Now Eli Lilly's Antibody Drug Is Granted Emergency Approval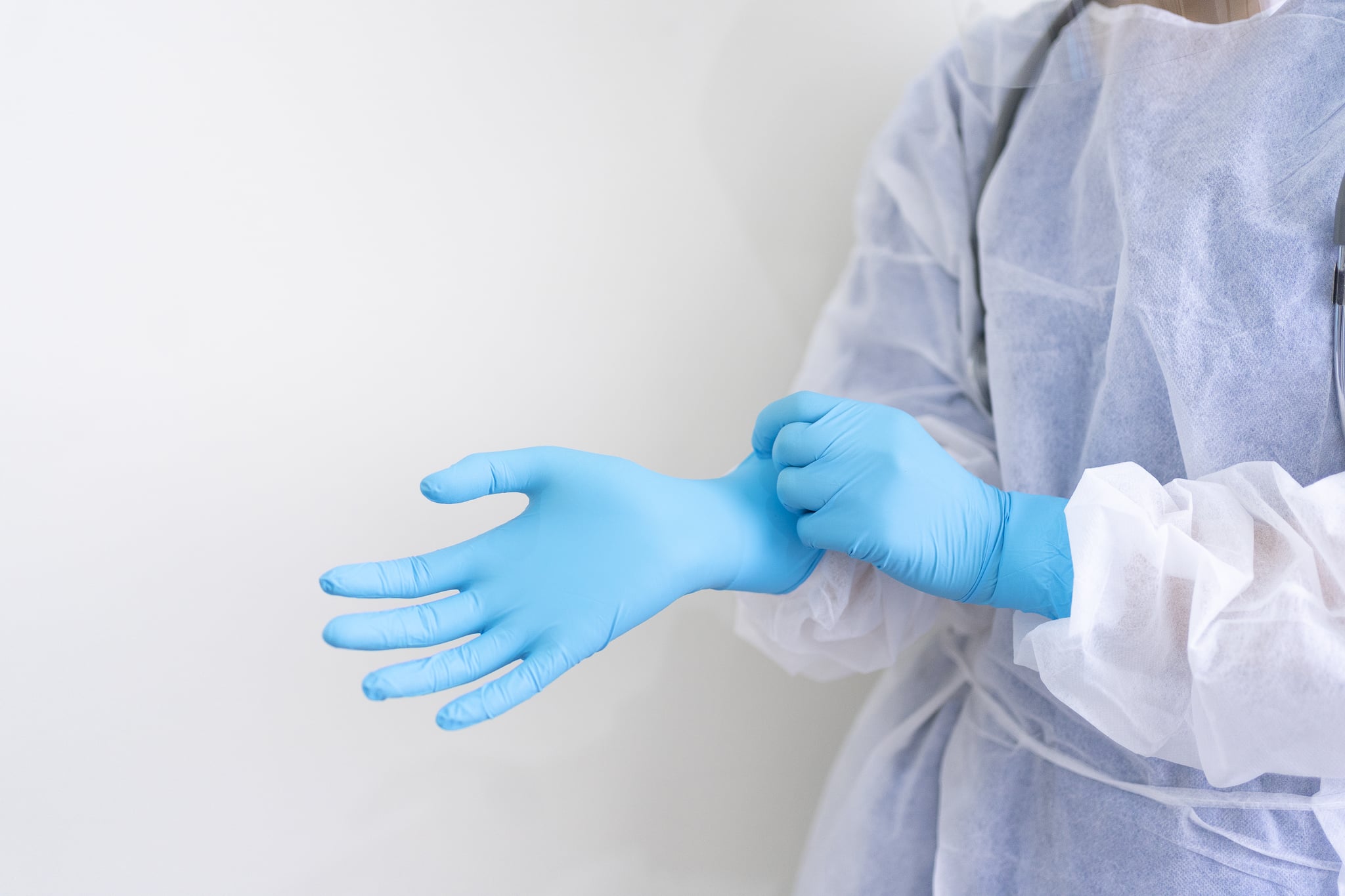 As cases of the novel coronavirus (COVID-19) continue to rise across the country and the pandemic shows no signs of slowing anytime soon, many people have questions about how to keep themselves and their families safe — and what to expect if the virus hits close to home. Since the infection is viral, treatment so far has been focused on alleviating the symptoms while the immune system works to fight off the virus (as opposed to bacterial infections, which can be treated with antibiotics).
However, on Oct. 22, the FDA-approved Gilead Sciences' antiviral drug remdesivir as the first and only fully approved treatment for COVID-19. Don't expect to walk into a pharmacy and leave with the treatment, though; the intravenous drug can only be administered in hospitalized patients. Then, on Nov. 9, the FDA granted emergency authorization of the first antibody drug to help the immune system fight COVID-19: Eli Lilly's antibody treatment bamlanivimab. It's not fully approved, meaning that, as of now, remdesivir still stands as the only fully approved treatment for COVID-19. Here's what else you need to know.
Is Remdesivir an FDA-Approved Treatment For COVID-19?
In May 2020, remdesivir was granted an emergency use authorization, which means doctors could administer the drug to hospitalized coronavirus patients even though it hadn't yet been formally approved by the FDA. However, on Oct. 22, Gilead announced that remdesivir had been officially approved by the FDA, making it the first official treatment for COVID-19. The antiviral, which is sold under the brand name Veklury, is approved for patients 12 and older and "should only be administered in a hospital or in a healthcare setting capable of providing acute care comparable to inpatient hospital care," the company said in a statement.
In the statement, Gilead explained that remdesivir is an antiviral drug that "works to stop replication of SARS-CoV-2, the virus that causes COVID-19." It was one of the drugs used to treat Donald Trump after he tested positive for COVID-19 in October 2020, according to CNBC. Gilead claims the drug is "widely available in hospitals across the country" and will expand manufacturing to increase supply.
However, on Nov. 19, the World Health Organization (WHO) recommended against the use of remdesivir based on a panel review of four clinical trials. The update, published in medical journal The BMJ, reads, "there is no evidence based on currently available data that it does improve patient-important outcomes." This includes mortality rate, need for ventilation, time of improvement, and more. However, the panel did acknowledge that some patients and doctors will still choose to use the drug "given that the evidence has not excluded the possibility of benefit" and that increased risk of serious effects in patients who use remdesivir was not found. The panel also supports further research on the antiviral.
Amesh Adalja, MD, senior scholar at the Johns Hopkins Center for Health Security with work focused on emerging infectious disease and pandemic preparedness, told CNN that "the only benefit we had been touting was maybe it gets people better quicker," but further analysis has challenged that. He continued, "The fact that it was an antiviral that showed some benefit in certain trials, but not in all trials, was enough to push people to want to use it because we had no tools," adding that there are many FDA-approved drugs that aren't always recommended in full.
Gilead Sciences released a followup statement combating those claims, saying remdesivir "is recognized as a standard of care for the treatment of hospitalized patients with COVID-19 in guidelines from numerous credible national organizations." The company said it is disappointed in WHO's updated guidelines.
Is Eli Lilly's Antibody Drug Bamlanivimab an FDA-Approved Treatment For COVID-19?
Eli Lilly's monoclonal antibody treatment, a drug administered one time through an IV by healthcare providers, is not officially approved by the FDA yet; it was granted an emergency use authorization on Nov. 9. The approval is for mild or moderate COVID-19 in adult and pediatric patients 12 and older who are at high risk of having to be hospitalized due to chronic medical conditions, for example. Unlike Gilead's antiviral drug, bamlanivimab is not authorized to be used for patients who are already hospitalized with severe infections, since there is no evidence that the drug works once COVID-19 progresses. (Bamlanivimab also cannot be used on COVID-19 patients who specifically need oxygen therapy.)
The FDA wrote in a statement that bamlanivimab was shown in clinical trials to reduce COVID-19-related hospitalization or hospital visits in high-risk patients within 28 days after treatment when compared to placebo. The agency explained, "Monoclonal antibodies are laboratory-made proteins that mimic the immune system's ability to fight off harmful antigens such as viruses. Bamlanivimab is a monoclonal antibody that is specifically directed against the spike protein of SARS-CoV-2, designed to block the virus' attachment and entry into human cells."
According to CNBC, the bamlanivimab IV infusion takes more than an hour in total and also requires another hour of observation afterward. Distribution will begin immediately and will be based on COVID-19 occurrence and COVID-19-related hospitalization in a given area, as well as appropriate equipment and staffing to administer the treatment.
Is There a Cure For Coronavirus?
Although remdesivir is a newly-approved treatment for coronavirus — and bamlanivimab was given an emergency use authorization — there is still technically no "cure," just like there's no quick fix for the common cold. The treatment options available for severe coronavirus patients who are hospitalized (such as remdesivir) can be administered only by healthcare workers, or, as the CDC explained in April, supplemental oxygen and mechanical ventilatory support can be given when needed. Coronavirus treatment in non-life-threatening cases is similar to that of other respiratory and flu-like illnesses: keep patients isolated to avoid further spread, treat symptoms like fever and cough, and so on. And, bamlanivimab, in some cases, can be used in healthcare settings as well.
The National Center For Complementary and Integrative Health has another warning: beware of "alternative" treatments touted as cures for coronavirus. "Some of these purported remedies include herbal therapies and teas. There is no scientific evidence that any of these alternative remedies can prevent or cure the illness caused by this virus. In fact, some of them may not be safe to consume," the experts warn. So, a cup of tea to soothe a cough? Perfectly fine. A supposed "miracle" tea that claims to cure coronavirus infections? Not a great idea.
How Do I Prevent Coronavirus?
So, if there's no real cure, what are we supposed to do? The CDC's guidelines are evolving as more knowledge about the virus develops, but right now, the focus is on prevention and keeping the virus from spreading. Since there is currently no available vaccine against the virus — although experimental vaccine trials are currently in the works from companies like Pfizer, Johnson & Johnson, and Moderna — avoiding exposure is the best way to avoid infection since the virus is thought to spread mainly from person to person and through respiratory droplets from people who are sick when they cough, laugh, or sneeze. The following is a list of recommendations from the CDC to prevent coronavirus:
Avoid close contact with people who are sick.
Cover your mouth and nose with a mask when around others.
Avoid touching your eyes, nose, and mouth.
Stay home when you are sick.
Cover your cough or sneeze with a tissue, then throw the tissue in the trash.
Clean and disinfect frequently touched objects and surfaces using a regular household cleaning spray or wipe.
Wash your hands often with soap and water for at least 20 seconds, especially after going to the bathroom; before eating; and after blowing your nose, coughing, or sneezing.
If soap and water are not readily available, use an alcohol-based hand sanitizer with at least 60 percent alcohol.
The CDC also recommends monitoring your health daily and being on alert for symptoms of COVID-19, such as cough, fever, shortness of breath, or sudden unexplained loss of taste and smell, among others, and to take your temperature if you notice symptoms developing.
What Do I Do If I Get Sick?
If you think you might have coronavirus, whether you start developing symptoms or you have been exposed, you should talk to your healthcare provider about getting a test for COVID-19. If you're already sick, the CDC similarly recommends a set of guidelines to try to prevent the spread of the virus. Among the recommendations: stay home except for visiting the doctor or hospital, call ahead when getting medical care to let your provider know you may have coronavirus so they can prepare accordingly, wear a face mask at the doctor's office and when you're in close proximity to other people, separate yourself as much as possible from other people or pets in your home, keep your hands and other surfaces in your home disinfected, and cover your coughs and sneezes.
The guidelines for treating and preventing coronavirus are shifting as officials and scientists learn more about the virus and its behavior. Be careful not to fall prey to misinformation and false reports. Your best bet is to get your information from reliable news outlets and government agencies like the CDC; you may even check a couple of different sources to make sure you're getting legitimate and updated information to keep yourself and your loved ones safe.
POPSUGAR aims to give you the most accurate and up-to-date information about the coronavirus, but details and recommendations about this pandemic may have changed since publication. For the latest information on COVID-19, please check out resources from the WHO, CDC, and local public health departments.
— Additional reporting by Christina Stiehl and Sam Brodsky