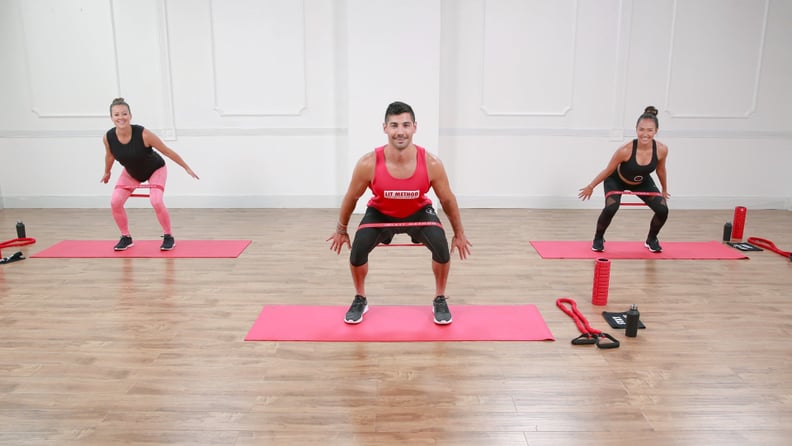 POPSUGAR Photography
POPSUGAR Photography
If you're anything like me, you know it's easy to get stuck in a workout rut. I love 10 workouts, so I come back to the same 10 workouts . . . over and over and over. If you're in the mood to mix things up, we have good news: our series of Instagram Live workouts is continuing on @popsugarfitness, and you're officially invited.
This week, you can tune in for a bodyweight strength workout, a special Pride boxing workout, and a conversation with Dance FitSugar host Deja Riley and Olympian Louise Hazel on supporting Black women in the fitness world. We're also continuing with our donation-based workouts from previous weeks; when you tune in for Deja's bodyweight cardio workout, you'll have the option of donating to Color of Change, which you can do here. See below for the full schedule and check out our previous Instagram Live workouts on the free Active by POPSUGAR app.
A Conversation With Deja Riley and Louise Hazel on Supporting Black Women in the Fitness World: Monday, June 22, at 12 p.m. PT/3 p.m. ET
30-Minute Donation-Based Bodyweight Cardio Workout With Deja Riley to Benefit Color of Change: Tuesday, June 23, at 9 a.m. PT/12 p.m. ET
35-Minute No-Equipment Barry's Workout With Sydney Green: Wednesday, June 24, at 10 a.m. PT/1 p.m. ET
45-Minute Low-Impact, High-Intensity Strength Workout With LIT Method: Thursday, June 25, at 9 a.m. PT/12 p.m. ET
30-Minute Strength Workout With Kehinde Anjorin, Founder of Power in Movement: Thursday, June 25, at 12 p.m. PT/3 p.m. ET
15-Minute Total Core Workout With Jasmine Blocker: Friday, June 26, at 9 a.m. PT/12 p.m. ET
30-Minute Bodyweight Cardio and Strength Training Workout With Angela Gargano: Saturday, June 27, at 9 a.m. PT/12 p.m. ET
30-Minute Pride Boxing Workout With Rumble Trainer Leila Leilani: Sunday, June 28, at 9 a.m. PT/12 p.m. ET
Tag us with #POPSUGARSweats in your Boomerangs, posts, and Instagram Stories and add our full lineup to your Google Calendar so you never miss a session.