Madison Chock on 2022 Olympic Ice-Dance Programs
The Story Behind the Billie Eilish and Daft Punk Ice-Dance Routines You'll See in Beijing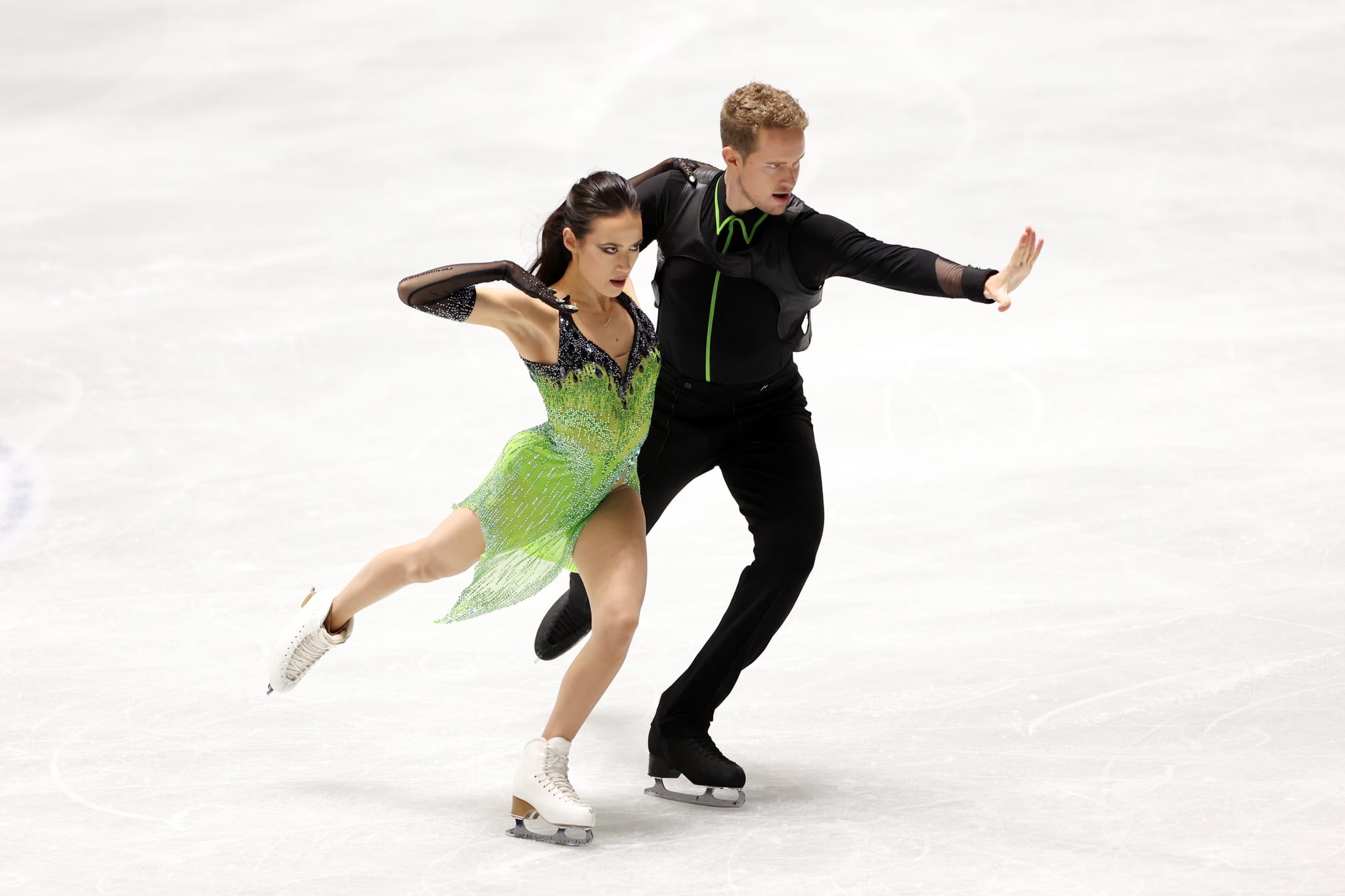 When you watch Madison Chock and Evan Bates skate onto Olympic ice in Beijing, the first thing you're likely to notice are their costumes: a lime-green-and-black theme for the rhythm dance and a Zenon-esque outer-space look for the free dance. What you might not know is that Chock is the one who designed them. A talented artist who shares her sketched portraits on Instagram, Chock has designed the pair's costumes and her own hair and makeup looks ever since she started competing.
However, it's not just about looking good (although, obviously, they do). Each of Chock and Bates's performances tell a specific story, and their costumes, Chock explains, help to set the stage. From the moment they step on the ice, "it's really important to strike people," she tells POPSUGAR. "I want it to be clear what our concept is or what we're skating to or the characters that we may be portraying."
As is usual with Chock and Bates, the two programs show very different sides of their style: badass and evil-in-a-good-way in their rhythm dance, modern and edgy for the free dance. What never changes is the importance of narrative in their routines. "It's always really important to us to have a story," Chock explains. "[It's] the heart of the program that we want to share with the world."
Inspiration Behind Chock and Bates's 2022 Olympic Programs
The pair's free dance, set to music by Daft Punk, has been in the works since 2020. After the world championships that year were canceled, "we started cultivating and developing this idea," Chock remembers. In the program, Chock "plays" an alien to Bates's astronaut, characters from "two very different places," she says. The core of the program is "love and acceptance for someone who is different than you," something she hoped will resonate with the global audience watching the Olympics.
Daft Punk's electronic sound fits well with that theme and serves as a way for Chock and Bates to challenge some of the conventions of their sport. "We love pushing the boundaries," she says. Skating to electronic music, especially in an Olympic year, is "certainly uncommon for figure skating, but especially the world of ice dance," she says. "In a way, it was kind of a big risk to have . . . an intergalactic-themed program for an Olympic season, but we felt really passionately [about it]."
"Billie Eilish, we felt, was the perfect woman to skate to."
For their rhythm dance, the pair turned to one of their favorite artists. "I am personally such a huge Billie Eilish fan and so is [Bates]," Chock says, calling Eilish's music "cool and inspiring." The idea was to portray a "strong female character" in the rhythm dance, and "Billie Eilish, we felt, was the perfect woman to skate to," Chock explains. "She's just a force to be reckoned with, and that's kind of the energy I want to channel in this rhythm dance." They skate to a mashup of "Myboi," "Therefore I Am," and "Bad Guy," with the green-and-black costumes paying homage to Eilish's signature colors. Maleficent was also an inspiration for the rhythm dance, Chock adds. "Another kind of bad-guy persona, but in the best way. That's where the horns at the top of my costume come in."
In January, these two programs led Chock and Bates to their third national championship, so they're hitting the Olympics with momentum and a well-deserved shot of confidence. Along with the unique narratives of their programs, Chock and Bates are also known for their creative lifts, which Chock says are her favorite moments of the routines. Keep a lookout for the first lift in their free dance, which she says is "definitely a highlight of this program. It's very cool and very acrobatic." Another plus: "I have a really great view of the arena," Chock adds. "It's super fun to be up there."
To learn more about all the Olympic hopefuls, visit TeamUSA.org. Watch the Winter Olympics beginning Feb. 3 on NBC.