Meet the Girl Who Got Michael Phelps Into Swimming
You watched him win 22 Olympic medals, break numerous world records, retire in style at the 2012 Summer Olympics — and then announce this month that he's coming out of retirement — but how exactly how did Michael Phelps get into swimming? Enter Hilary Phelps, the oldest sister of the Phelps clan, whose siblings would later follow in her swimming footsteps. But there's more to her than a famed last name: Hilary is a journalist, yogi, and, oh yes, an Ironman. We sat down with Hilary for her advice on stretching boundaries, finding balance, and crossing the finish line.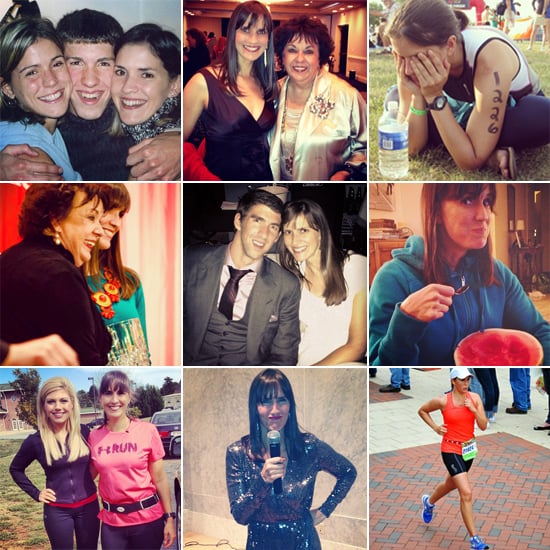 On trying new things: After swimming from the age of 5 through her time at the University of Richmond, Hilary refused to be defined as just a swimmer. Making it a point to try new things allowed her to be a top blogger, fashion columnist, and even a certified yoga instructor. "Taking the first step is key," she says, as is not allowing "the fear of failure to hold you back." Knowing "everyone started with a first step" will allow you "to make the most of life," she adds.
On completing an Ironman: "I want to do it again" is exactly what Hilary thought when crossing the finish line of her first Ironman in July 2010. But to the surprise of many, completing one of the toughest competitions in the world was never a goal of hers until 9 months prior. In fact, it was curiosity (and a little naiveté) that made her sign up. With the support of her family and a training group, Hilary jumped back into the pool after nine years, learned how ride a bike beyond indoor cycling class, and started training for her first marathon. It wasn't all fun and games — there were a few cycling crashes here and there — but it was the feeling of utmost "genuine joy" that has Hilary craving more.
On maintaining a balance: One scroll through Hilary's Instagram feed, and it is clear that she has perfected a balanced lifestyle. Between her love for fashion and fitness, she seems to dabble in it all. While this means long days, Hilary does try to run or do yoga every day, yet it's no sweat if she can't. On hectic days, she'll simply walk more and find small ways to keep moving. It comes down to "time management and healthy choices," she says, lessons she credits to her time as an athlete.
On healthy eating: While you won't find Hilary chowing down on a burger, you will find her baking up a storm in her kitchen. As a longtime vegetarian and now vegan, sticking to a plant-based diet has allowed her to maintain what some would consider her Wonder Woman status. "Moderation is key," Hliary says, but she isn't afraid to satisfy her sweet tooth on treats like chocolate mousse or vegan pies for during the holidays. In order to maintain a vegan diet on a busy schedule, Hilary uses Sundays to make her breakfasts for the week and always keeps a Vega Bar handy.