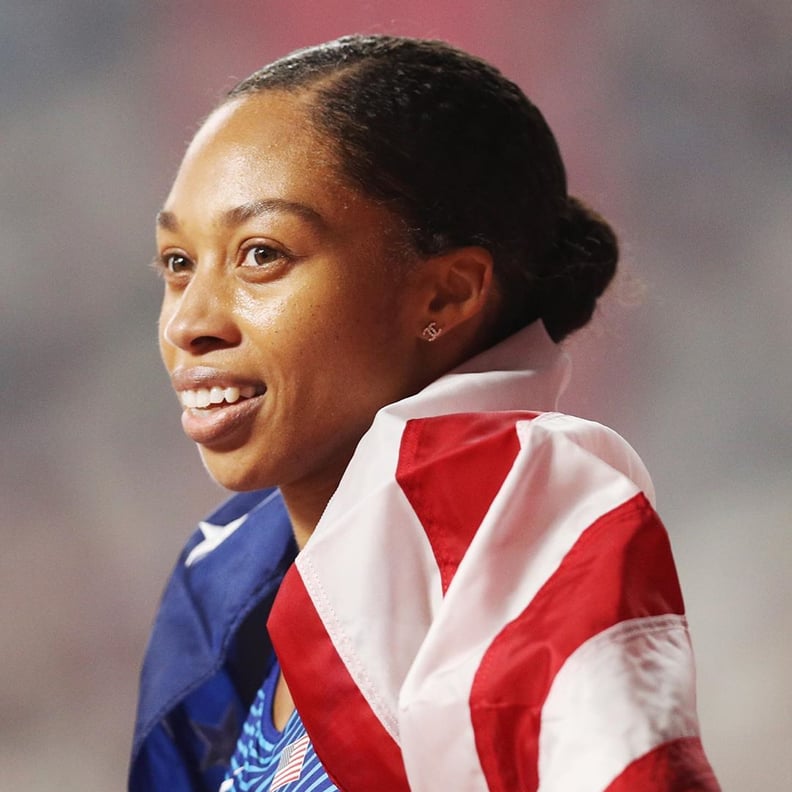 It was the Year of the Mother at the IAAF World Championships for track and field. Allyson Felix made headlines when she took gold in the mixed-gender 4x400-meter relay, a medal that pushed her past Usain Bolt to become winningest track athlete at the World Championships, ever. (She has 13 medals in all!) And that was a mere 10 months after giving birth to her daughter, Camryn, via emergency C-section.
Allyson was far from the only mom achieving greatness on the world stage. Jamaica's dominant Shelly-Ann Fraser-Pryce took home two world titles in the 100-meter sprint and the 4x100-meter relay. American Nia Ali upset a stacked field to win the 100-meter hurdles. And taking gold in the 20-kilometer race walk was Chinese athlete and mom Liu Hong.
Ahead, we've got all you need to know about each of these incredible wins, because not only did these women have a kid (or two!) and come back to become world champions — a few of them made history along the way.
Allyson Felix
One of the most-decorated track athletes of all time added to her medal collection at these World Championships. Allyson ran the second leg of the world record-setting mixed-4x400 relay to secure her first gold since giving birth to Camryn last year. That's impressive in its own right, and even more so considering that she went into labor at just 32 weeks and suffered from a pregnancy-related condition, preeclampsia, that put her life (never mind her track career) in real jeopardy. Even as she and Camryn recovered, her contract negotiations with sponsor Nike fell through. Allyson wanted contractual guarantee that she wouldn't be financially punished if she didn't perform at her best after giving birth; Nike declined. Now Allyson is the first sponsored athlete to represent female-focused brand Athleta.
Winning that mixed-4x400 relay gave Allyson her 12th world championship gold medal and made her the winner of more world titles than any other track and field athlete in history. The athlete she was previously tied with? Usain Bolt. She left Doha with two golds in all, bagging another thanks to her stellar run in the women's 4x400 relay semifinal. (Though she didn't run in Team USA's winning final, she still received gold because of her semifinal participation.) Long story short, Allyson is leaving Doha even more of a legend than before.
Allyson and Daughter Camryn
Team USA's Gold-Medal Winning Mixed-4x400 Relay
It was the first time this event was contested at the world championships, and the US team set a world record en route to their gold!
Shelly-Ann Fraser-Pryce
Six-time Olympic medalist Shelly-Ann Fraser-Pryce cried the day she found out she was pregnant, anticipating the difficulties of not only returning to the track after childbirth but also dealing with doubts from critics and the media that she'd return to her former prowess. Safe to say no one's questioning her now.
Shelly-Ann blazed off the starting blocks to win the 100-meter sprint and, at 32, became the oldest woman to win the world title in that event. Her dominance is unprecedented: she's the only athlete, male or female, to win the 100-meter world championship four times. A few days later, she ran the second leg of the women's 4x100-meter relay and helped Jamaica secure its fifth gold in that event. In a sweet moment after her history-making 100-meter win, Shelly-Ann's son Zyon joined her on the track for a victory lap.
"When I found out I was pregnant, of course I was a nervous wreck," Shelly-Ann told NBC Sports afterwards, holding a sleeping Zyon as she talked. "I was like, OK, what am I going to do?" Her successful return is "just a testament to hard work and dedication," Shelly-Ann said. "[Zyon] has definitely been my strength, my source of hope. I go home [after] having a hard day at practice, I am able to see Zyon, and it makes everything easier."
Shelly-Ann Fraser-Pryce Wins 100-Meter Gold at the World Championships
Shelly-Ann Celebrates With Her Son Zyon
Jamaica Wins the Women's 4x100-Meter Relay
Shelly-Ann ran the second leg!
Nia Ali
Nia Ali stunned an impressive field of 100-meter hurdlers to take her first international gold medal in this event. She did it in a personal-best time of 12.34 seconds and with her two (adorable) children, Yuri and Titus, watching from the stands. Balancing life as a mother and a professional hurdler has made things busy for Nia; over the past few months, she traveled back and forth from her European training base in Germany to Jacksonville, FL, for her son's parent-teacher conferences. It all came together as Nia upset the field and took gold on Oct. 6. Andre De Grasse, Nia's partner and the father of her daughter Yuri, also came away with some hardware: a silver in the 200-meter and a bronze in the 100-meter!
Nia Ali Wins the 100-Meter Hurdles
Liu Hong
Chinese race walker Liu Hong took gold in the 20-kilometer race walk this year after giving birth to her daughter Xixi in November 2017. Her winning time was 1:32:54 which, over a 12.4 mile race, equates to just under 7:30 minutes per mile. Walking. Hong, the world record holder in this event, told IAAF that as an athlete and a mother, "I have to devote much time to balance family life and training. It was a bit difficult for me, as I have to focus on the training and make my training more effective." With her gold medal in hand, we think she figured it out pretty well.
Liu Hong Wins the 20-Kilometer Race Walk