We were recently at the Nike Innovation Summit in New York, where we got the chance to get up close and personal with some of the most mind-blowing advances in athletic gear we've ever seen (reminder: self-lacing shoes). Also on our wish list? The Nike Air VaporMax — and it's made for running.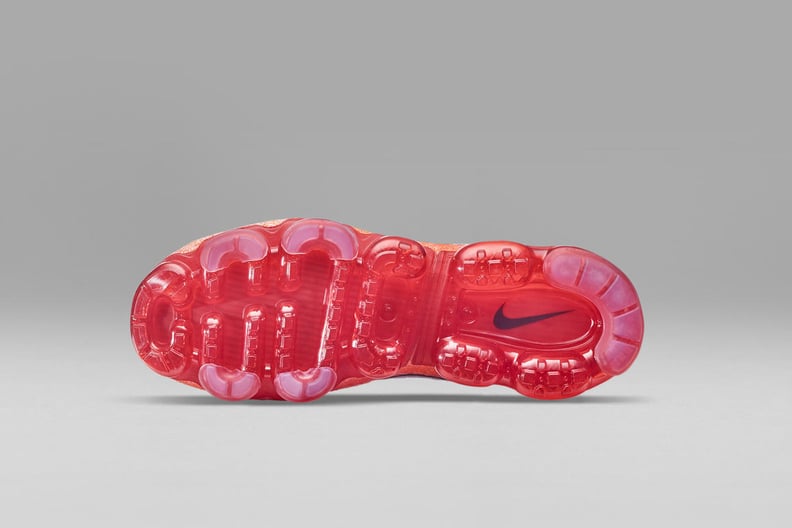 Given that we already love our Air Maxes for brunch outings and days in the office, we're freaking out about this fitness-specific addition to the Air Max family. Seana Hannah, Nike's VP of innovation, likened running in the VaporMax to "running on air," and we can attest. After playing with the shoe ourselves, we can safely say the VaporMax is one of the lightest running shoes we've yet to feel with a cushioned sole that is like no other — PR, here we come.
The magic lies in the sole. One of the distinguishing marks of any Air Max is the visible air bag in its heel (known at Nike as the "Air-cushioning unit"). The VaporMax takes it to the next level by replacing the entire sole with the Air unit, eliminating the need for a weighted-down foam midsole. Runners are left with a lightweight, flexible shoe that feels like "wearing clouds," as Hannah said. Adding to the revolutionary sole is the VaporMax's upper, which is constucted with Nike's popular formfitting, seamless Flyknit technology.
However, there is one major drawback when it comes to the VaporMax. Running fanatics are going to have to wait a full year to get their hands on a pair, as the yet-to-be-announced release date isn't slated until Spring 2017.