Novak Djokovic Did Unmasked Photo Shoot While COVID Positive
Novak Djokovic Admits Doing an Unmasked Photo Shoot While Knowingly COVID Positive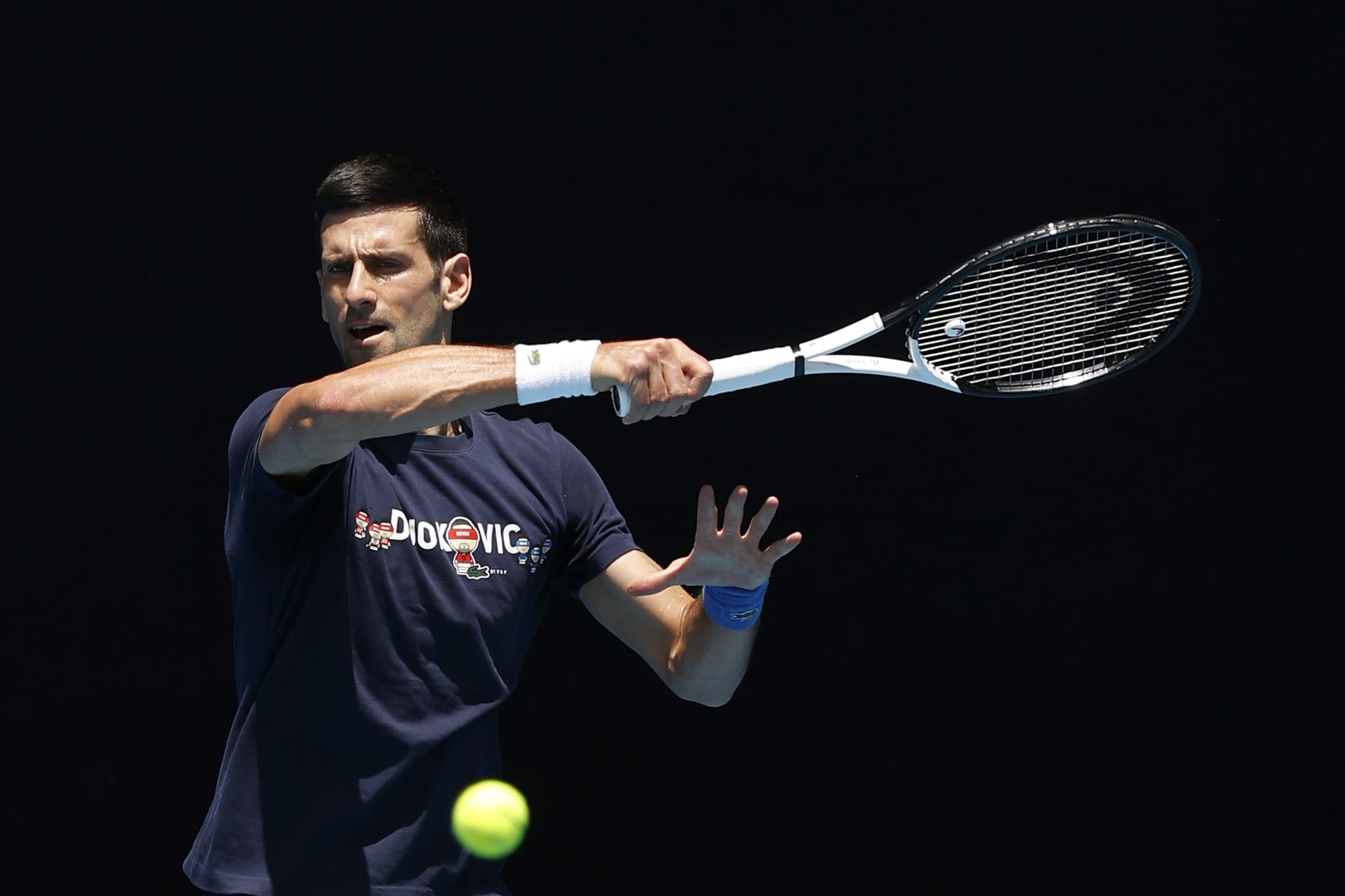 Image Source: Getty / Darrian Traynor
The 2022 Australian Open begins on Jan. 17, and Novak Djokovic, granted a medical exemption to forgo the COVID-19 vaccine requirement, is gearing up to defend last year's title. And while the Australian government may deport him following a complicated saga over his visa, more controversy arose when the world found out he had tested positive for COVID in mid December and went to public events around the same time. In a new statement, Djokovic set the record straight about when he actually found out he was positive for COVID, but by doing so, he also admitted that he'd gone to an interview after learning that he was COVID positive — and he admitted to being unmasked during the accompanying photo shoot.
"I want to address the continuing misinformation about my activities and attendance at events in December in the lead up to my positive PCR COVID test result," Djokovic posted in a statement on Instagram. "This is misinformation which needs to be corrected, particularly in the interest of alleviating broader concern in the community about my presence in Australia, and to address matters which are very hurtful and concerning to my family."
Here's what Djokovic revealed about his test results and event attendance:
Dec. 14, 2021: Djokovic attended a basketball game in Belgrade, Serbia. It was reported afterward that a number of people tested positive for COVID.
Dec. 16, 2021: Djokovic took a rapid antigen test, which was negative, and a PCR test the same day "out of an abundance of caution." He was asymptomatic.
Dec. 17, 2021: Djokovic tested negative on a rapid antigen test before attending a tennis event in Belgrade to present awards to young tennis players. He said he was asymptomatic and "felt good." He received his positive PCR test results after the event.
Dec. 18, 2021: Djokovic cancelled all other events he had planned but did an interview and photo shoot with French sports newspaper L'Équipe that he said was a "long-standing commitment."
Djokovic wrote, "I felt obliged to go ahead and conduct the L'Equipe interview as I didn't want to let the journalist down, but did ensure I socially distanced and wore a mask except when my photograph was being taken. While I went home after the interview to isolate for the required period, on reflection, this was an error of judgement and I accept that I should have rescheduled this commitment."
According to a CNN translation of a L'Équipe article, the photographer, Etienne Garnier, and journalist, Franck Ramella, involved in the photo shoot and interview were not told Djokovic was positive for COVID before, during, or after their time with him. The L'Équipe piece states that Ramella has since tested negative for COVID; however, it doesn't mention any updates on Garnier.
Garnier and Ramella wrote for the newspaper: "We were being safe, facing each other at a distance of nearly one meter, sitting on opposite sides of a long rectangular table. When Etienne asked him to remove his mask for five minutes during the interview, Djokovic refused. . . . Then the photo session took place. Obviously, the Serbian champion removed his mask. We did not want him to pose with his face half-covered."
Djokovic's statement also addresses an administrative error that his team made when filling out his visa application. Essentially, they indicated that the world No. 1 men's tennis player had not traveled internationally in the 14 days ahead of his arrival to Australia when he in fact did, The New York Times reports. The Instagram ahead includes Djokovic's full statement issued on Jan. 12. According to the Associated Press, Djokovic released this statement during a practice session on the Australian Open's main court.