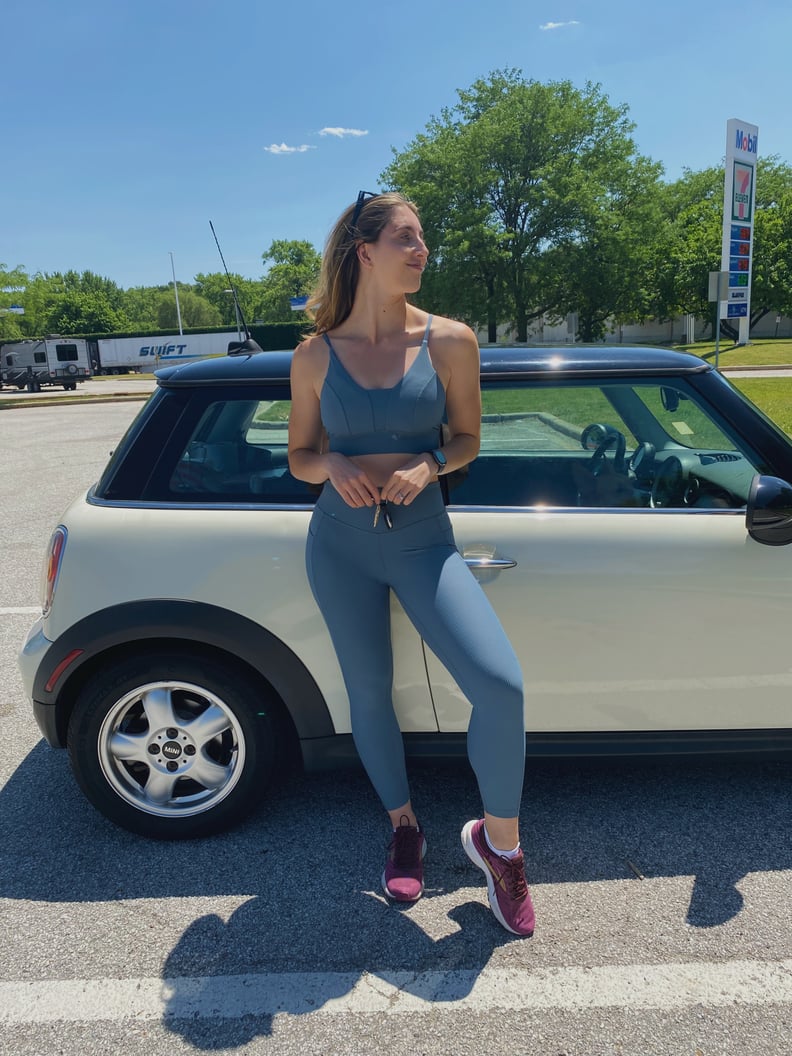 POPSUGAR Photography | Marisa Petrarca
POPSUGAR Photography | Marisa Petrarca
As POPSUGAR editors, we independently select and write about stuff we love and think you'll like too. If you buy a product we have recommended, we may receive affiliate commission, which in turn supports our work.
When it comes to activewear (and just about any piece of clothing), comfort is everything to me. Chances are that I won't wear it unless it fits just right. This is especially true of sports bras and workout leggings, which I often find to be either too tight or too loose. For that reason, I tend to stick to brands that I know fit me perfectly. Among these is Old Navy, which is no stranger to rave reviews from fitness-lovers. So when I recently came across the Light Support PowerSoft Textured-Rib Sports Bra ($33) and the matching High-Waisted PowerSoft Rib-Knit Side-Pocket 7/8-Length Leggings ($45), I couldn't resist adding them to my shopping cart. They're definitely more fashion-forward than the workout pieces I usually choose from the brand, and I was excited to wear something other than my go-to black leggings and matching sports bra. Ahead, find my honest thoughts on the set.
What I Like About This Activewear Set
This activewear set is undeniably stylish — it's unlike anything I've ever seen in Old Navy's activewear section. I was first drawn to the textured rib design and the sports bra, which boasts a scoop neck and pieced, contoured seams at the bodice. The details make the set look like it's from a high-end activewear retailer. The fit is weightless. Since it has light compression, it doesn't feel skin-tight — which, in my opinion, is the recipe for ultracomfy workout clothes.
What's Worth Noting
The sports bra offers light support (plus a shelf bra with removable cups), and both the sports bra and leggings offer lightweight compression. I put this set to the test by wearing them on a long run, and honestly, I wouldn't do it again. As someone who sweats a ton during exercise, I could see major sweat marks through the outfit. Nevertheless, I'm still infatuated with the look and feel of this set and will continue wearing it on low-impact days when I know I'm not going to be sweating through my clothes (i.e., during hot-girl walks). If you can relate to the struggle, I recommend scooping up this set in the black option.
Both the sports bra and leggings have overwhelmingly positive ratings, but shoppers warn that the bra doesn't offer major support for bigger chests. (That's not to say that it won't still look really chic, though).
Who Is This Activewear Set Best For?
This activewear set is best for those engaging in low-impact exercise, running errands, or lounging around. The brand agrees: the website states, "Ideal for yoga, Pilates, barre & everyday activities."
Additional Details
Both the leggings and sports bra come in sizes XS-4X.
Both the leggings and sports bra are made of a durable and stretchy combination of 77 to 79 percent nylon and 21 to 23 percent spandex.
The leggings have diagonal pockets that can fit your phone, keys, and more.
This activewear set comes in a total of five colors: black (Black Jack), lavender (Wanderlust), muted teal (Ocean Shale), and off-white (Wish Bone).
Machine-wash the leggings on cold, and tumble dry on a low setting to keep them in tip-top shape; machine-wash the sports bra on cold on a gentle cycle and tumble dry on low.
Rating:
★★★★★