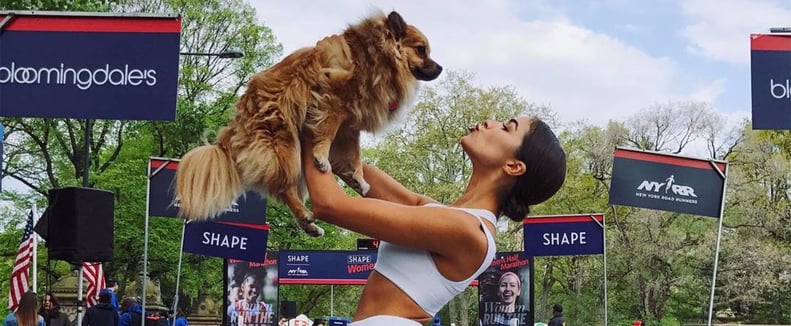 If you turn to Olivia Culpo's Insta on the reg just like us, then you know her fitness lewks are just as on point as her jet-setting evening ensembles and uberfemme daytime outfits. There's a reason this girl's got 1.9 million followers, and we're pretty sure it has everything to do with her killer sense of style. If you don't have the bankroll to copy Liv's sporty side however, don't fret. We found bargain versions of some of her ultimate hits — now all you need to do is hit the gym for those abs . . .
Team Crop Top
Liv loves herself a good high/low fashion moment (as do the rest of us), and she even makes that theme work for her workouts. Here she is sporting a YSL bag with a Reebok crop top and leggings, and while the bag might set you back the big bucks, you can score her tank for only $25. Her colorblock leggings are also by Reebok and available for $65 here.


Red Hot
Oliva's pal Morgan Stewart (of Rich Kids of Beverly Hills fame) teamed up with fitness brand Touché LA to design a line of matchy-matchy sports bras and leggings in tons of flattering hues, and popular would be an understatement for how fast these babies sell out. Morgan's latest hues range from peach to pink, but we're feelin' the electric red ($92 for the leggings) on Ms. Culpo. If that's a bit too much $$$ for fitness apparel however, you can also shop this look-alike pair for $30.
Sheer Genius
What, like you don't rock athleisure with furry UGG slip-on sandals and a long coat? Time to get on OC's level. Her Michi illusion leggings retail for $195, but Forever 21's got your back (and your bank account on watch) with this black-meets-sheer number that will only cost you $20.
Better in Black
Proof you can go straight to the catwalk post crunches. Or, in this case, the car to run errands in an all-black combo that's instantly elevated with a pair of shiny shades. Her ribbed moto leggings with leather insets look like they're on the pricey side, but you can channel Olivia in this $45 pair, and no one will know the difference.