Organifi Gold Review
This Melatonin-Free Elixir Put Me Right to Sleep
As POPSUGAR editors, we independently select and write about stuff we love and think you'll like too. If you buy a product we have recommended, we may receive affiliate commission, which in turn supports our work.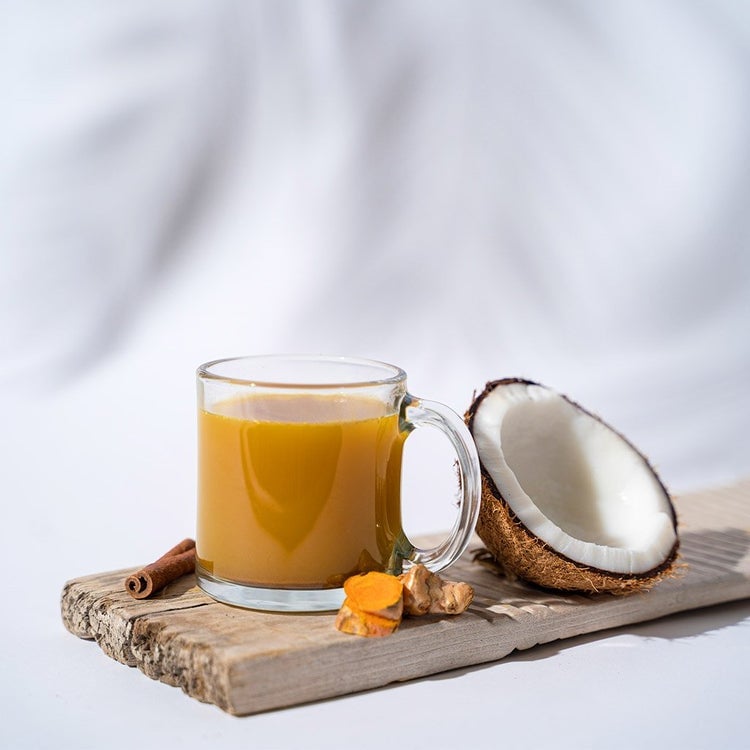 Organifi Gold ($70), an herbal, sleep-promoting drink that looks like a chai latte and tastes like hot chocolate, was not a gift I was expecting this past Christmas. I should say that in my family, it's not out of the ordinary to open up one or two obscure food products on Christmas morning. This year alone, I got dried kale powder, three types of Icelandic salt, AND a refill container of a different brand of sea salt. We are a sodium-friendly family, and it was a very salty Christmas — in a good way.
Amongst all the seasonings, my mom also gifted me and my sister two containers of Organifi Gold, a supplement powder meant to promote good sleep. You stir a scoop into warm water or milk, drink, and head to bed for a restful night. The big draw is that the ingredients are very healthy — including turmeric, ginger, reishi mushroom (an adaptogen), coconut milk, and cinnamon — but the drink itself tastes like hot chocolate. Healthy hot chocolate that helps you sleep just sounds like a winning combination, in my opinion.
Organifi Gold Review
My sister was the first one to try out Organifi Gold, and she reported back with rave reviews. "I just had maybe the best night of sleep I've had since March 2020" was the direct quote in our family WhatsApp. "Didn't wake up in the night at all, no dreams, woke up recharged and ready to go before my alarm." With that kind of feedback, the rest of us were obviously very eager to try it for ourselves.
Now, Organifi Gold is sugar free, so don't go in thinking it's going to taste like the richest hot chocolate you've ever had. That said, we mixed our Organifi Gold with oat milk and frothed it a bit, and it tasted sweet and luxurious, just a little thicker than tea. Whether it was from the ingredients or the soothing taste and texture of the warm drink, I did definitely feel myself get drowsy and more relaxed after drinking.
After drinking Organifi Gold for a few nights, I'm not sure it completely revolutionized my sleep the way it did for my sister, but clearly that does happen for some! For me, drinking Organifi Gold seemed to help me fall asleep faster and sleep more deeply than before, and it was also a lovely wind-down after work and dinner. It tastes really good and helped me de-stress and get a solid night's sleep, melatonin free. It is $70 a canister, so I wouldn't blame you for thinking that's a bit expensive for a wind-down drink. But if you're looking for a tastier sleep supplement with simple ingredients, this might be one to splurge on — or, you know, add to your next birthday-slash-holiday wish list.