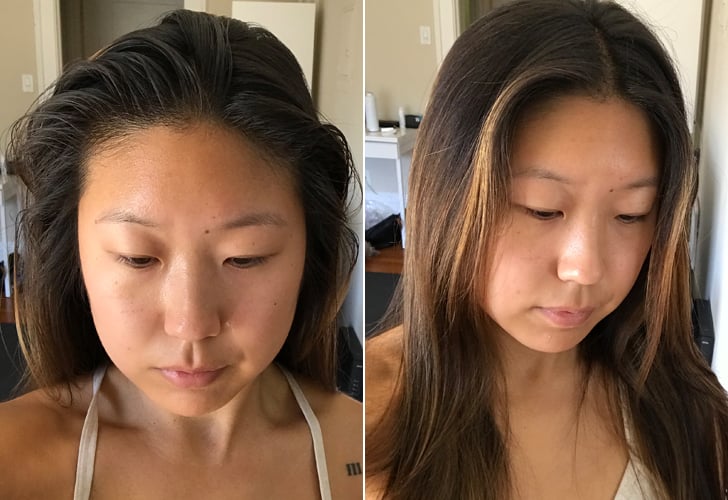 I'm one of those people who plan their workouts around their hair-washing schedule, which is about every other day. I'll opt for a high-impact workout on days my hair is most greasy while saving my low-impact classes (like barre) for days I'm trying to skip. Especially having colored hair, I try to avoid washing daily to preserve my balayage for as long as possible. But sometimes, I'd rather sacrifice a day of hair health for one of my favorite classes. One product that's seriously saved my hair between washes — and that's changed the gym-to-office (or happy hour) game — is Ouai's Dry Shampoo Foam. I've tried my fair share of dry shampoo sprays, but I haven't been able to find one that's stood up to this miraculous waterless hair cleanser.
Whether you're trying to skip a wash or you don't have time to fully freshen up before your next engagement, this. is. for. you. Its mousse-like consistency dries so quickly and leaves your hair amazingly soft with a boost of volume. All you have to do is work a palm full of foam into your dry roots and watch it effectively remove sweat, oil, and built-up product. I'm not even being dramatic when I say this, but no other product has never made me say, "Holy sh*t, this works." In just seconds, my hair is transformed from sweat nest to dinner ready, making this a gym-bag essential.
The best part is that it's great for all hair types and is completely free of parabens and sulfates, which means your color-treated strands are safe. You also don't have to worry about it leaving any powdery residue in your roots because, well, it's just that damn magical. Not to mention it smells amazing!
The full-size bottle (5.3oz) is on the pricier end at $28, but I can tell you that this is a quality product that's worth the splurge. As someone who rarely spends a ton on beauty products, I don't have any regrets on this purchase whatsoever. The dry shampoo foam also comes in a more affordable travel-size option for $12 that's perfect for throwing into your gym bag. Start out with the smaller bottle to see whether it's worth the investment — but I can already tell you that you'll instantly be hooked.