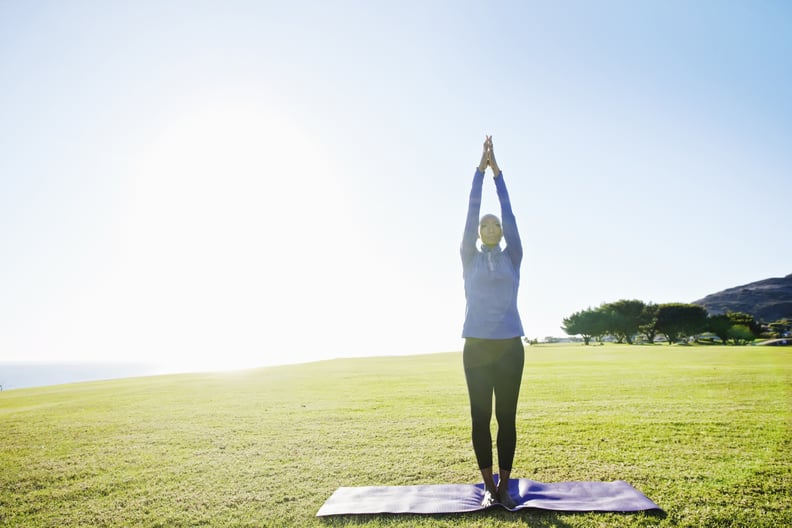 Getty Images | Peathegee Inc
Getty Images | Peathegee Inc
BYOM, or bring your own mat. That's the name of the game for most of the outdoor, socially distanced workouts popping up in parks, around running tracks, and on piers and beaches.
Whether you've yet to invest in a workout mat, or you're not into laying your indoor yoga mat on the astroturf or concrete, we reached out to two fitness professionals for their advice on buying the best mat for outdoor workouts. From convenient carrying straps to mat thickness, start your shopping research here.
Buy an Easy-to-Carry Mat That You Don't Mind Getting Dirty
By nature (pun intended), if you're working out in the great outdoors, your workout mat will come in contact with some dirt. So, with that, Melody Scharff — a NASM-certified personal trainer and Fhitting Room FHITpro who's currently teaching outdoor classes — suggests buying one you don't mind getting a little dirty.
"Try to find one that comes with its own carrying strap or bag. I found a mat that doesn't have that typical almost-waffle-knit texture because I knew I would be getting a lot of dirt on the mat, and I didn't want it getting stuck in the material. When class is over, it takes me ten seconds to wipe the mat clean, but people with those classic mats are still trying to shake the dirt loose," Scharff says.
Avoid Sweat-Absorbing Mats and Bring a Yoga Towel
This might seem counterintuitive — especially because no one wants to be slipping and sliding around when things heat up — but according to Kate Davies, a yoga and Pilates instructor and the owner of YO BK Yoga and Pilates Studios, odor may become an issue for sweat-absorbing mats.
While many workout mats have sweat-wicking or resistant technology, you can also use a yoga towel to lay down on your mat, or use it to wipe away sweat as you go, Scharff says.
Prep a Mat Cleaning Spray
There's a bevy of reasons you'd want to clean your workout mat (sweat, smells, bacteria, just to name a few), so be sure to get into a routine of cleaning it — just like you would in any fitness studio after class.
"The great news is it will air out as you work out, unlike in a busy studio," Davies says. "Always give your mat time to breathe after you get home — outside if possible. Avoid rolling up a sweaty mat and leaving it until your next workout."
After it's aired out, Davies says you can make your own mat spray with water, a few drops of Dr. Bronner's Castille Soap, and tea tree oil. You can also purchase a mat cleaner, like Asutra Lavender Yoga Mat Cleaner or Manduka Yoga Mat Wash. As always, ensure you don't have any sensitivities to ingredients before using.
Consider the Thickness and Material of Your Mat
Davies suggests buying a mat that is 1/8 to 1/4 inches thick so that it's light enough to carry, but also thin enough to pop in your mat bag.
In terms of material, Davies also recommends a rubber mat: "In my experience, rubber is easiest to clean and doesn't slide on grass or turf."
But Davies says the thickness of your mat also comes down to what exercise you're going to be doing — so be sure to check in with your trainer to see what they suggest.
Scharff thinks a thick mat is better for every surface, especially concrete. "I am happy to have a thick mat on grass too because the ground tends to be lumpy, and I think a thick mat flattens out your surface a bit more."
For a thinner mat, consider the Gaiam Performance Dry-Grip Yoga Mat, while the Adidas Training Mat could be a great thicker option — complete with its own carrying strap.
Click here for more health and wellness stories, tips, and news.