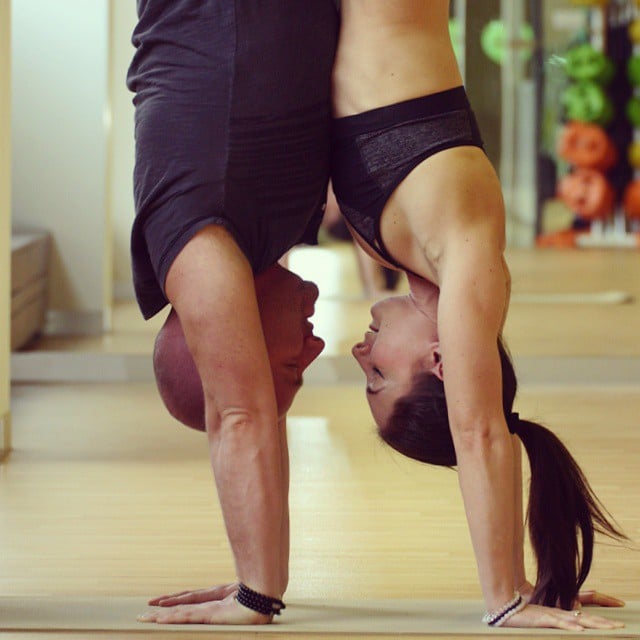 This Valentine's Day, forget the chocolate and flowers. Spend some time together connecting with your favorite person by doing some partner yoga. Move through this 10-posture sequence, and not only will you experience a deep stretch in your muscles, but you'll deepen the connection with your loved one as well. Source: Instagram user brigittabecker Arching Heart
This heart-shaped pose will not only increase flexibility in your spine, but opening the chest and shoulders also makes you feel lightness and love in your heart. Double Standing Forward Bend
Get over the fact that your bums are touching in Double Standing Forward Bend, because you'll experience one of the most amazing hamstring stretches. Double Down Dog
This Down Dog partner pose feels great for both people. The person on the bottom gets a nice lower-back release and can deepen the stretch in the hamstrings. And the person on top gets to work on their upper-body strength in preparation for doing handstands. Down Dog Bow
It feels wonderful to have some weight on your hips in Down Dog, and for your partner on top, she'll get to feel weightless as she stretches the front of her body and increases flexibility in her spine. Double Sandwich Double Wide Boat Child's Pose Lounge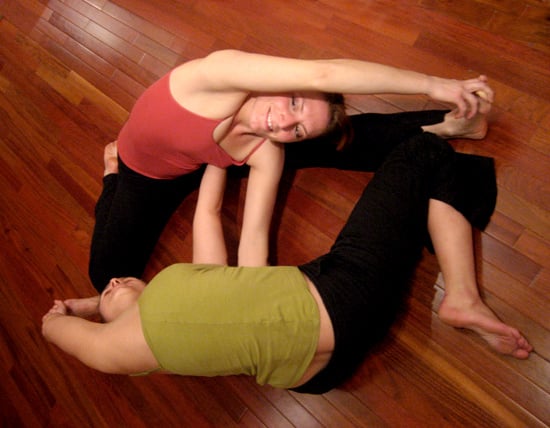 Double Gate
I love to stretch the sides of my body, especially after I've done some core work, but I can never get as deep a stretch on my own as I can doing Double Gate pose with a partner. Down Dog Scorpion
This Down Dog variation looks much more complicated than it actually is, so give it a try. It offers the person in Down Dog a deep hamstring stretch, and for the person in Handstand Scorpion, leaning her belly on her partner's back allows her to feel stable enough to really work on arching her spine to bring the feet closer to the head.