Poppy Jamie of Happy Not Perfect on Mindfulness
Why This Startup Founder Says Practicing Mindfulness Should Be Fun
As POPSUGAR editors, we independently select and write about stuff we love and think you'll like too. If you buy a product we have recommended, we may receive affiliate commission, which in turn supports our work.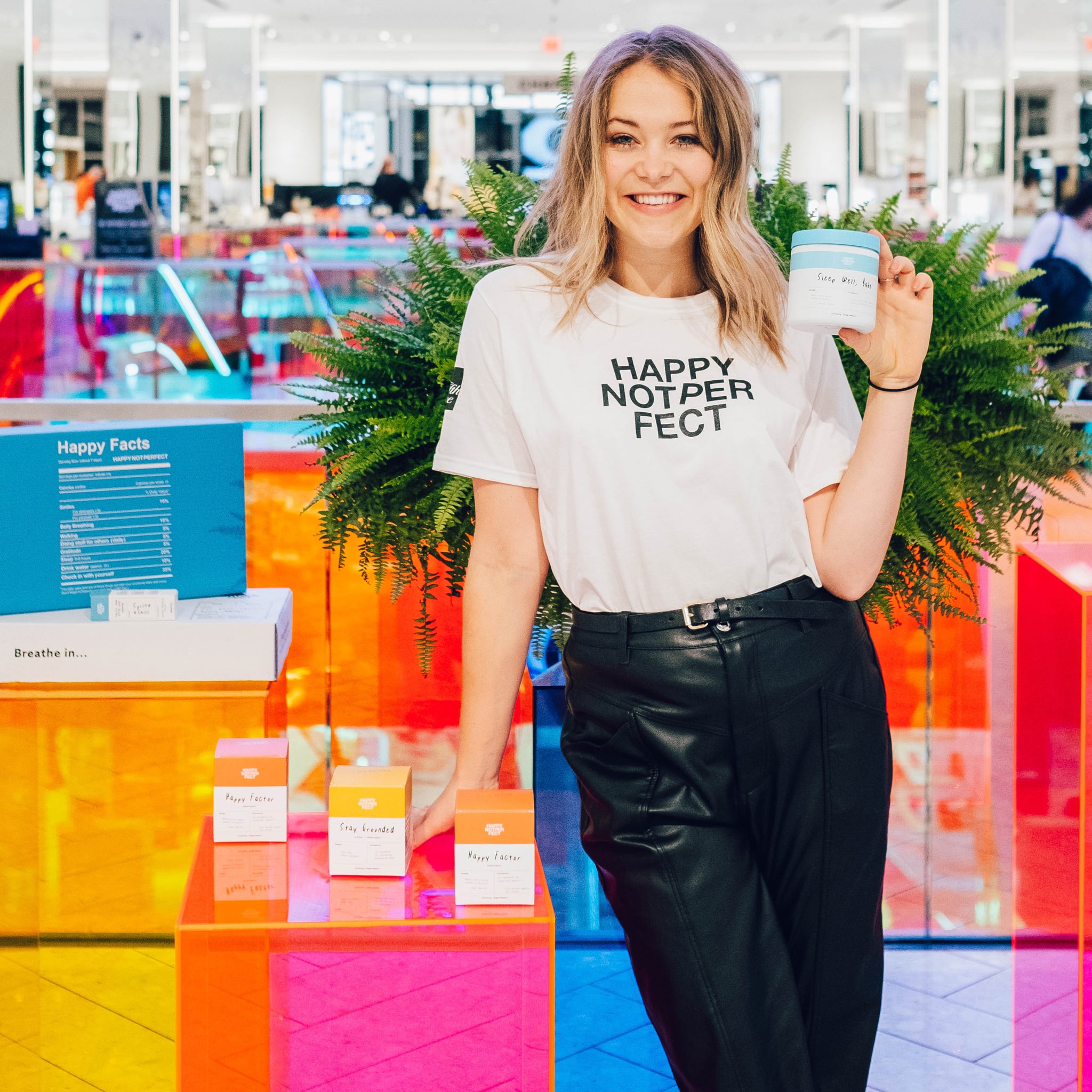 If you're dreading something — whether that's doing your laundry or going for a run — you're never going to get it done. The same goes for taking care of your mental health: if it feels like a chore, you're not likely to make time for it.
That's what inspired Poppy Jamie to create Happy Not Perfect, a free mindfulness app that takes a much more fun, lighthearted approach to meditation. The seven-step, gamified approach is far less serious than some of its competitors, but Jamie said that's exactly the point.
"You should be looking forward to it the way you look forward to your favorite dance class with your favorite instructor," Jamie told POPSUGAR.
Now, Jamie's bringing her refreshing attitude to life, IRL, in Saks Fifth Avenue stores around the country. At these limited-time Happy Not Perfect pop-ups, guests can pick a stress ball that corresponds with their mood, write down what they're grateful for today, or literally shred their worries. It's a playful, fun way to de-stress — especially combined with a little retail therapy.
To keep the good vibes going, Happy Not Perfect also launched a line of adaptogens, which are herbal supplements that are traditionally used to help the body deal with stress. All the products have cheeky names, like Sleep Well, Babe! ($38), a hot cacao mix featuring supplements such as magnesium and valerian, and Stay Grounded Coffee ($38), an instant coffee combined with grounding herbs including ashwagandha and rhodiola.
If Instagrammable packaging or a cute Emotional Bag(gage) Tote ($25) is what gets you to make mindfulness a part of your everyday routine, hey, Jamie will take it.
"Number one in self-care is to look after the mind. If we don't process our emotions, they will manifest as physical ailments," she said. "Your brain is so busy — it's active all the time — and of course it needs some rest, too."
Image Source: Happy Not Perfect