This Popular Diet Helped Melissa Lose 50 Pounds of Baby Weight in 16 Weeks
Becoming a mother motivated Melissa Ellis to get healthy and change her life. She desired to run around and play with her children, and knew that in order to do so, she needed to lose weight. She recalls feeling trapped in her body and needing to do something about it, so she decided to start the keto diet. Melissa lost 116 pounds after her first child and recently just gave birth to her second child, and she has since lost 50 pounds. Continue reading for Melissa's complete story as told to POPSUGAR.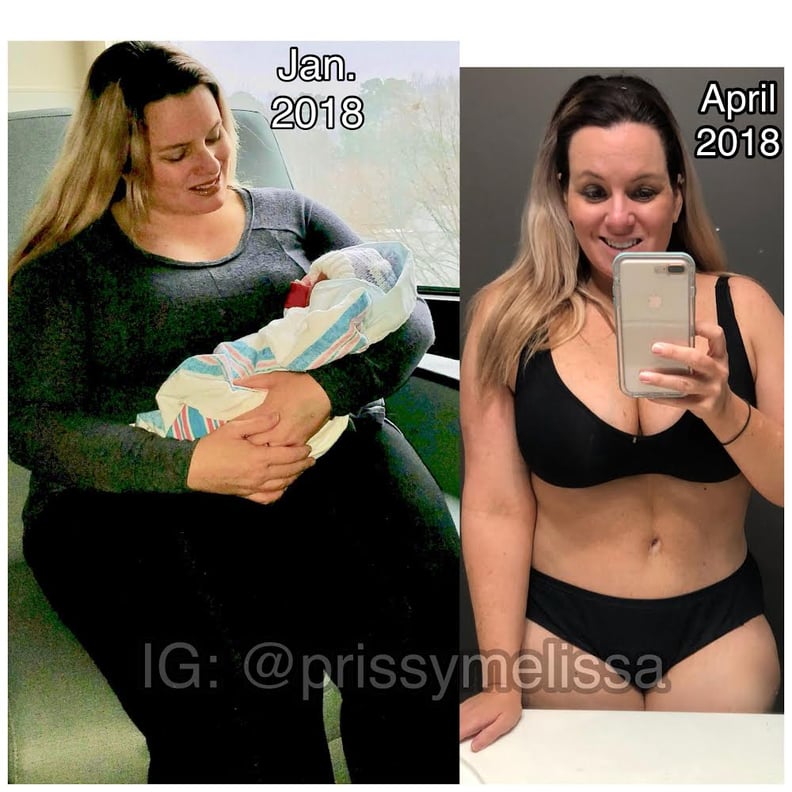 POPSUGAR: What made you embark on your weight-loss journey?
Melissa Ellis: After giving birth to my first child over five years ago, my weight had reached an all-time high. I was over 280 pounds. I felt tired, weak, and a little defeated. There were the obvious things that come along with being a new mother. I wanted to be healthy for my family and to be able to run and play. All of this motivated me to make a life change. But mostly I just felt so uncomfortable in my skin. We took our baby to the beach for the first and then second time. Both times I was too self-conscious to wear a swimsuit, but instead sat on the beach fully dressed. I simply did not feel like myself. I didn't feel like the girl I saw in the mirror. I felt as if I was trapped in a stranger's body and I knew I had to get myself out.
PS: What does a typical day of eating look like for you? Does your diet change on the days you work out?
ME: I follow a ketogenic diet. I typically start my day off with coffee because . . . #Momlife! I like my coffee mixed with heavy whipping cream and Stevia. The natural fat from the heavy whipping cream keeps me pretty full until around 10 a.m. This is when I typically have time to sit down for my first meal of the day. This meal is typically packed with protein (example: bacon and eggs).

"I listen to my body. I don't deprive myself. I give my body the good fuel it needs."
In the afternoon I'll typically eat another meal: a salad with grilled chicken or fish, veggies and full-fat dressing, or a meat and a veggie. If I get hungry before my next meal, I like to snack on nuts — pecans are my favorite. Dinner is typically a meat and nonstarchy veggie and/or a salad added to the side. If I'm hungry before bed, I'll grab a palmful of nuts and a cup of decaf hot tea. Bottom line, if I'm hungry, I eat. I listen to my body. I don't deprive myself. I give my body the good fuel it needs. I try to eat intuitively and not out of habit. I do this on both workout and rest days.
PS: Do you count calories? Why or why not?
ME: I do not. I have found that by just eating low-carb foods and eating intuitively, I have been able to lose the weight and keep it off. Plus, counting and weighing every morsel of food that goes in my mouth is for the birds! I have done that in the past, only to grow extremely tired of the process after a few weeks, which led me to completely giving up. I don't do a ton of counting anymore and I don't give up either! I simply found something that works for me.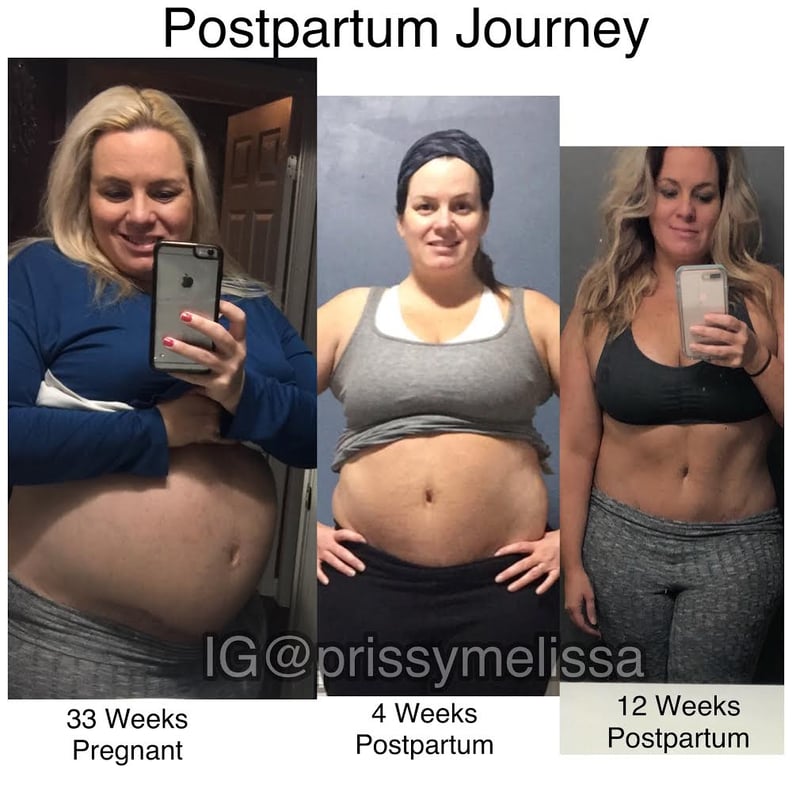 PS: How much weight have you lost to date and how long did it take?
ME: I lost 116 pounds in 18 months and kept the weight off for years until becoming pregnant with my second child. I gave birth to our second child in January of this year. I have lost 50 pounds since having him 16 weeks ago and I am almost back to my prepregnancy weight.
PS: What are some nonscale victories you've experienced?
ME: The things that may seem to be so small are in reality a BIG deal. I can climb stairs without feeling out of breath. I can cross my legs — that's a big one for me. I can sit in a movie theater seat without fear of being too large to fit. I can buy clothes anywhere, not just specialty stores. The list goes on and on.
PS: What has been the most challenging aspect about your weight-loss journey? How did you overcome it?
ME: The most challenging part is to simply keep showing up each day. I have to show up when I don't want to, when I have had a bad day, when I've cheated on my meal plan and want to throw in the towel, when I feel like I should be further along, when I have played the comparison game and don't feel like I measure up to others, when I'm craving cake, and even when I'm feeling good and happy with how I look and feel. No matter if it's a good day or a bad day, I have to show up for me.

"No matter if it's a good or a bad day, I have to show up for me."
I have to put forth an effort every single day. Every day I have to think about my health, which can be a bit daunting, but I have to do it. I've seen what can happen when I don't. So although I'm far from perfect and sometimes I fall, I still show back up every day!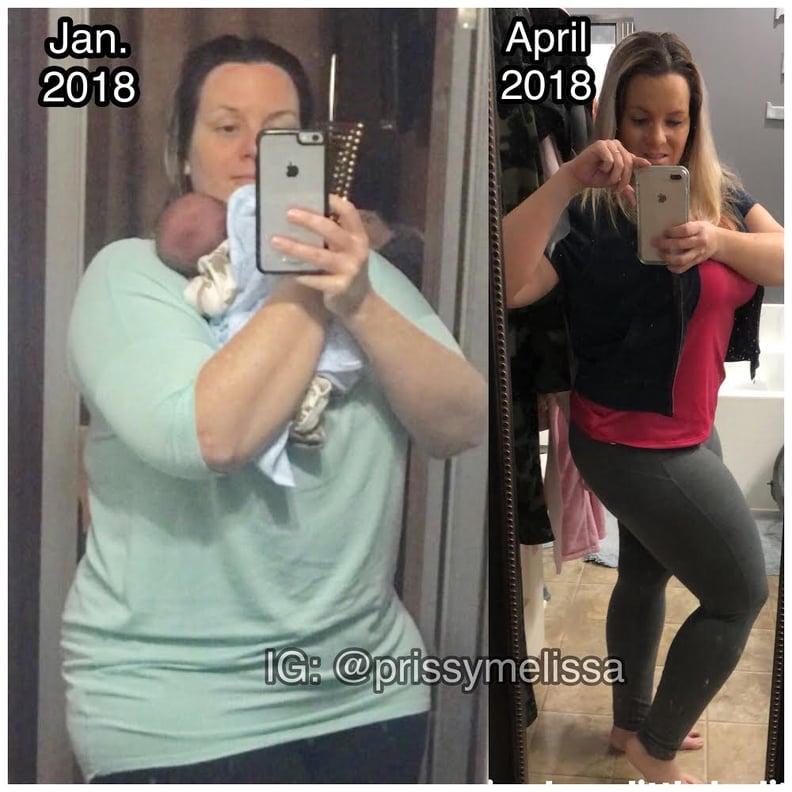 PS: What advice do you have for mothers who are trying to get back into shape after having a baby?
ME: Give yourself GRACE. Give yourself a lot of grace! Your body just created life and has been through an amazing and hard journey. Don't let anyone tell you anything different. When you are ready to work on your postpartum journey, take it at your own pace, don't compare your journey to anyone else. This is your journey. Most importantly, be patient. You are going to be so amazed at how you look and feel a year from now. Those endless nights of no sleep and feedings will be far less. You will be be able to shower again — can I get an amen? — and you will be in a routine of self-care. Just start with small healthy changes and take it one day at a time.
PS: Do you have any final advice or tips for people on their own journey?
ME: Just do it, as in right now! Don't start tomorrow or Monday or next month. Start right now. Don't set an exact number of what you must weigh. Those kinds of goals tend to just overwhelm us and many times cause us to burn out and quit. Don't give yourself a deadline. Why does it matter if you lose 50 pounds by July? So what if it's September? Don't put these unnecessary expectations on yourself. Get started, live a healthy life, follow a meal plan, and get moving! Do this every day and the rest will take care of itself!