I had always thought about doing a half, but honestly, running for over two hours straight didn't sound appealing whatsoever. That was until a dear friend came to me in desperation after her partner for a two-person marathon relay got injured and couldn't run. My immediate reaction when she asked me to fill in was, "Hell no, are you nuts?" Then I thought about it while falling asleep that night and realized at 38 years old, I wasn't getting any younger, so why the hell not?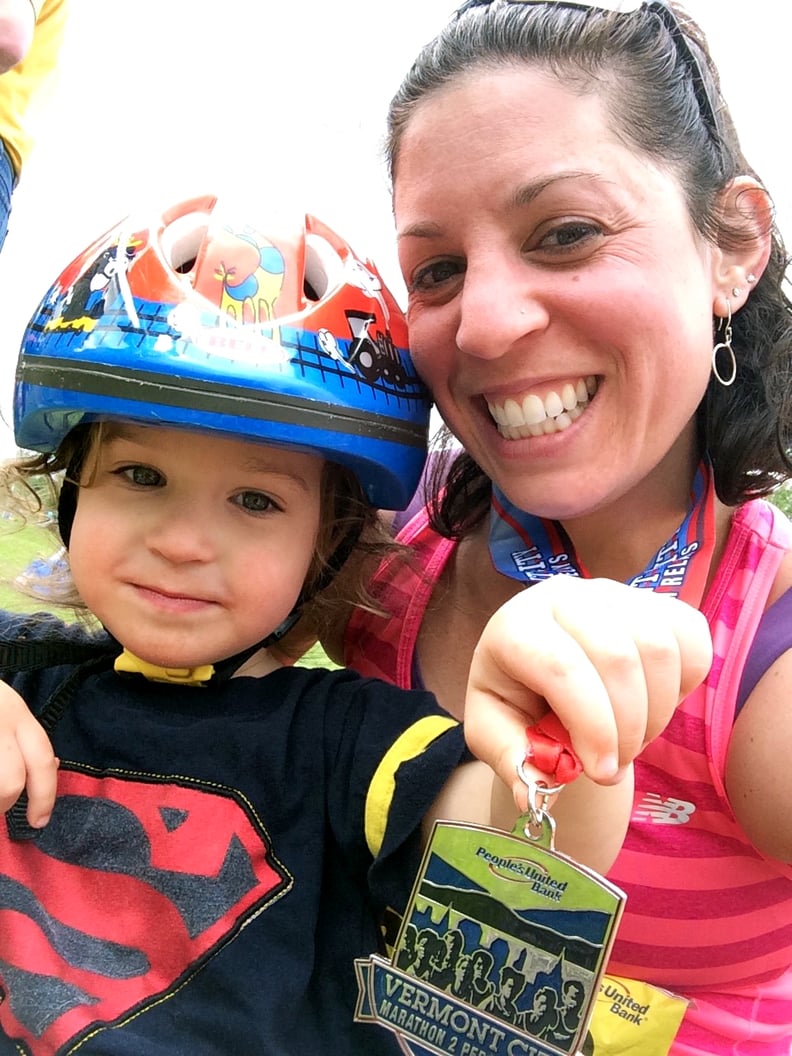 I was a little worried as the race was just five weeks away, but seeing as I was already running four to five miles, four times a week, I was just about on schedule. One thought that got me through those long-ass Saturday morning training runs was, "I'm gonna be so ripped after this." And my legs and butt were getting crazy-strong. Even the hubs noticed. Walking behind me while going upstairs, he gave my tush a little push so I'd go faster, and said, "Damn, your butt is rock hard. Like, seriously." Bonus!
After the actual race, I was hooked on running longer distances. So I kept up with hour-long runs Mondays, Wednesdays, and Thursdays, then did 90- to 120-minute runs on Saturdays. I also kept up with the two to three weekly strength-training sessions I had been doing for several months. Two weeks postrace, I stepped on the scale to find I had gained seven pounds in less than two months. WTH! I've experienced weight gain from running before, so I was familiar with gaining muscle mass. But a flabbier belly and pudgier face weren't muscle. Not even close. And I was pissed. Damn you half-marathon training!
Although I was running four to five hours per week, I wasn't burning enough calories to make up for my insane hunger. When I stopped to think about it, I was eating way too much. Check out an example of my weekday meal plan:
7:20 a.m.: Postrun snack: a few handfuls of almonds or a glass of soy milk
8:30 a.m.: Breakfast: huge protein, fruit, and greens smoothie or bowl of oatmeal
10:30 a.m.: Morning snack: trail mix or soy yogurt with fruit
12:30 p.m.: Lunch: big salad topped with chickpeas, sunflower seeds, and strawberries, followed by a square of dark chocolate (OK, maybe two)
3 p.m.: Afternoon snack: granola bar
5:30 p.m.: Dinner: pasta or quinoa with tofu and roasted veggies
8 p.m.: Evening snack (to carb up for tomorrow's morning run, of course): toast, cereal, pretzels, or crackers with hummus, banana with peanut butter
Extras: To add to that mega meal plan, I was also finishing half-eaten pieces of toast, extra slices of apple, or bowls of pasta that my kids didn't finish after their meals.
I realized that I was never hungry, like, ever. I just ate all day long. And since a little hunger is healthy in order to know when it's time for your next meal, and to avoid overeating like I was clearly doing, I knew I had to make some quick amendments to my eating free-for-all. I ended up cutting about 300 to 400 calories a day. I ditched the pre- and post-workout snacks and ate my breakfast around 7:30 after my postshower workout. Actually, I was pleasantly surprised that not eating before my 6 a.m. run made me perform better because I didn't get hungry toward the end of my run like I used to when I'd eat a little something beforehand. I skipped the morning snack and ate lunch a little earlier at noon. I kept the afternoon snack and made sure to keep it around 150 calories, ate dinner around 6 p.m., and then skipped on that evening snack. I also completely curbed snacking on my kids' leftovers.
Within two weeks, I saw the scale number decreasing, and I was so relieved. And I wasn't hungry or tired, and best of all, I could continue with my running schedule. Am I through with half marathons? No way. I'm taking this as a learning opportunity so the next race I train for, I'll monitor my diet a little closer, and not eat whatever the hell I want.