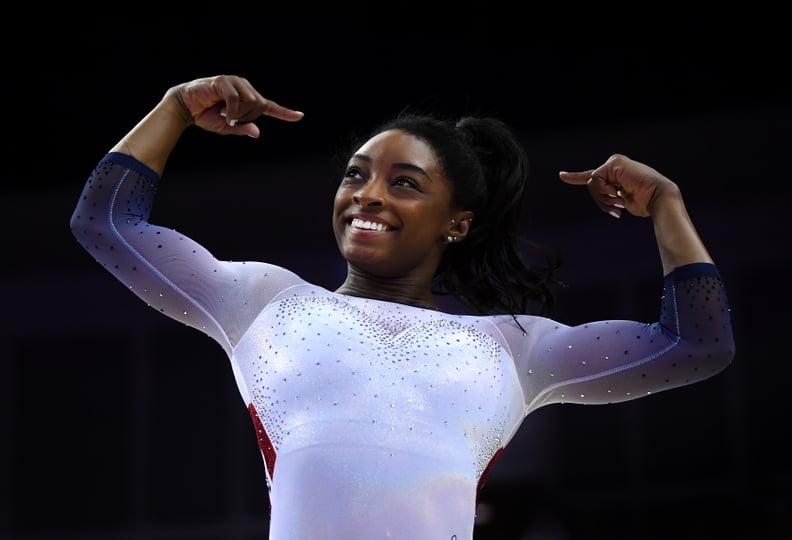 Even if sparkly leotards and four-inch beams aren't your thing, you've probably heard of Simone Biles. During the 2016 Rio Games, she was the fifth female gymnast ever and the first in the US to win four gold medals at a single Olympics. At the GK US Classic this past weekend in Louisville, KY, Simone won the all-around title by more than two whole points. It marks her fourth US Classic win and her 19th straight all-around title over the past six years.
While warming up for her gravity-defying floor routine, the 22-year-old did a tumbling pass that no woman has ever done in a gymnastics competition: a triple double. That's two flips and three twists in a tucked position. In other words, it's a triple-twisting double back. That's a lot of flipping and twisting. Check out the incredible tumbling pass ahead. Simone didn't end up doing this new move in her actual routine, but when she eventually does, the Olympic Channel reports that she'll be the first woman to compete the skill.
Simone did, however, add a new tumbling pass to her floor routine at the Classic. She connected a front layout to her already-signature-move, which is a double layout with a half twist known as "The Biles." In fact, she had so much power that she landed a few feet out of bounds. You can watch the full routine ahead as well.
We've also rounded up all of Simone's other routines from the GK US Classic where she earned that all-around title (aside from floor, you'll see her perform on the uneven bars, beam, and vault). Given that the Olympic trials for Tokyo are still almost a year away, Simone will surely add more difficulty to her routines as she continues to compete in big competitions like the World Championships this October. When asked about her road to Tokyo 2020 after the Classic concluded, she said that repeating the process is "a little nerve-wracking." But if Simone has proven anything, it's that time has only made her better.
Watch Simone Do a Triple Double on Floor
Watch It Again in Slow Motion!
Simone Biles Competes Floor at the 2019 GK US Classic
Simone does her famous move, "The Biles," as her second tumbling pass. You'll see she lands out of bounds, and she reflected after the competition drew to a close, "I overpowered it a little bit, but I'm kind of happy with it. I'd rather go over than under."
Simone Biles Competes Beam at the 2019 GK US Classic
Simone makes beam look easy. That first tumbling series you see is a back handspring step-out connected to two back layout step-outs (basically back handspring step-outs in the air without using your hands). She barely wobbles during the entire routine.
Simone Biles Competes Vault at the 2019 GK US Classic
Simone received the highest score on vault with a 15.650, though she didn't medal for this event since she competed one vault instead of two (the only way you can compete for the vault title is if you perform two vaults). Jade Carey won with a two-vault average of 14.800.
Simone Biles Competes Bars at the 2019 GK US Classic
Simone does a double-twisting double dismount off of bars, and it's the highlight of her jam-packed routine. She received a 14.450 at the GK US Classic.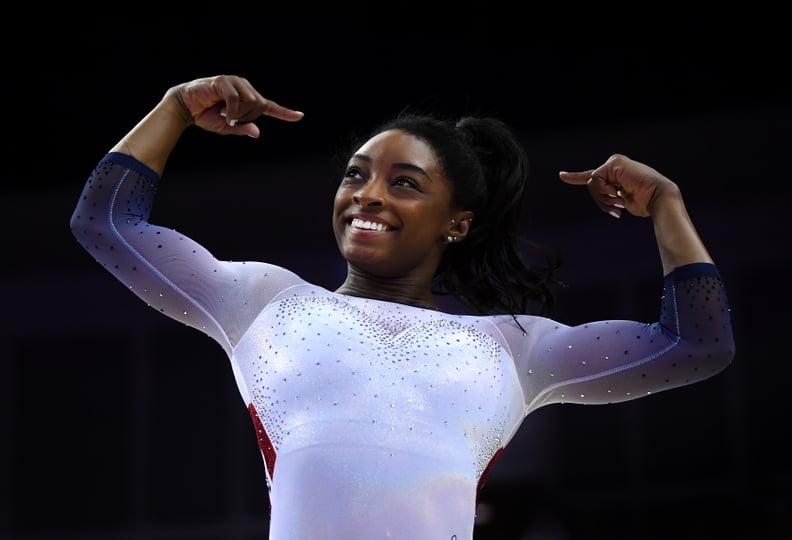 Keep Doing You, Simone!
To learn more, visit teamusa.org. The Tokyo Olympics begin in one year on NBC.