I'm Obsessed With This Healthy Snack That Tastes Just Like Homemade Puppy Chow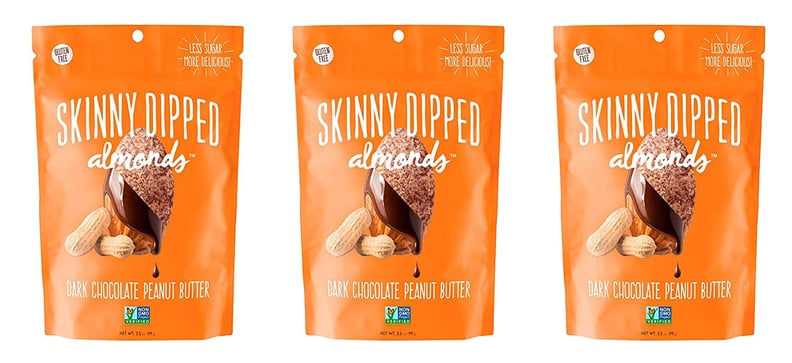 Every editorial product is independently selected by our editors. If you buy something through our links, we may earn commission.
Dark chocolate and peanut butter: name a more iconic duo. I'll wait. While I usually satisfy my craving for chocolate and PB together by either polishing off a dark chocolate peanut butter cup from Trader Joe's or melting chocolate chips and peanut butter together and eating it by the spoonful (don't judge me), Skinny Dipped Almonds released a new flavor that sent my chocolate-peanut-butter-loving heart a flutter.
I was already a fan of Skinny Dipped Almonds thanks to the Dark Chocolate Cocoa and Dark Chocolate Espresso flavors. But when I saw the brand released a Dark Chocolate Peanut Butter flavor, I couldn't get my hands on it fast enough. I'm not a big sweets person, which is why I love Skinny Dipped; the almonds are coated in a thin layer of chocolate and lightly dusted with cocoa powder, so the chocolate and sweetness aren't too overwhelming. Not only does this make it taste better — I actually want to taste the almonds when I'm eating chocolate-covered almonds, you know? — but it also cuts back on sugar and calories. One serving of Skinny Dipped Dark Chocolate Peanut Butter Almonds is a generous 15 almonds and clocks in at just 150 calories, 12 grams of fat, 11 grams of carbs, and seven grams of sugar.
OK, cool, so they have fewer calories than most other chocolate-covered nuts on the market, but how do they taste? I'm not exaggerating when I say I would trade in every Reese's peanut butter cup I ever get for the rest of my life for these dark chocolate and peanut butter almonds instead. In fact, each bite reminds me of Puppy Chow, the chocolate-and-peanut-butter-covered snack you made as a kid. Swap the rice cereal for almonds and the powdered sugar topping for cocoa powder and that's basically what you get when you pop open a bag of these Skinny Dipped Almonds. It's the perfect combo of salty and sweet.
Look, the 15-almond serving is pretty satisfying — I even practice mindful eating when I eat them so I can savor each one in my mouth and enjoy the flavors (yes, I make eating these a whole production). But even if I eat more, it doesn't totally blow my calorie budget for the day. Plus, almonds are a good source of fiber and healthy fats (right?), so they're basically a health food.
Right now, I have bags stocked in my desk and pantry, but I'm about to order some more so I'll never run out. You can find Skinny Dipped Dark Chocolate Peanut Butter Almonds ($20 for three) on Amazon.