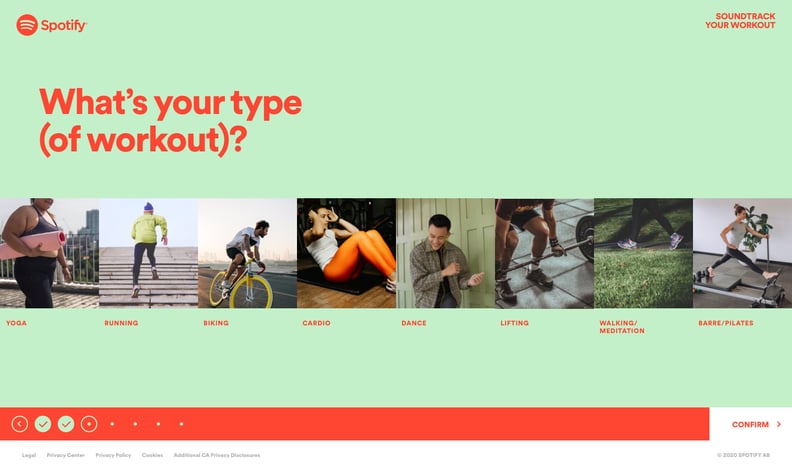 Courtesy of Spotify
Courtesy of Spotify
If you want to match your music with the type of exercise you're doing — upbeat hits during cardio, for example, or more mellow vibes for yoga and Pilates — Spotify is giving you the means to easily make that happen with minimal effort on your part. The Soundtrack Your Workout feature is available now, and it entails answering a few questions already prepared for you. It's a survey that asks you about your workout of choice, what the "mood" of that workout is, if you want music or podcasts (or both), how long you'll be moving (15 minutes to two-plus hours), and more. The result? A customized playlist put together for you and your sweat session in a matter of seconds.
A spokesperson confirmed that anyone with a Spotify account (free or Premium) can access Soundtrack Your Workout via mobile and desktop by going to Spotify.com/workout — not through the app itself. However, once the playlist is created based on your answers, songs you've saved, and Spotify's library of music, you'll be taken to Spotify and can add onto that list if you so choose. The feature also lets you name your playlist, and you'll be able to listen to it whenever you'd like, and you can share it with others! Find out more on the Spotify blog.
"Workout audio has always been a big focus for listeners on Spotify around the globe, and now more than ever, users are finding creative ways to stay active and healthy in this current climate," Spotify's global culture and trends communications expert, Shanon Cook, said in an email statement. "Listeners have created more than 1 million workout playlists in the last two months, and for those who could use some inspiration, we hope that by offering fresh, personalized workout playlists, we'll help boost motivation and keep spirits high."
Here's an example of a quick test playlist I made with Soundtrack Your Workout: I chose 15 minutes of lifting and the genres of Pop and Hip-Hop, said I was fine with explicit music and in the mood to get pumped up, and gave the playlist the name "Hype Workout Music." When I clicked on "listen now," it took me to the playlist, which consisted of five songs on my Spotify app. See screenshots ahead.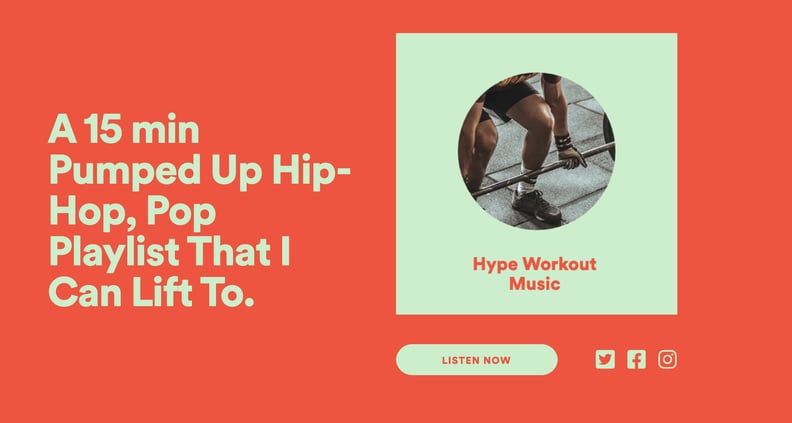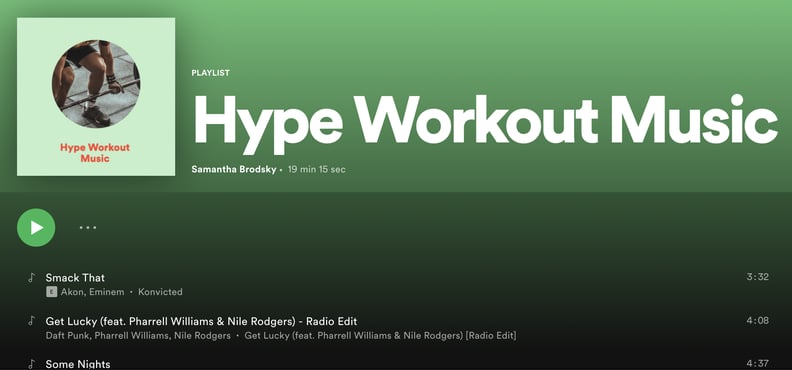 Try this new feature out for yourself before your next sweat session at Spotify.com/workout. Take less time compiling the perfect playlist and spend more minutes focusing on moving your body!