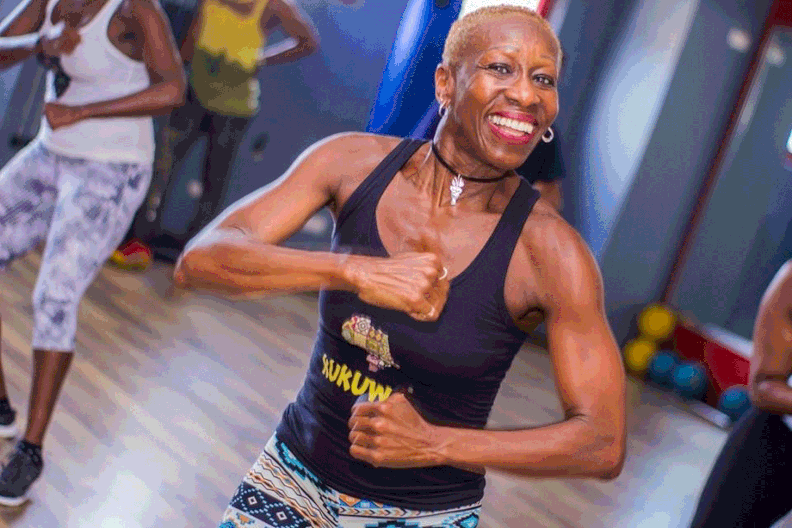 Kukuwa Fitness
Kukuwa Fitness
In Swahili, kukuwa means "to grow." It's the perfect name for Kukuwa Kyereboah and her company Kukuwa Fitness, which in the past few decades has sprouted from a passion project to a global business. And of course, as a fitness company, it has growth — physical, mental, emotional — at its very core.
Kukuwa and her instructors at Kukuwa Fitness teach African dance. They create workouts that aren't just about sweating and burning calories but about learning a joyful, cultural art form. You move your "boombsey" while learning dances from across the continent, from countries like Ghana, South Africa, and Tanzania. "You travel to Africa without your passport," as Kukuwa describes it, while moving every part of your body to the beat. Since the company's founding, Kukuwa has gone on to travel the world, training instructors and teaching classes. And it all started as a side hustle back in the '80s.
The Beginnings of Kukuwa Fitness
Kukuwa was born in Ghana and moved to Washington DC in the '80s, aka the era of Jane Fonda workouts. Popular forms of exercise then had little in common with the natural, free-flowing movement and dance Kukuwa knew in Ghana. There, she said, dancing was an inextricable part of her culture and life. "I did not know there could be a separation of lifestyle and dance," Kukuwa told POPSUGAR.
She started teaching African dance classes, at first two a day, scheduling them after work and during lunch breaks at her day job, but she quickly realized that wasn't enough. "It went from two classes to immediately four classes to immediately five and seven. It was just building up. People wanted it," Kukuwa recalled. "They go to one class and they fall in love with it, and they want it again." Kukuwa Fitness soon became her full-time job, as she created a teaching manual and a certification process to hire on more instructors and keep up with demand.
"People get to know more about African culture and dance through moving their boombsey with us."
Fast forward a few decades. Today, you can take Kukuwa Fitness classes all over the world, online and (once the pandemic permits) in Africa through Kukuwa Fitness's travel program, Africa With Us. AWU flies participants to Africa and hosts tours through Ghana, the Ivory Coast, Kenya, Tanzania, Senegal, South Africa, and Botswana, so participants can experience African culture, music, and dance (the whole Kukuwa Fitness experience) firsthand, right there in Africa. In fact, Africa With Us started taking up so much of Kukuwa's time — she normally takes about 10 trips a year for it — that it prompted the company to start its online program.
The timing was right. Kukuwa said her workouts have gained momentum over the past few years and especially once the pandemic hit, as fitness went almost exclusively online. "We put fresh new workouts on there every week for them," Kukuwa said. "It worked out."
What Are Kukuwa Fitness Workouts Like?
You don't need any dance experience to do a Kukuwa Fitness workout, Kukuwa said. "Somebody might say, 'I have two left feet.' That's OK, you can still do it," she explained. "Right off the bat, we let you know you don't have to be a dancer."
In fact, just forget your preconceptions about dance workouts. In Kukuwa Fitness workouts, you'll move your whole body: arms, legs, boombsey (aka your core and pelvic area), and even head. And you're doing it to music from all 54 countries in Africa, with the instructors (including Kukuwa and her daughter, Coach Cass) telling you where each song and move comes from.
"This class is exhilarating, it is exciting, it is so much fun," Kukuwa said. "You're swinging your hips or moving your head or your shoulders . . . We don't want anybody to worry about how they look. We want them to come in and move their boombsey."
Kukuwa Fitness offers Move Your Boombsey classes for cardio as well as Get It Right, Get It Tight routines focused on building strength; both are set exclusively to African music. The company has even expanded into food, offering Tasty Town healthy cooking classes taught by chefs from Kenya. And in addition to her health and fitness ventures, Kukuwa has also started the Africa With Us Foundation, a nonprofit that raises money to help communities in Africa with goals like building schools, paying school fees, and building plumbing and water infrastructure.
Bringing African Culture "Into the Light"
What unites each portion of Kukuwa Fitness is one overarching mission: to show Africa and African joy to the world, Kukuwa said. As an African dance and culture professor who taught at universities for over a decade, Kukuwa sees her classes as a form of education. "Each time we're teaching, we're letting people know where the music or the movement is coming from," she explained. "People get to know more about African culture and dance through moving their boombsey with us."
One example: to complete their certification, each Kukuwa Fitness instructor is required to learn all 54 countries in Africa by name, along with the main dances from each region. "They're our ambassadors," Kukuwa said, "helping us to spread this beautiful, beautiful culture through dance."
These days, Kukuwa splits her time between Florida and Ghana while continuing to teach classes online, in hopes that her regular travel and teaching schedule will pick back up later this year. She's far from finished, but she has enough perspective to look at her legacy with pride even as Kukuwa Fitness continues to grow.
"People used to think, 'Oh, [Africa] is this dark, way-far-away world.' They did not even have a connection to Africa," Kukuwa explained. "I brought them closer. I wanted to bring Africa into the light."