Tatyana McFadden Heads to Her 6th Paralympic Games in 2021
Tatyana McFadden Has 17 Paralympic Medals — and She's Not Finished Yet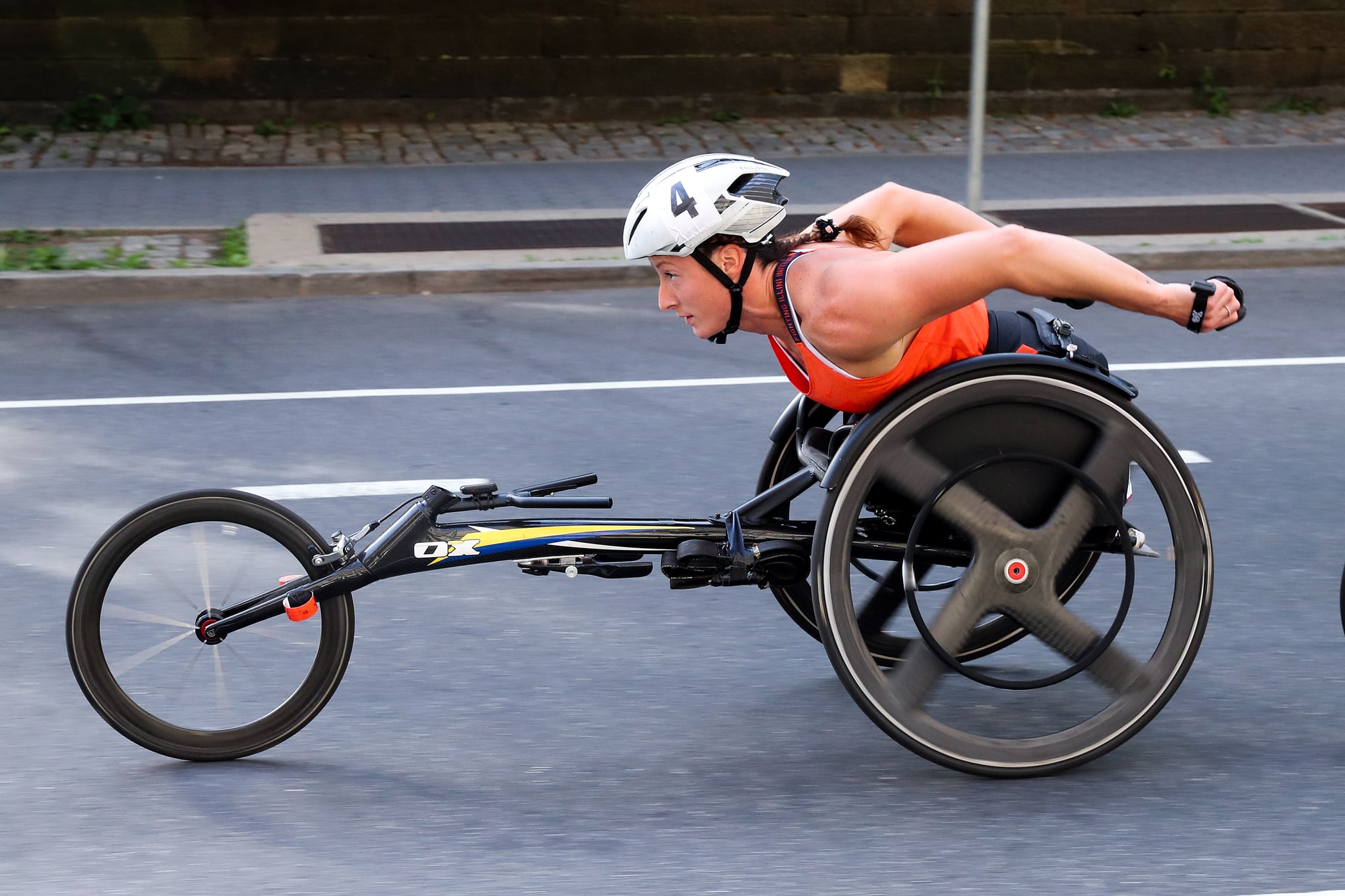 Tatyana McFadden pulls her hair back into a braid before her competitions — it's called her "fast hair," she said. The 32-year-old certainly is fast — and she has 17 medals across five different Paralympics to prove it. Most are in track and field, though she earned a silver in cross-country skiing at the 2014 Sochi Games and would consider trying for another Winter Paralympics, telling POPSUGAR, "It's never a 'no.'" Right now, Tokyo is the sole focus.
McFadden, who already claimed a berth in the Paralympic marathon, hopes to qualify for a list of other events: 100-, 400-, 800-, 1,500, and 5,000-meter races. If she racks up five more medals — no matter the color — she would break the record for most Paralympic medals won by a woman athlete in the umbrella sport of athletics. The record is currently held by Canada's Chantal Petitclerc, McFadden's idol.
For the first six years of her life, McFadden, born in Russia with spina bifida, didn't have access to a wheelchair. She was paralyzed from the waist down and used her arms to move around the orphanage she resided in before she was adopted. Her journey is documented in the Sports Emmy Award-winning Netflix film she helped produce, Rising Phoenix, a remarkable look into the history of the Paralympic Movement and the talent showcased at the Games. In the documentary, McFadden said it's believed walking on her hands helped build upper-body muscle mass that led to her athleticism today.
With great success comes memorable victories, and one of McFadden's favorites moments was having two Team USA sweeps in the 1,500-meter and 5,000-meter races at the Rio Paralympics. "We call it the 'McSweep' because it's McFadden, [Chelsea] McClammer, and [Amanda] McGrory," she said.
"Life isn't about what you don't have — it's about what you do with the gift that you're given."
On June 12, McFadden, a 20-plus-time major marathon winner, will participate in the women-only Mastercard New York Mini 10K, which added a wheelchair division in 2018, making it the world's only all-women pro wheelchair race. This is McFadden's third time competing, and she said the New York Road Runners (NYRR) event is a good training race amid her Paralympic trials prep because she can practice high-intensity pacing, turns, hill climbs, and descents. These are all technical pieces that are useful on the track or on the road in events like the marathon.
Though there's still more work to be done, McFadden noted that the Paralympics are starting to get the recognition they deserve. "This will be my first Games going in with equal pay for Team USA, so our medals are equal to the Olympians," McFadden said, emphasizing that this comes 16 years into her Paralympic career (a vote in 2018 declared that Paralympians and Olympians would earn equal payouts for medal performances). She also pointed to the small yet significant fact that what was once dubbed the United States Olympic Committee is now the United States Olympic & Paralympic Committee (USOPC).
"There's a big misconception that disabled people are seen as medical conditions," McFadden said. "They're not seen as elite athletes, and so that's a stereotype that we are trying to break right now." For every athlete, young and old, McFadden has a message: "Life isn't about what you don't have — it's about what you do with the gift that you're given."
Comparing yourself to others, McFadden continued on to say, affects your mental health immensely. "You get bogged down, and it makes it harder to try to even accomplish your goals when you think, 'I don't have this, I don't have that, I'll never be a good athlete.'" Our advice? Don't stay in your own way. Do as McFadden does, and charge forward.
To learn more about all the Paralympic hopefuls, visit TeamUSA.org. The Tokyo Paralympics begin August 24 on NBC.
Image Source: NYRR