These Time-Labeled Water Bottles Make It Easy to Stay Hydrated
As POPSUGAR editors, we independently select and write about stuff we love and think you'll like too. If you buy a product we have recommended, we may receive affiliate commission, which in turn supports our work.
We all know staying hydrated is essential to good health, but let's face it — many of us don't drink enough water throughout the day. The current recommendation is to drink 11.5 to 15.5 cups per day, or 2.7 to 3.7 liters. If drinking enough water is easier said than done for you, let us introduce you to timed water bottles. These useful bottles include time-tracking lines and motivational phrases to make staying hydrated fun and at least a little easier, especially if you're the kind of person who loves to hit small goals every day. Each time you hit a new tracking line on the bottle, it's like checking off an item on your to-do list: satisfying and worthy of a mini celebration. Not to mention, it'll be sure to help you accomplish your hydration goals.
Many of these motivational, timed water bottles are meant to be finished over the course of a day. That means no getting up to constantly refill your bottle (though you might need to take a couple of bathroom breaks) and no excuses when it comes to staying hydrated. Fill it up in the morning, set it on your desk, and get sipping! Some may require a refill, but either way, they're sure to help you do so without too much effort. Stay hydrated by shopping these 12 cute options for tracking water bottles ahead.
— Additional reporting by Angela Elias and Naomi Parris

01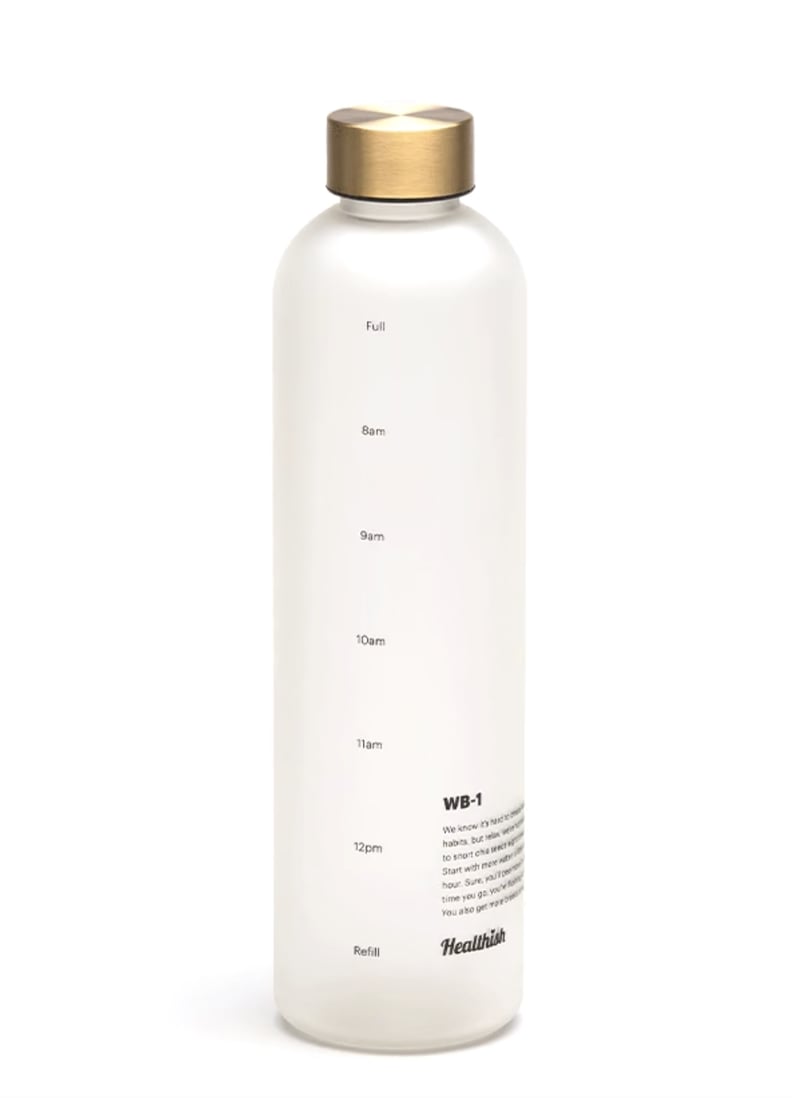 Aesthetic Water Bottle With Measurements
Healthish WB-1 Bottle ($16)
Track your hydration in style with this water bottle. With a simple, elegant look and subtle time markers, this BPA-free plastic, one-liter bottle makes it easy to stay hydrated on the go without lugging around a giant, gallon-size, or brightly colored bottle.
02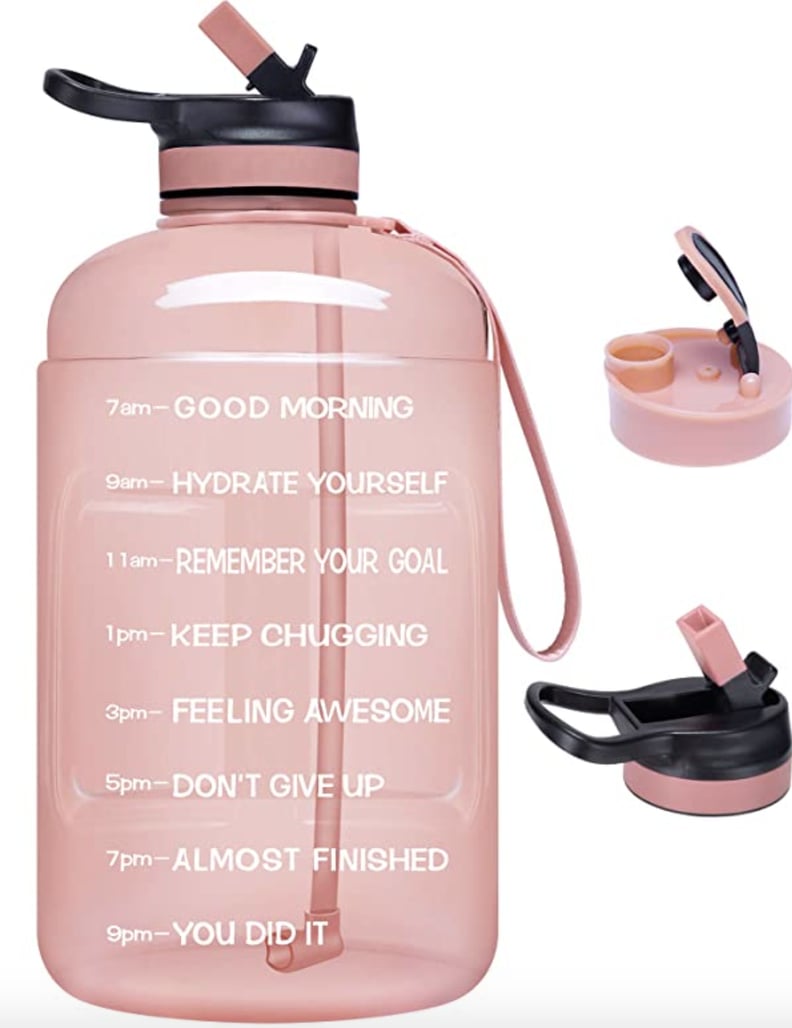 Gallon-Size Water Bottle With Measurements
Venture Pal One-Gallon Motivational Water Bottle ($22)
If you have a gallon-size goal, this water bottle is calling your name. While it might sound tough to drink a whole gallon in one day, the motivational phrases and time markers will keep you on track and hydrated. Plus, at 128 ounces, a gallon is just over the recommended amount of water some people should drink per day.
03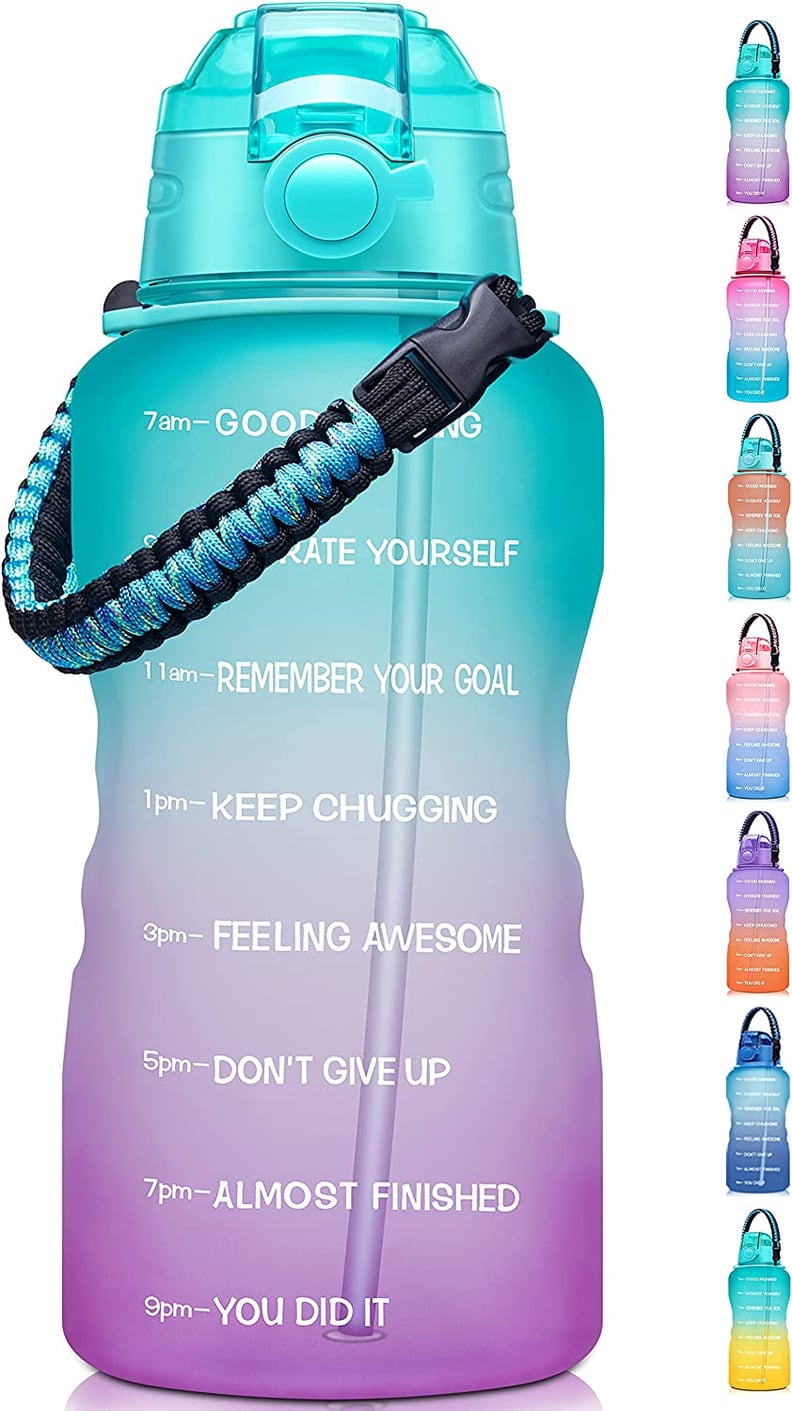 Motivational Water Bottle
Fidus Large 1 Gallon Motivational Water Bottle ($28)
Whatever your favorite color is, this water bottle has the perfect option for you. With time markers on one side, motivational affirmations, and a handy carrying strap, you'll have no trouble taking this bottle wherever you go.
04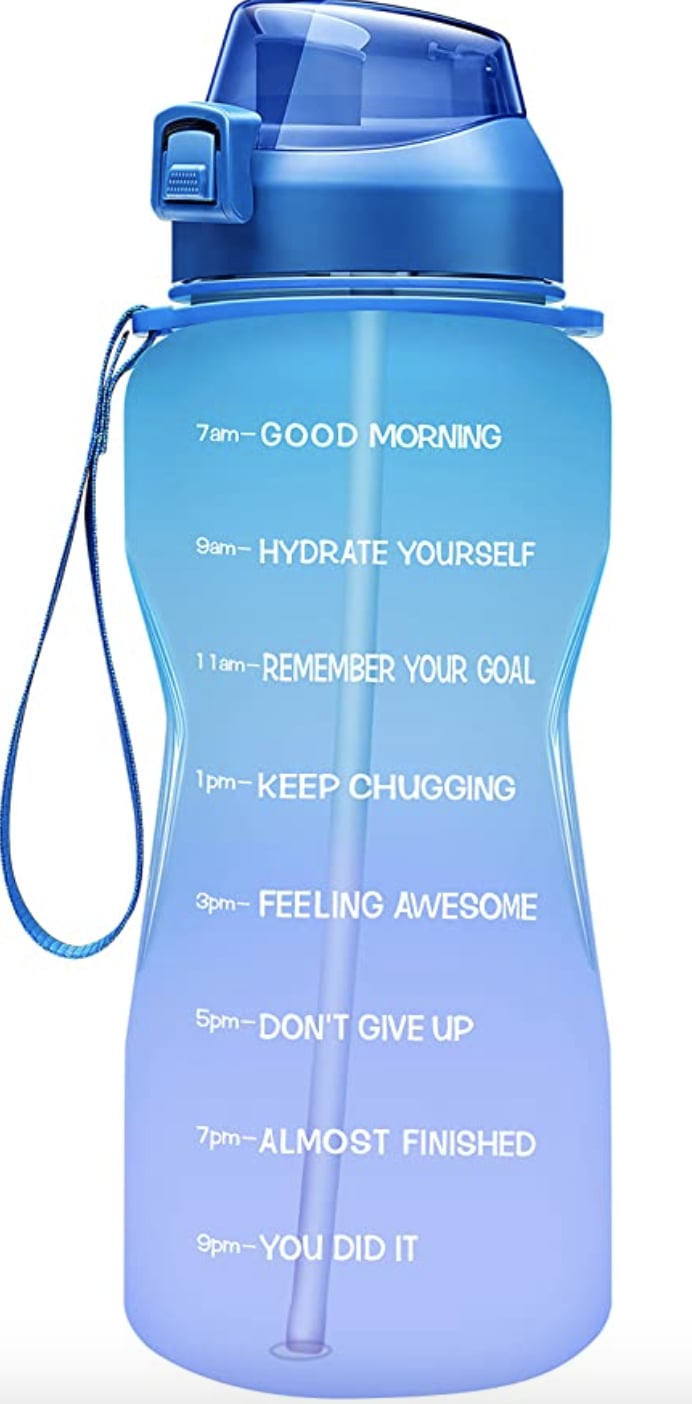 Water Bottle With Bi-Hourly Time Tracker
Fidus Half Gallon Motivational Water Bottle ($23)
If you like the look of the Fidus bottles but don't want to drag a whole gallon around, try this water bottle instead. It holds 64 ounces of liquid and features bi-hourly time trackers and motivational phrases to keep you sipping.
05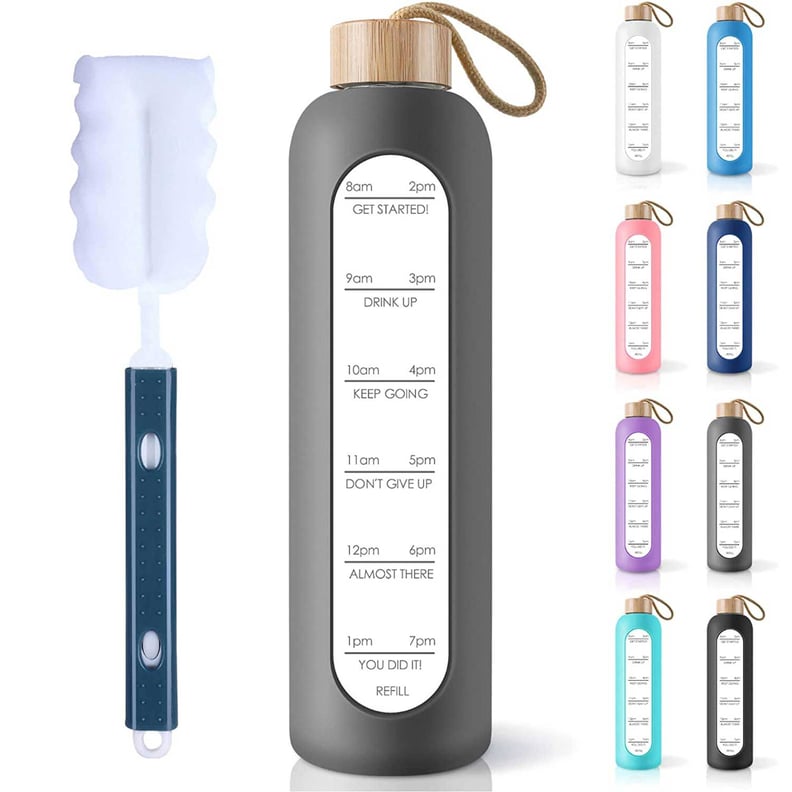 Glass Water Bottle With Time Marker
ProBttl 32 Oz Borosilicate Glass Water Bottle With Time Marker ($20, originally $25)
If you prefer to sip out of glass instead of plastic, this water bottle might be more up your alley. With a silicone sleeve (to prevent breaking), a bamboo lid, a carrying strap, and hourly markers, it has everything you need to take this bottle everywhere. Snag it in 11 different colors, depending on your style — no matter what, it'll come with a bottle brush to make cleaning easy.
06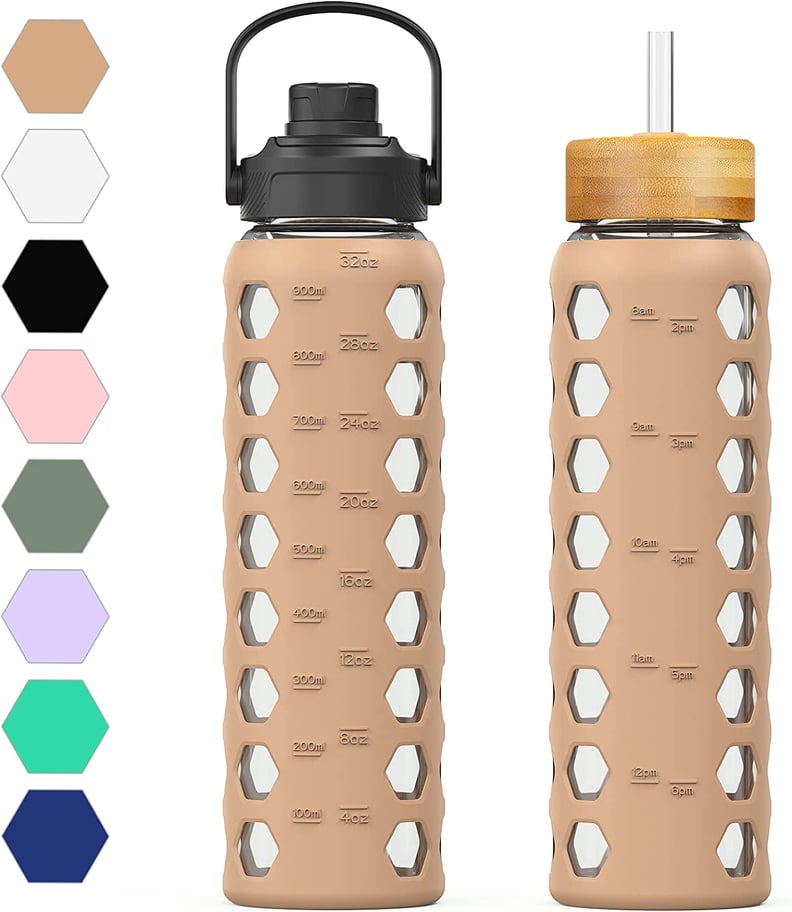 Glass Water Bottle With Changeable Lids
Mukoko 32oz Glass Water Bottle ($20, originally $24)
If you'd love a glass water bottle with both a spout top and a tumbler-style straw top, this one is for you. It comes with both kinds of tops so you can switch them to your liking, and it features subtle tracking markers on the silicone sleeve along both sides.
07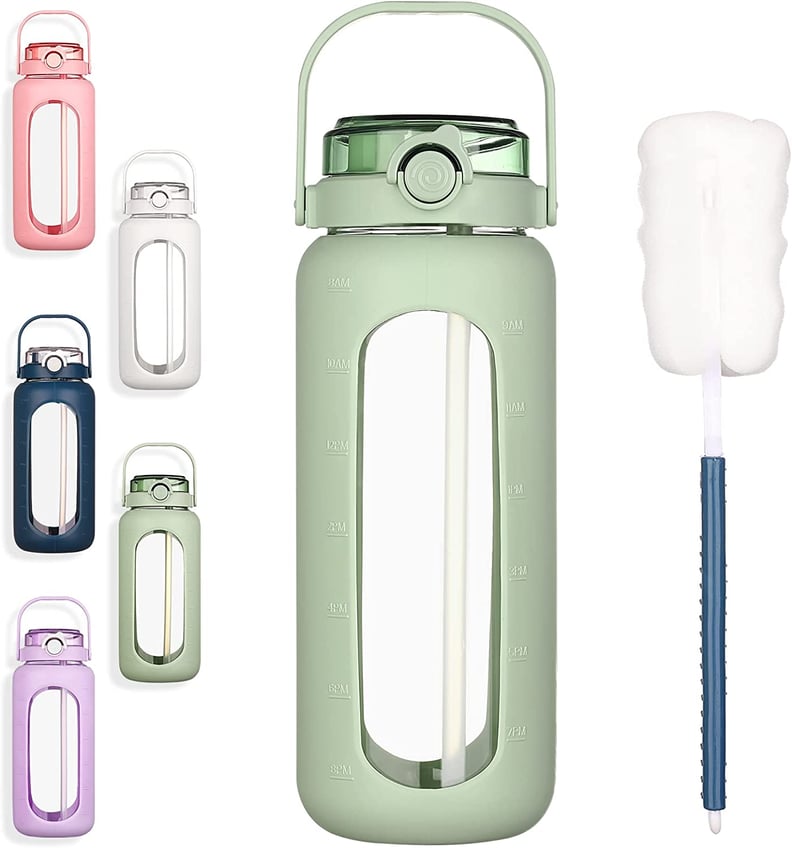 Leak-Proof Water Bottle With Measurements
Bluego 56oz Glass Water Bottles With Straw ($28)
This water bottle comes in both a 56 oz. size as well as a 64 oz. size, so you can try both sizes to see which suits your hydration needs better. Both sizes come with a cleaning brush, a detachable straw, and a genius leak-proof top that allows you to drink out of either a straw or a spout.
08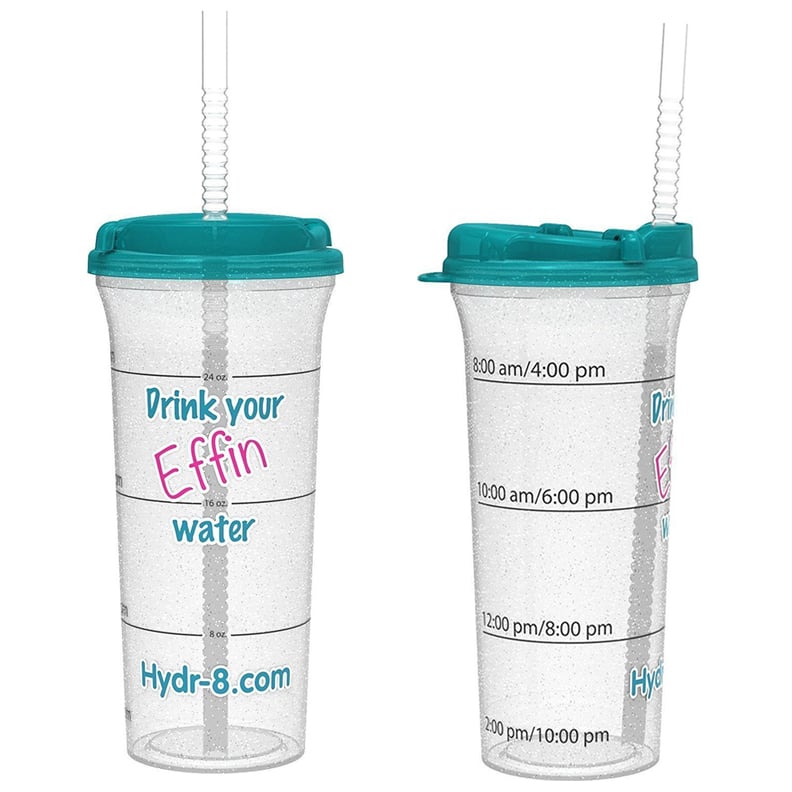 Retro Water Bottle With Measurements
Hydr-8 Water Bottle ($9, originally $11)
Nobody will need to tell you to "drink your effin' water" if your water bottle does it for you! The four time markers keep you motivated and on track, and the throwback-style bendy straw will keep you sipping away.
09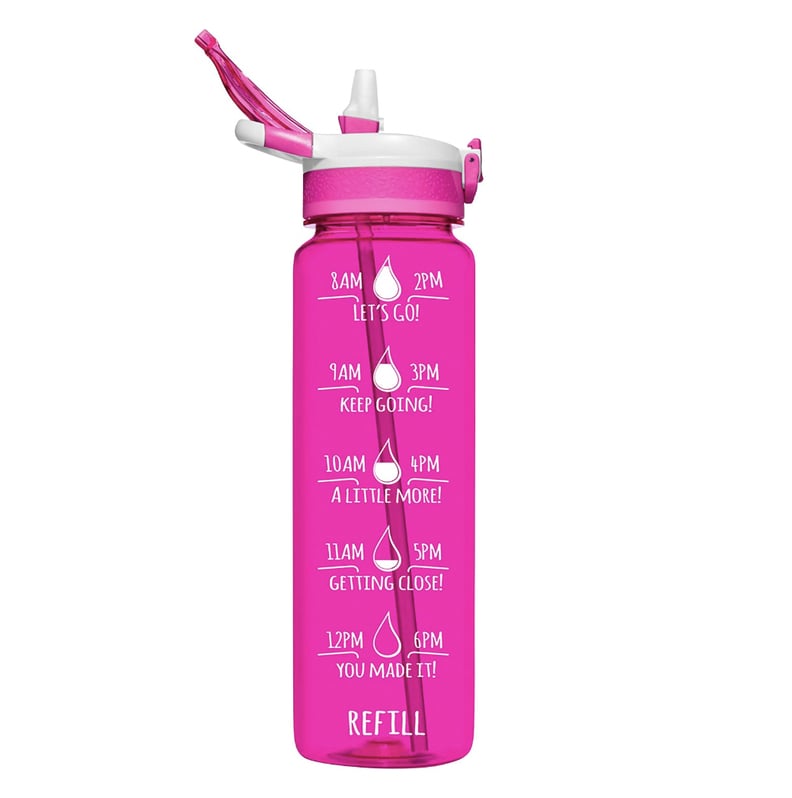 Flip-Top Water Bottle With Measurements
HydroMate 32 oz Water Bottle With Time Markings ($20)
This water bottle comes in nine colors and has encouraging words and a little droplet icon to help you visualize your progress and keep drinking water all day long. The flip-top lid is great for people who find they drink more out of straw tops.
10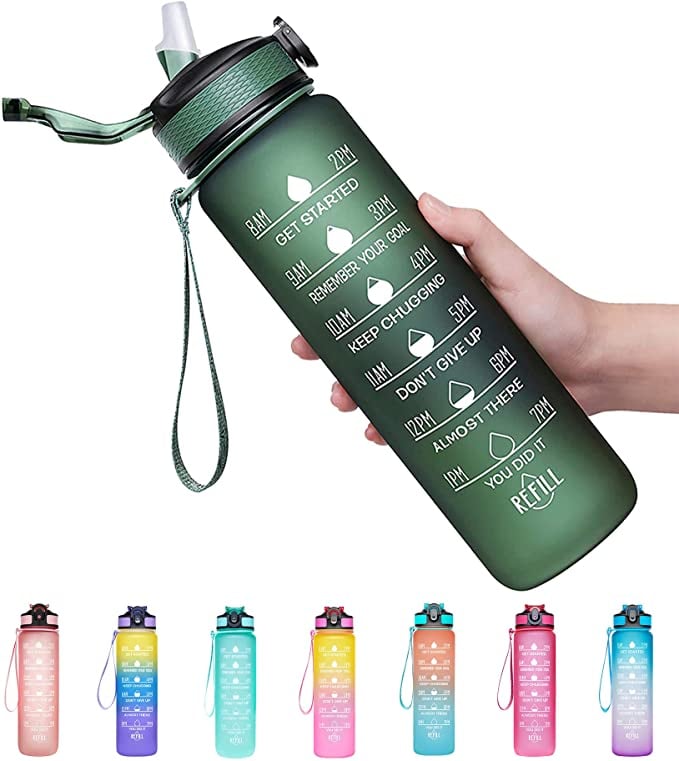 Ombré Water Bottle With Measurements