Trader Joe's New $5 Turkeyless Protein Patties Have 23 Grams of Protein and Taste Amazing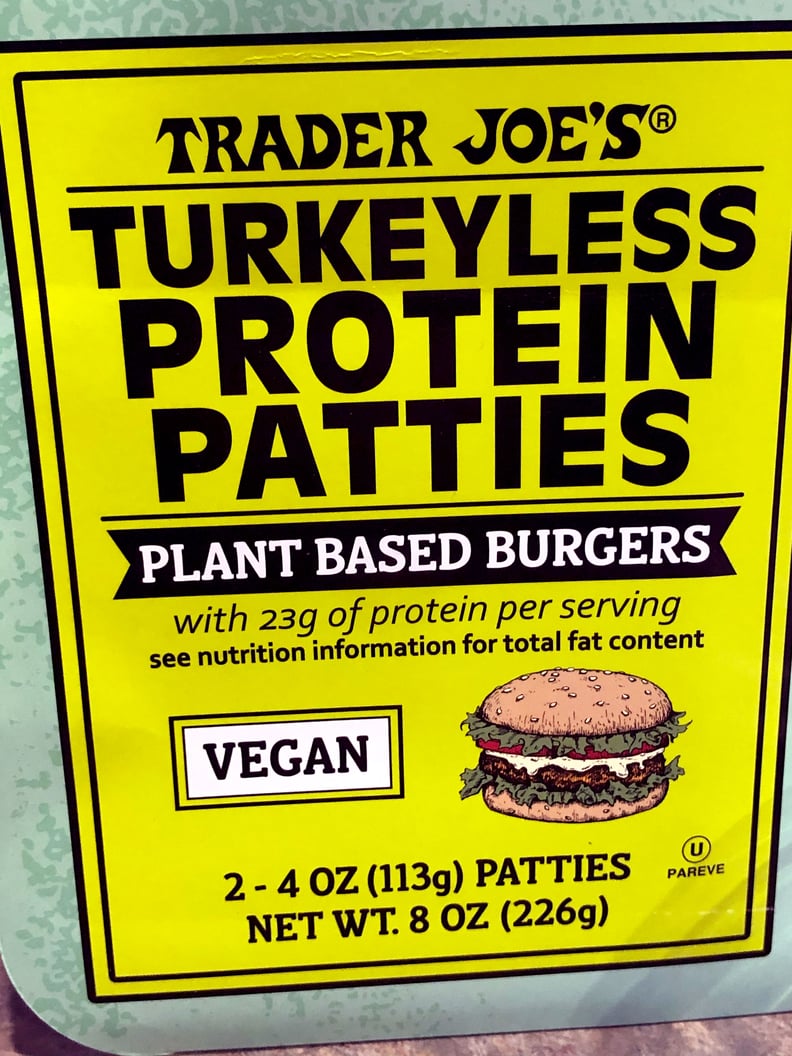 POPSUGAR Photography | Jenny Sugar
POPSUGAR Photography | Jenny Sugar
While picking up a package of Trader Joe's plant-based Protein Patties, I saw this new vegan gem staring back at me — Turkeyless Protein Patties. Cheers to Trader Joe's for adding yet another plant-based product to its shelves. I've never actually seen fake turkey patties like these before; the ones I've tried are always mock beef. So how did they taste? Keep reading to find out.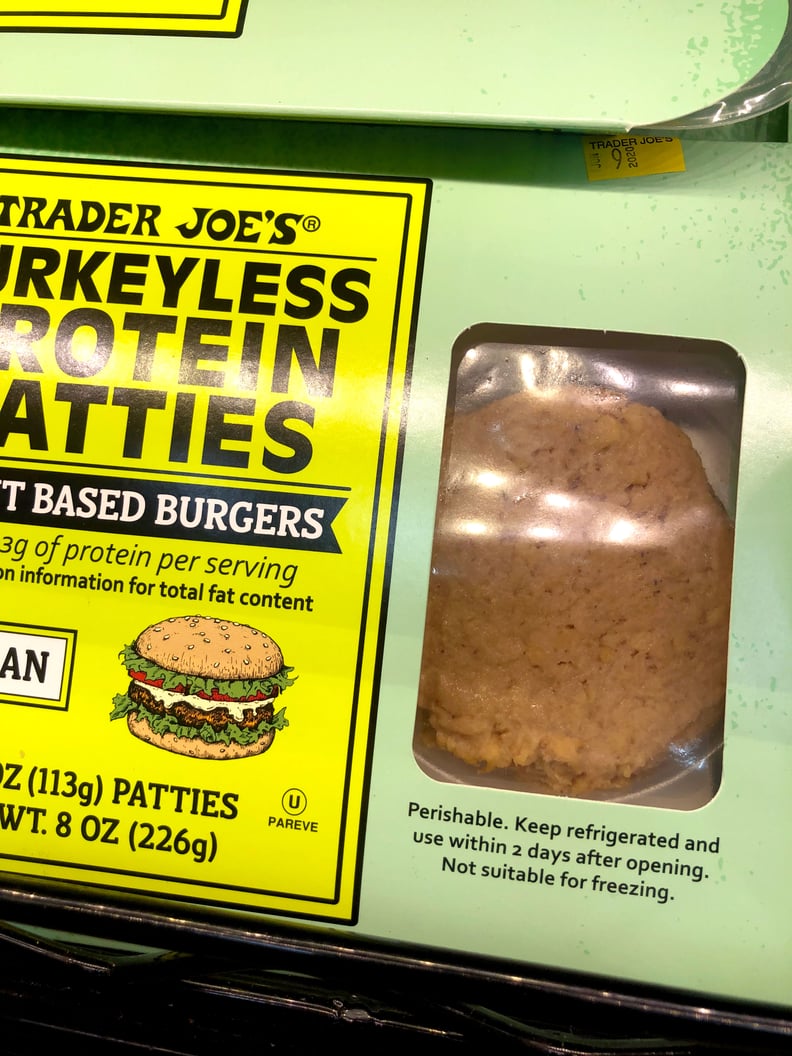 What Do Trader Joe's Turkeyless Protein Patties Look Like?
When I first saw the Turkeyless Protein Patties, I didn't think they looked that appetizing. Then I thought to myself, "Well, raw turkey burgers don't look good either!" I shrugged my shoulders and threw the package in my cart. These are the first fake turkey burgers I've tried, and since 99 percent of the Trader Joe's products I've tasted are great, I had high hopes for these.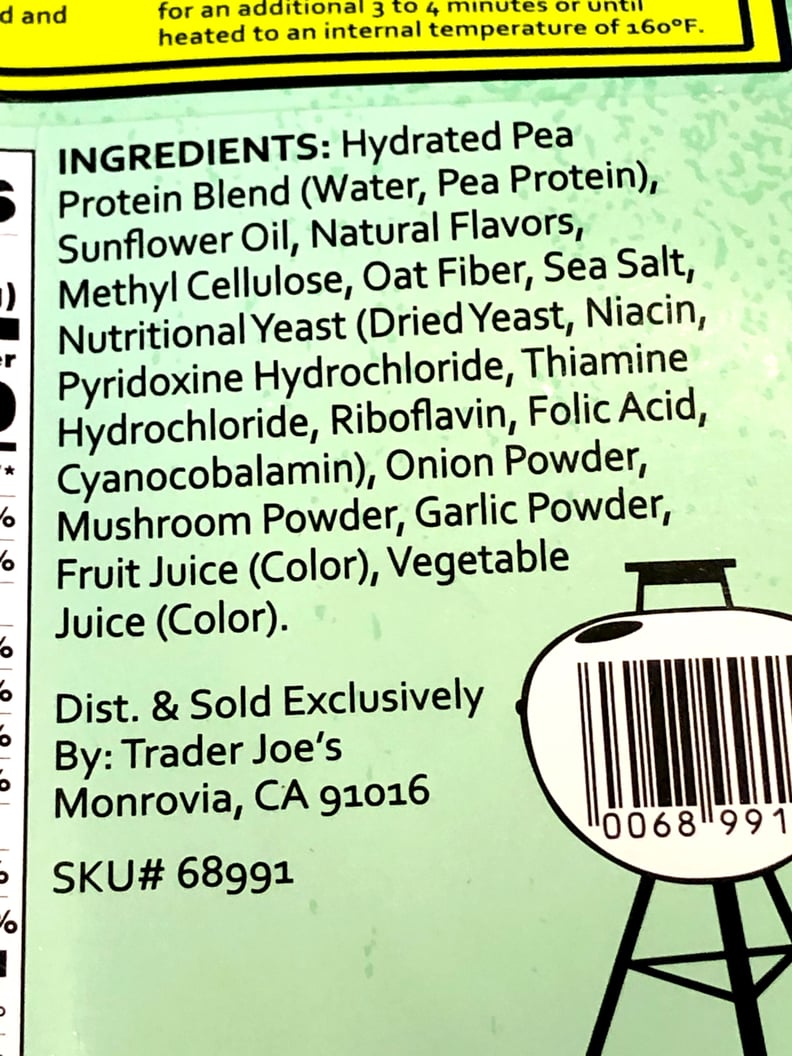 Trader Joe's Turkeyless Protein Patties Ingredients
Here's the list of ingredients in Trader Joe's Turkeyless Protein Patties: hydrated pea protein blend (water, pea protein), sunflower oil, natural flavors, methyl cellulose, oat fiber, sea salt, nutritional yeast (dried yeast, niacin, pyridoxine hydrochloride, thiamine hydrochloride, riboflavin, folic acid, cyanocobalamin), onion powder, mushroom powder, garlic powder, fruit juice (color), vegetable juice (color).
Some of those ingredients may sound weird, but note that nutritional yeast is made up of a variety of B vitamins: niacin (B3), pyridoxine hydrochloride (B6), thiamine hydrochloride (B1), riboflavin (B2), folic acid (B9), cyanocobalamin (B12). So basically these Turkeyless Patties are made from pea protein, oil, fiber (methyl cellulose), nutritional yeast, and some spices and fruit juice. It's not the shortest list of ingredients, but at least it's not made from chemicals or ingredients you've never heard of.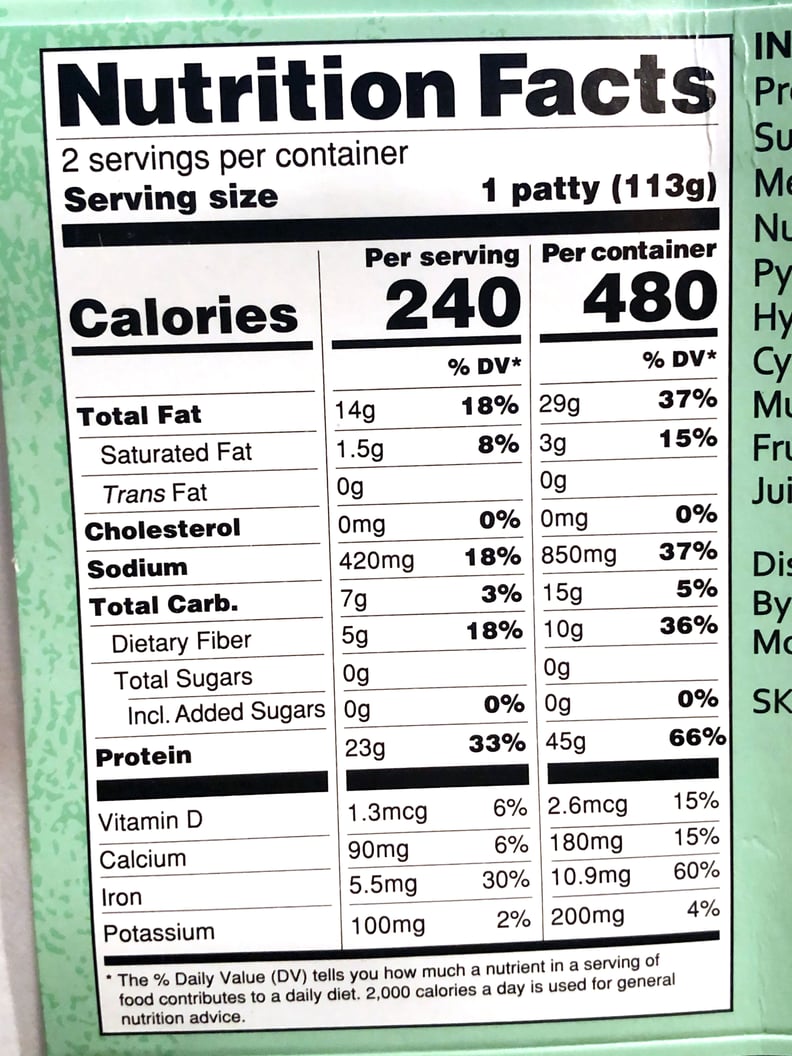 Trader Joe's Turkeyless Protein Patties Nutritional Information
One Turkeyless Protein Patty is 240 calories and has 14 grams of fat and 1.5 grams of saturated fat. It's a bit high in sodium with 420 milligrams but has zero cholesterol. It provides seven grams of carbs and five grams of fiber, has zero grams of sugar, and offers a whopping 23 grams of protein! You'll also get 100 milligrams of potassium and 30 percent of your daily iron.
For comparison, one Trader Joe's Protein Patty is 290 calories and has 20 grams of fat, three grams of saturated fat, zero cholesterol, and 450 milligrams of sodium. It provides 11 grams of carbs and five grams of fiber and has zero grams of added sugar and 18 grams of protein. One burger also offers 190 milligrams of potassium and 20 percent of your daily iron.
These Turkeyless Patties have 50 fewer calories than the Protein Patties; have less fat, sodium, and carbs; and offer five more grams of protein.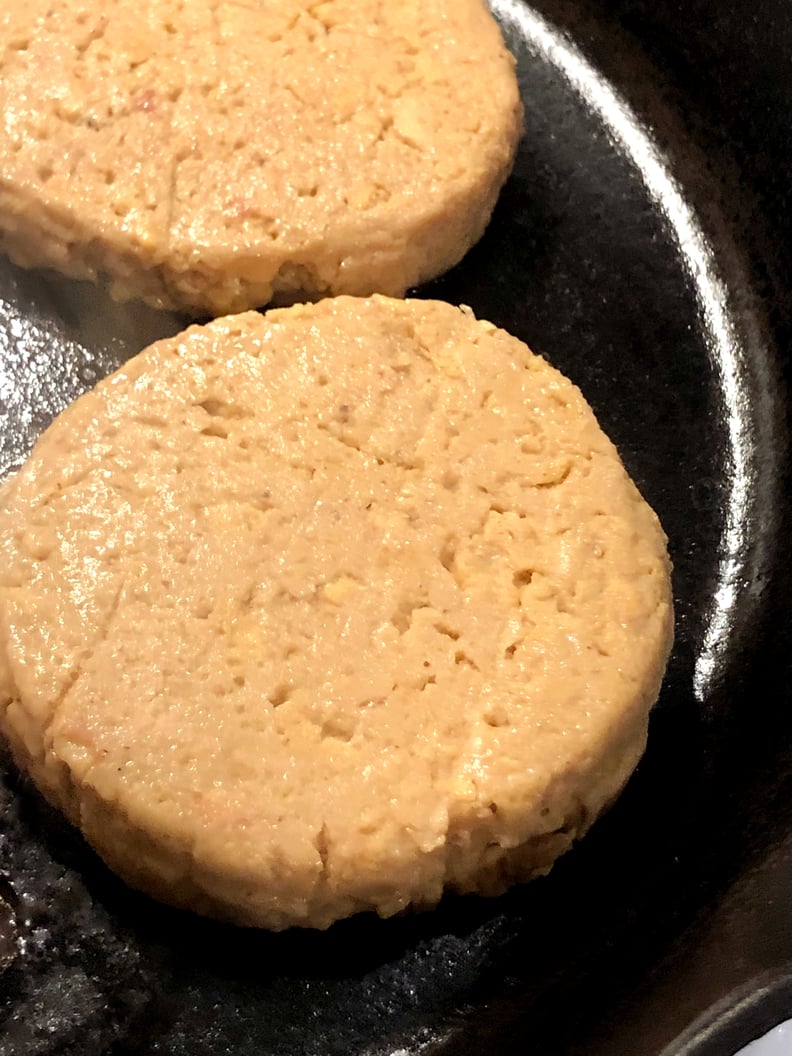 How Do You Cook Trader Joe's Turkeyless Protein Patties?
The directions on the package say you can either grill these patties or cook them on the stove for three to four minutes per side. I cooked these in a cast-iron pan with no oil for about five minutes per side because I like veggie burgers well-done with a firmer, crispier outer texture.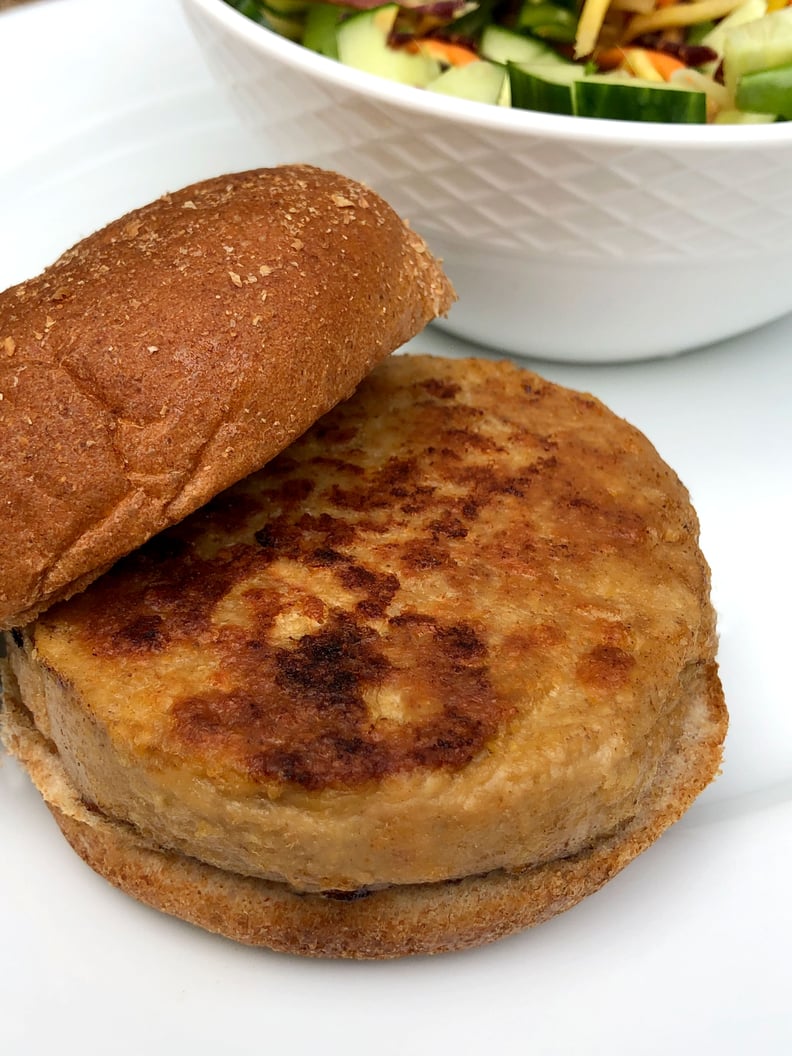 How Do Trader Joe's Turkeyless Protein Patties Taste?
As a person who hasn't eaten meat in over 30 years and someone who probably ate one turkey burger in her life, I thought these tasted pretty good. But of course, I wasn't the best judge, so I gave one to my meat-eating husband for the true test. I waited excitedly as he took his first bite . . . he liked them! He said the consistency was very similar to a real turkey burger, just a bit less meat-like than real poultry-based meat.
These Turkeyless Patties have a mild, slightly sweet flavor and tasted great both on a bun and cut into a salad. We both said we'd definitely eat them again (as if I need a reason to go to Trader Joe's!), and they'd be great cut up and added to pasta dishes, stews, or in a wrap or burrito.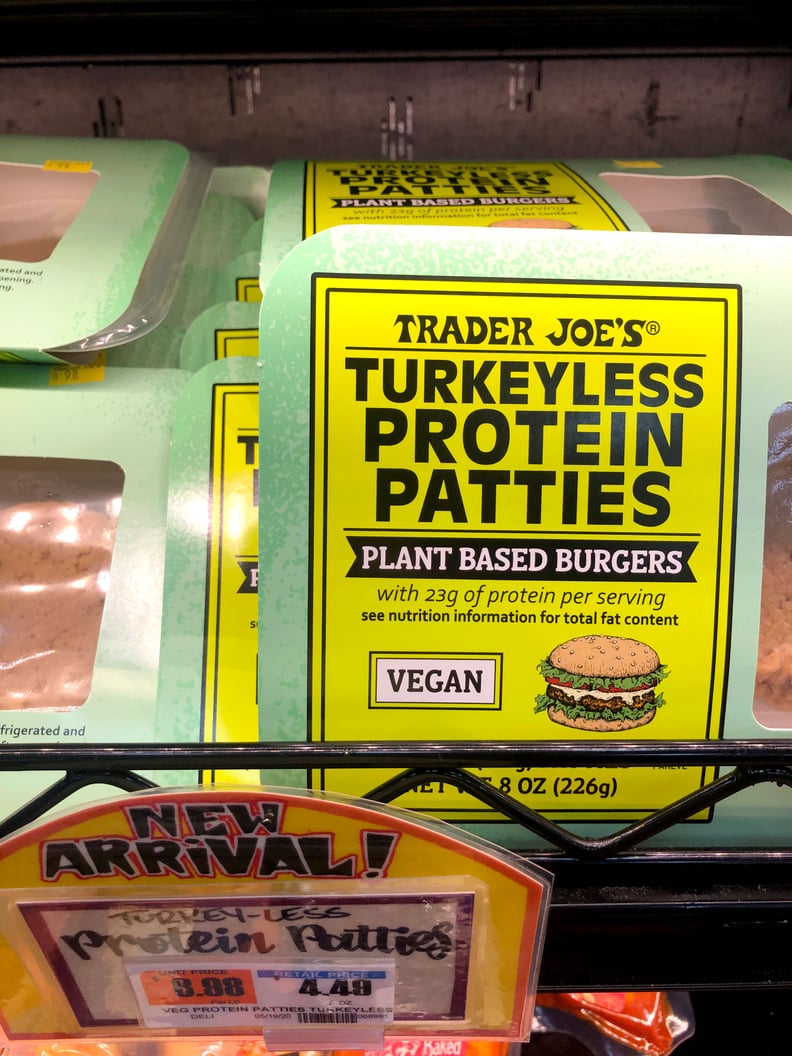 How Much Do Trader Joe's Turkeyless Protein Patties Cost?
Costing $4.49 for two quarter-pound patties, these are an inexpensive and protein-packed option for vegans or vegetarians. Other meatless patties, like the ones from Trader Joe's, cost $4.99, so these are slightly cheaper and offer more protein. One thing about these patties is that they can't be frozen, which means you can't really stock up since you have to use them before the "use by" date. But that's OK because they're so good, they won't last long in your fridge.