The US Olympic wrestling trials took place over the weekend, resulting in six women athletes walking off the mat with a ticket to Tokyo. The first to qualify was Tamyra Mensah-Stock in the 68-kilogram weight class. Two women made their second Olympic teams to date: Adeline Gray (76 kilograms) and Helen Maroulis (57 kilograms). The other three athletes rounding out Team USA on the women's freestyle side are Sarah Hildebrandt (50 kilograms), Jacarra Winchester (53 kilograms), and Kayla Miracle (62 kilograms).
Women's freestyle wrestling was officially introduced to the Olympic program in 2004, and we're excited to see what continued talent the sport showcases this time around. Ahead, read more about these six marvelously strong women set to represent the US in Tokyo.
01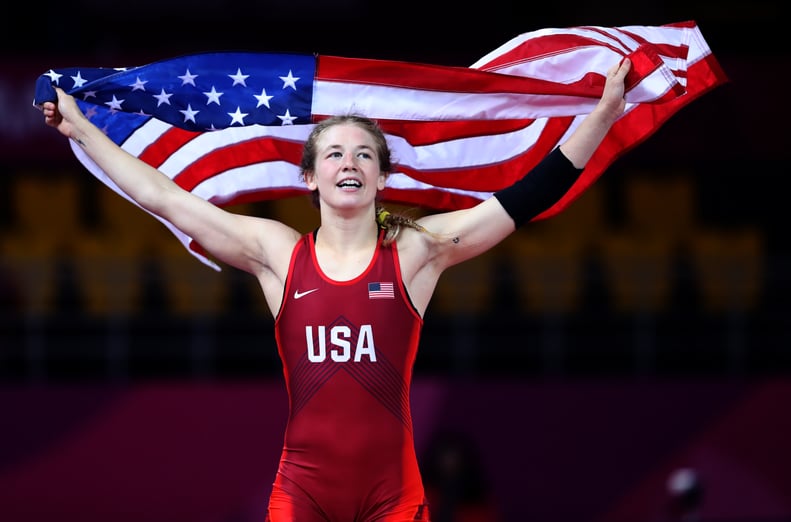 Sarah Hildebrandt, 50 kilograms/110 lbs.
Hildebrandt, 27, was the No. 1 seed in the 50-kilogram weight class going into the team trials finals. In an interview after her winning match series, she said, "I don't even know how to talk about it, I just feel like I'm going to keep squealing." She added: "I've been really zeroing in on this and getting so many aspects of my life right, aligning my mind, my body, my soul, my training. I think today I brought a really good Sarah to the stage."
Hildebrandt, from Granger, IN, won a silver medal at the 2018 World Wrestling Championships in the 53-kilogram weight class. She's also a four-time champion at the Pan American Championships. She said that having time to train in the 50-kilogram weight class during the COVID-19 pandemic prepared her for the Olympic trials.
Follow Sarah Hildebrandt on Instagram: @sarhilde
02
Jacarra Winchester, 53 kilograms/116 lbs.
Winchester was the world champion in 2019 in the 55-kilogram weight class, and she said after her trials win that the hard work and hours on the mat has all paid off. "Yeah, I want to win, I want to win a gold medal and everything, but just going out there and fighting, it's just the fight that I enjoy," she said when asked about her goals once she gets to Tokyo.
The 28-year-old, who grew up in San Lorenzo, CA, wrote on Instagram: "This is only half the battle. We still got work to do, so buckle up because we are going to the Olympics babyyyyyyyyy."
Follow Jacarra Winchester on Instagram: @jacarra016
03
Helen Maroulis, 57 kilograms/125 lbs.
Maroulis was the 2016 Olympic champion in the 53-kilogram weight class, which made her the first US Olympic gold medalist in women's wrestling. At trials this year, the 29-year-old Rockville, MD, native secured her second Olympic berth.
Maroulis, who was also the 2015 world champion in the 55-kilogram weight class, suffered a head injury in 2018 and faced complications the following two years. "There were times I thought I had to retire," she said after her victory at trials, "but I just felt like I can't make that final decision until Tokyo 2020."
Follow Helen Maroulis on Instagram: @helen_maroulis
04
Kayla Miracle, 62 kilograms/136 lbs.
Miracle was a member of the 2019 world championships team and a three-time under-23 worlds team member. The 24-year-old Culver, IN, native said after her trials win that the sport has some "really high highs" and some "low lows," but her support system continues to help her persevere.
Miracle, who won four individual WCWA national titles during her time at Campbellsville University, also praised the rest of Team USA heading to the Olympics this summer: "We've got a dang good squad going through!"
Follow Kayla Miracle on Instagram: @miraculouskc
05
Tamyra Mensah-Stock, 68 kilograms/149 lbs.
06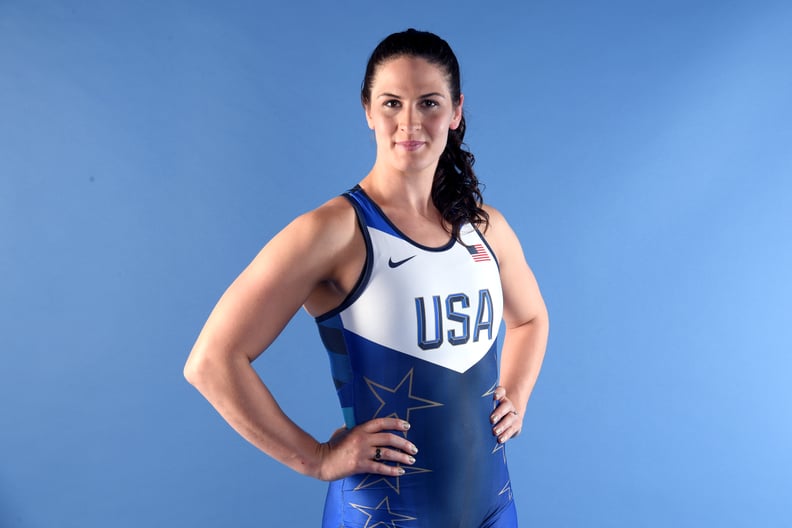 Adeline Gray, 76 kilograms/167 lbs.
Gray, from Denver, CO, is a five-time world champion and five-time US Open champion. She was an Olympian in 2016. "A second shot is great," she said after her trials victory when asked what it meant to get this consecutive trip to the Olympics. "It's such a heartfelt moment to not get what you want out of a tournament, especially at an Olympic games, and I feel like I'm the best one in the weight class, and so to not have that [Olympic] gold medal . . . it stings." She's ready, though, for her comeback.
"This dream and goal is bigger than just me," Gray, 30, wrote on Instagram. "It is fulfillment for so many coaches, family, friends, USA Wrestling support staff and fans. I'll put in the work and the effort. What I ask from you is more positive thoughts and a few dedicated workouts and healthy meals for yourself. This dream of Olympic Gold drives me to work hard, get more sleep, drink more water and foster relationships to help me on my journey. I want to share it. Please take some time for yourself to take just 2% of this dream and work a little harder in whatever you pick."
Follow Adeline Gray on Instagram: @adelinegray