12 Ways to Push Your Push-Ups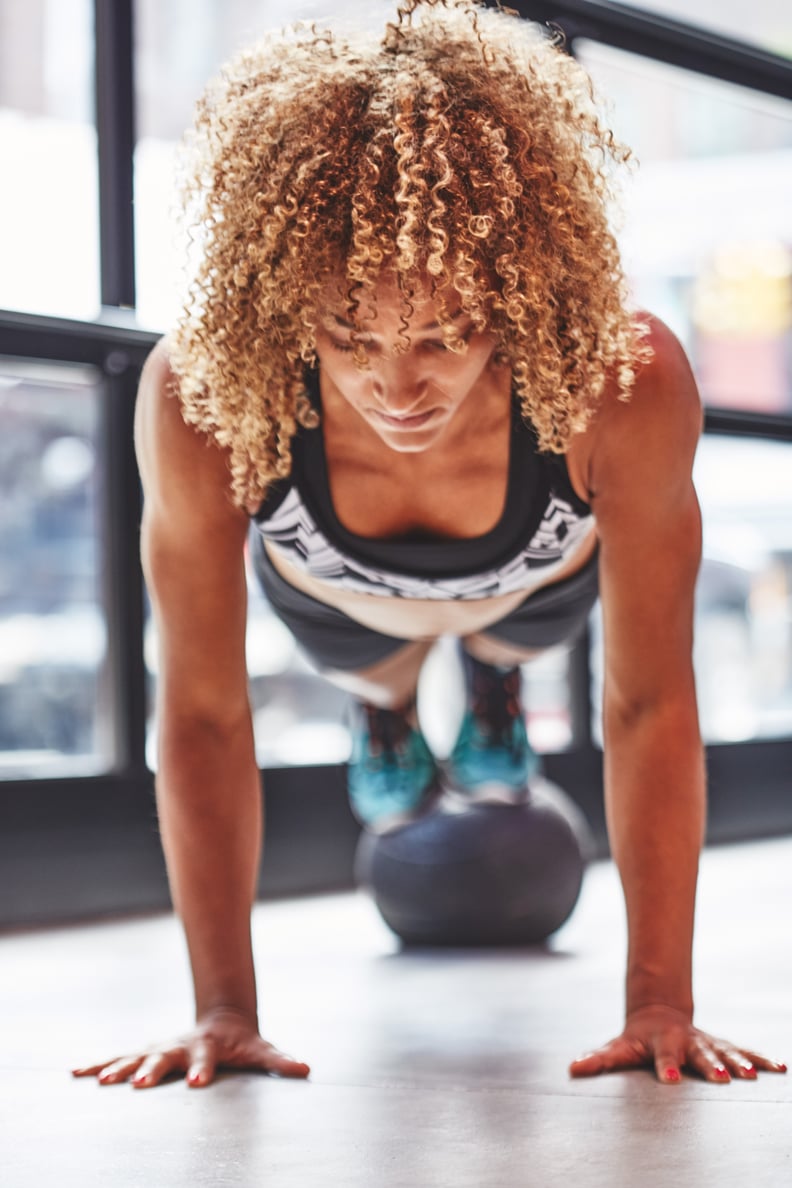 POPSUGAR Photography | Benjamin Stone
POPSUGAR Photography | Benjamin Stone
A toned upper body is important, and one of the most effective exercises you can do to target this area is the push-up. Plus, this move works the entire core. Here are a dozen challenging push-up variations to strengthen and tone your upper body while giving you a total-body workout.
01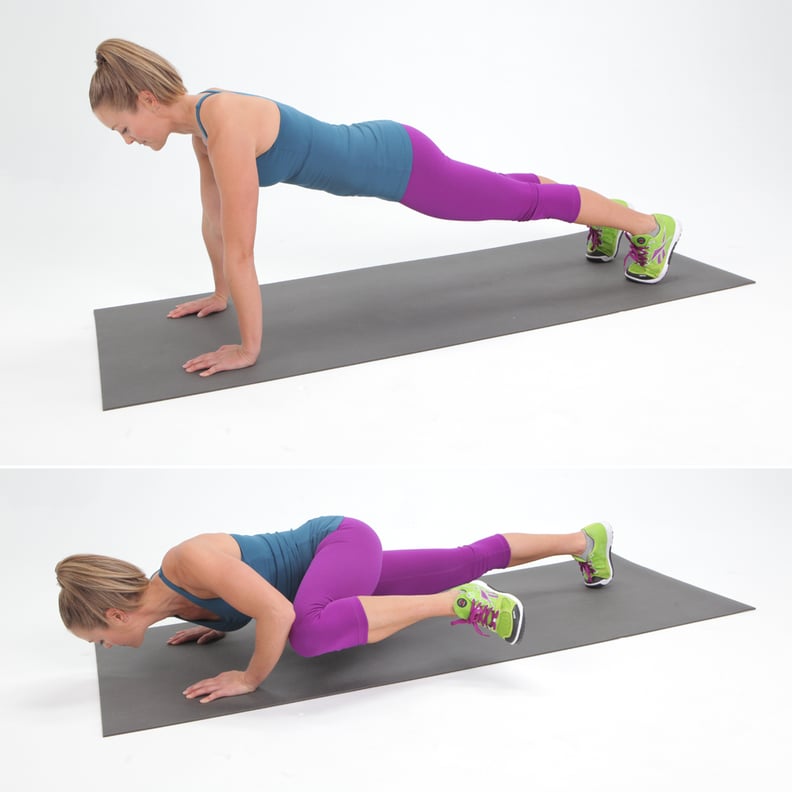 Creepy Crawly Push-Up
This move will tone those love handles!
Starting in a plank position, bend your elbows out to the sides lowering your torso toward the floor while bending your left knee and touch it to your left elbow.
Straighten your arms, and return to your plank position with both feet on the ground. Repeat on the other side bringing the right knee to the right elbow and return to plank. This completes one rep.
Do as many as you can, working up to doing two sets of 10.
Source: POPSUGAR Studios
02
One Arm Med-Ball Push-Up
Working with the arms at different levels will challenge your upper body in a new way.
Start in a plank position with your left hand on a medicine ball.
Keeping your torso square to the floor, perform a push-up by bending and straightening both arms. If a traditional push-up is too challenging, lower your knees to the floor.
Complete 10 push-ups, then move the ball to the right hand for another 10 reps.
Source: POPSUGAR Studios
03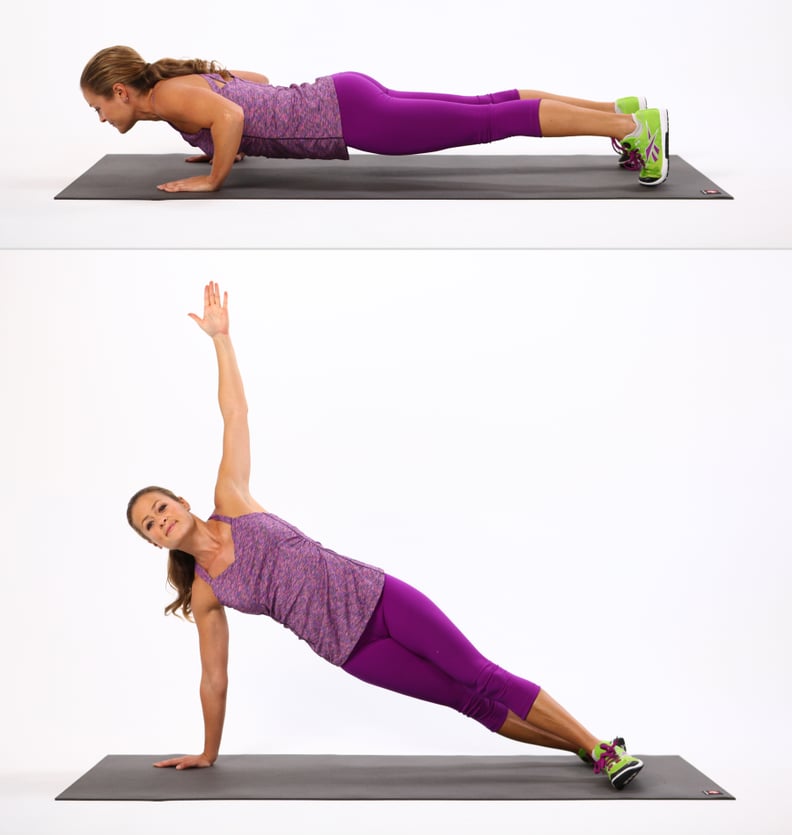 T Push-Up
This is a great variation to whittle the waist while working your arms.
Begin in plank position.
Bend your elbows lowering into a push-up.
Straighten your arms and lift your right arm toward the ceiling, twisting into a side plank to make a T shape with your body.
Rotate back to plank, placing your right palm on the floor to lower into a push-up.
This time as you straighten your arms, rotate the body into a T shape, lifting the left arm up. Return to plank.
Continue this exercise, repeating an equal number of times on both sides.
04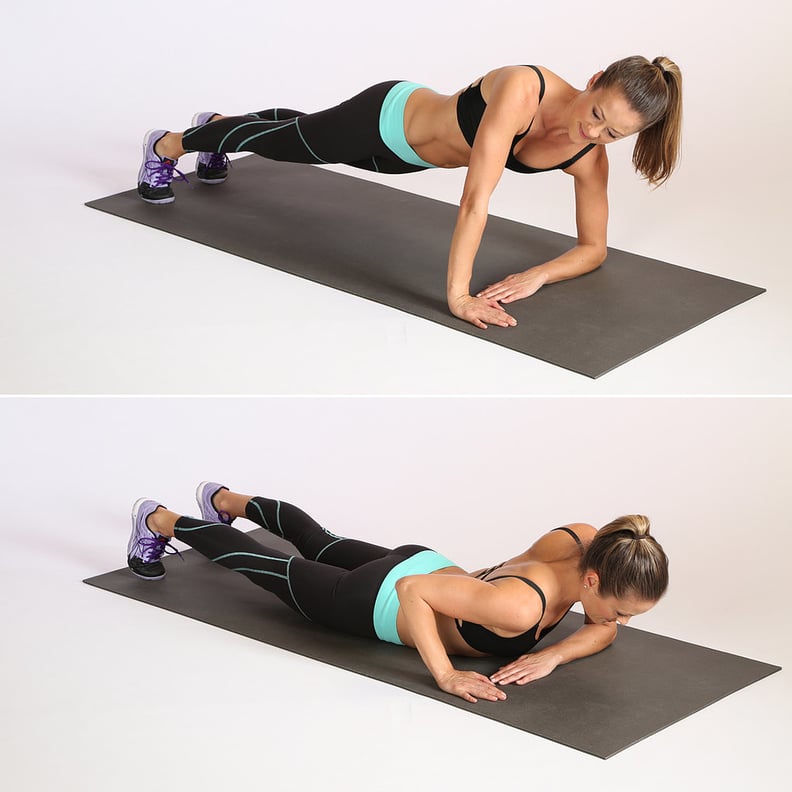 Asymmetrical Push-Up
One-arm push-ups may feel like they're beyond your ability, but this asymmetrical push-up forces you to work one arm more than the other making it good prep for that impossible-sounding challenge.
Begin in a plank then lower your left elbow to the ground, with your forearm crossing under your chest. From this position bend your right elbow, lowering your body to the mat. Use your abs to keep your torso in one piece as you come to the floor.
Exhale as you straighten your right elbow to return to the starting position. This completes one rep. Be sure to do the same number of reps on each side.
05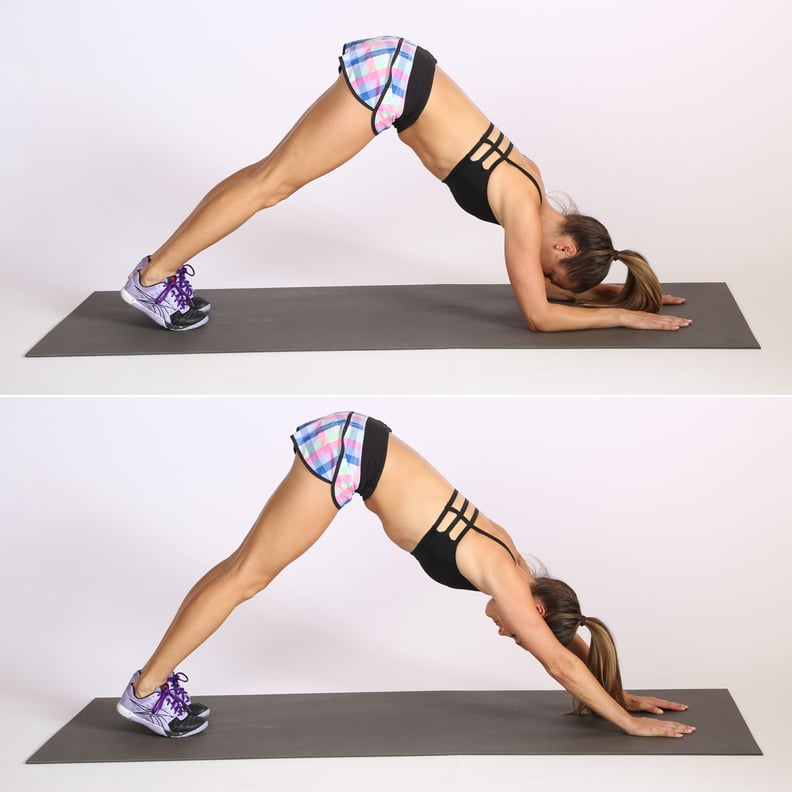 Down Dog Push-Up
Another yogic push-up variation to really target your lats, upper back, and abs! As a bonus, you also get a nice stretch for your calves.
Begin in a Downward Dog but on your elbows instead of your hands. Exhale, and press hands into the mat to straighten your elbows. Pull your navel up toward your spine to move the pelvis up and back, coming into a Down Dog.
Inhale and lower your elbows gently back to the mat, to complete one rep.
06
Plyo Push-Up Prep
The different hand positions work different muscles in the chest and arms. Try to catch a little air as you move your hands from side to side to work toward a plyometric push-up.
Start in a plank on your knees. Move your left hand out to the side, then bend both elbows lowering your torso toward the mat. Straighten your arms to return to plank. This completes one rep.
Switch your hands, bringing in the left hand while stepping the right hand wide — this is where you should try jump off your hands. Perform a push-up. This completes one rep.
07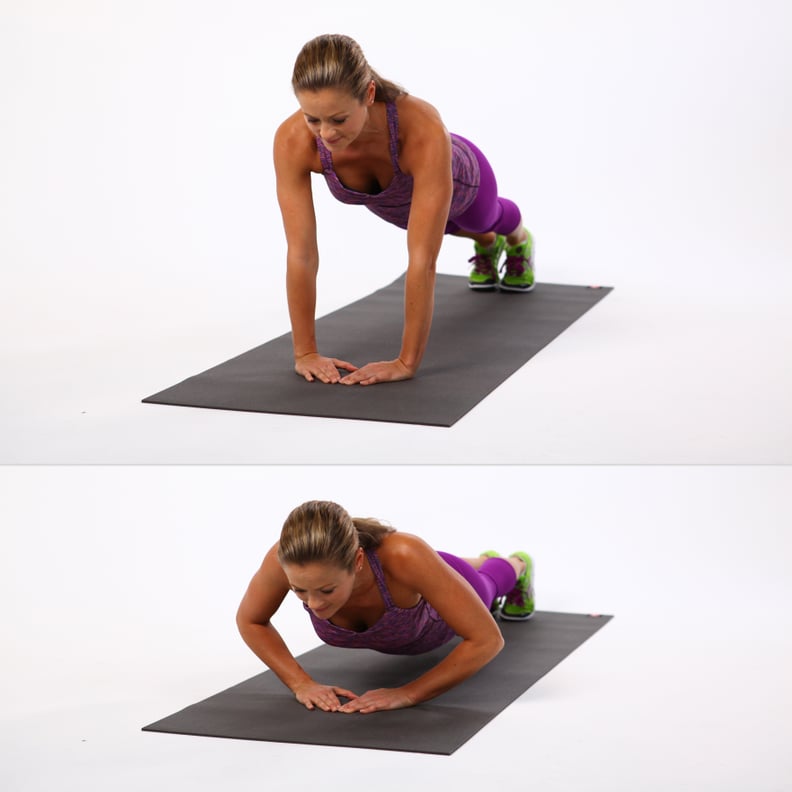 Diamond Push-Up
This variation focuses extra work on the triceps.
Start in plank position with your legs straight or knees resting on the floor.
If your knees aren't on the floor, you can separate your feet so they're about shoulder-width apart to help you stay balanced throughout the exercise.
Place your hands together, directly under your sternum, with the tips of your index fingers and thumbs touching. Your fingers and thumbs should form a diamond or triangle shape.
As you inhale, bend your elbows out to the sides, and lower your chest toward the floor. Then exhale to straighten your arms. This counts as one push-up. Complete as many as you can with proper form.
Source: POPSUGAR Studios