W Series Races Hosted By Formula 1 in 2021
Women-Only W Series Will Be Featured During Formula 1 Races For the First Time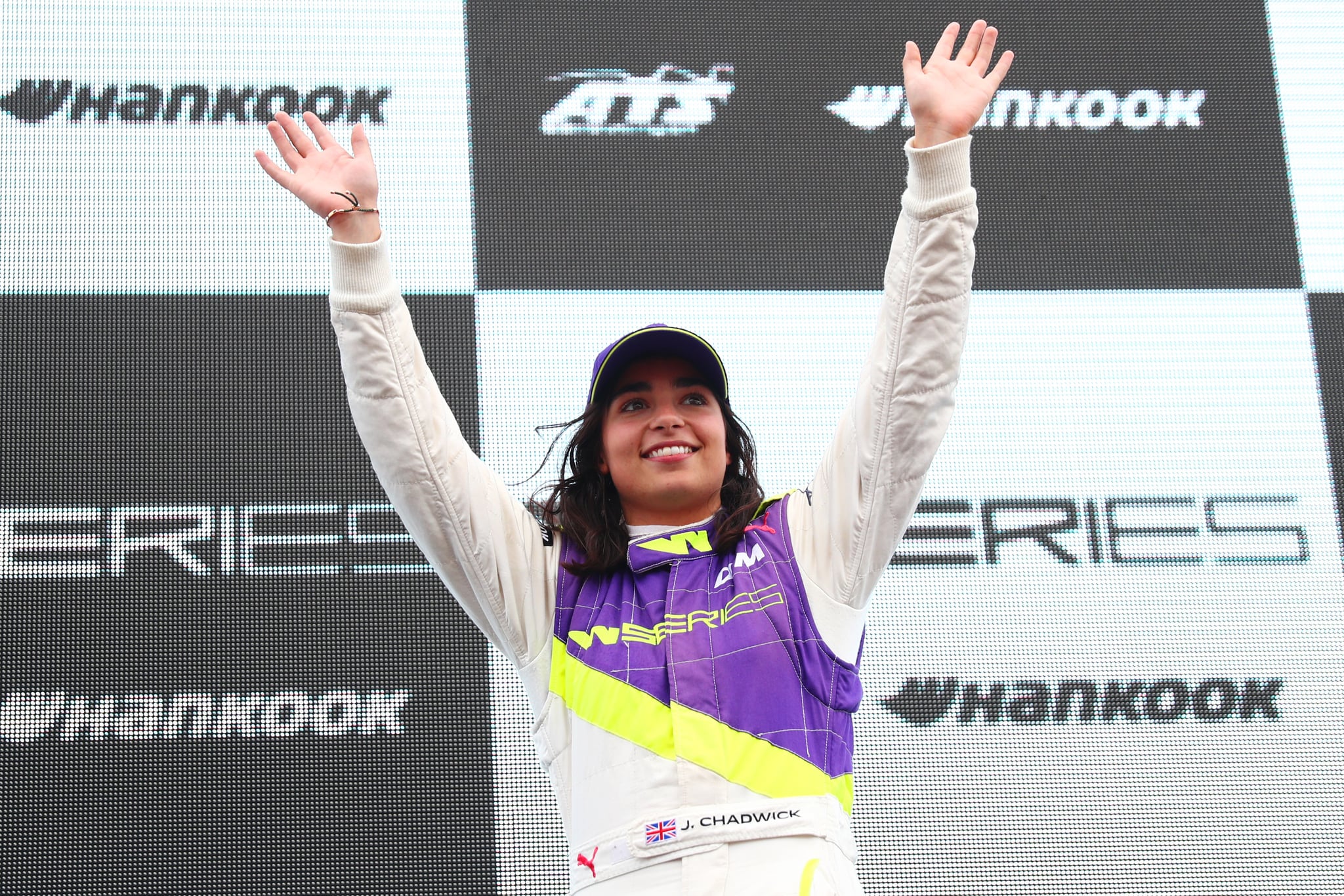 W Series, the women-only racing championship that had its first season in 2019, announced that eight of its events in the 2021 racing season will be in partnership with the high-class Formula 1. They will be held as "support races" during Formula 1 race weekends, and though the schedule has not been announced yet, it is major news.
The W Series website explains that women are not barred from competing in Formula 1 — however, it's just extremely difficult to get there. Only two women total so far in Formula 1's 70-year history have raced, and a Grand Prix has not featured a woman driver since 1976 with Italy's Lella Lombardi, ESPN reports. The financial cost of getting to that top tier of Formula 1 is substantial, and the "lack of visible female talent in Formula 1 has made the challenge of financing even harder for girls and women," W Series states.
Drivers in the W Series do not have to pay to race. Instead, as the website detailed, "They are selected purely on their ability rather than how rich their backers are. By bringing together the best female talent into one series, at a time when women's sport is attracting more attention and coverage than ever before, we believe we will create a platform that will be highly attractive to sponsors, partners and fans."
A W Series spokesperson confirmed to POPSUGAR that the Formula 1 support races will remain free of charge for the W Series drivers and that the races will all count toward accumulating the most event victory points to win the 2021 W Series championship title. The eight events in partnership with Formula 1 will most likely be announced within the next two or three weeks, the spokesperson said.
Britain's Jamie Chadwick won the first W Series Championship last year, but the racing season in 2020 was canceled due to the COVID-19 pandemic. A partnership with Formula 1 is essentially meant to bring more awareness to women's racing. "Our global reach, impact, and influence will be increased significantly," W Series CEO Catherine Bond Muir said in a statement. "We want W Series to entertain, and entertain it will. But we also want it to become a crucial default-option stepping stone for any female racing driver who wants to carve out a professional racing career."
Seven-time Formula 1 world champion Lewis Hamilton commented on the W Series partnership in a press conference, saying, "When we talk about diversity, people often think that we're talking about having more people of color. It's not just that. It is having more women involved. At the moment it is a male-dominated sport and that does need to change."
Hamilton reflected that rising in the ranks as a driver, he only saw "less than a handful of young girls coming through." He added, "The sport does need to do more, and that is a good step in the right direction. There's plenty of access for young boys and men to come through the karting ranks into single-seaters. We need to do more to make sure young girls out there know that it is a possible career path."
American driver Sabré Cook, who was set to compete in the W Series in 2020 before it was canceled and ranked 12th in 2019, wrote on Twitter, "we are truly blessed for such an opportunity!"