9 Cannabis-Infused Bath Products That Can Help With Anxiety, Pain, and More
Pain, anxiety, muscle soreness, stress: cannabis can help with that! The various health benefits of marijuana are still being explored, and some of the stigma around the plant remains — but it is slowly wearing off as more states begin taking strides toward legalization and more uses for cannabis become normalized. If you're looking for a new way to relax and address aches and pains, then cannabis-infused bath products may be for you. Some soaks and bath bombs available just contain cannabidiol, aka CBD. CBD is an active component of cannabis that differs from THC, the oil that is associated with producing the "high" one achieves from smoking or ingesting marijuana. Others contain both CBD and THC, which result in a combined effect from the two oils.
We've rounded up cannabis-infused bath products that are all geared toward addressing issues such as anxiety, stress, pain, and even insomnia. Keep in mind that for now, these products will generally only be available in states where medicinal and/or recreational use is legal. Read on to see some unique options for improving your health and wellness.
01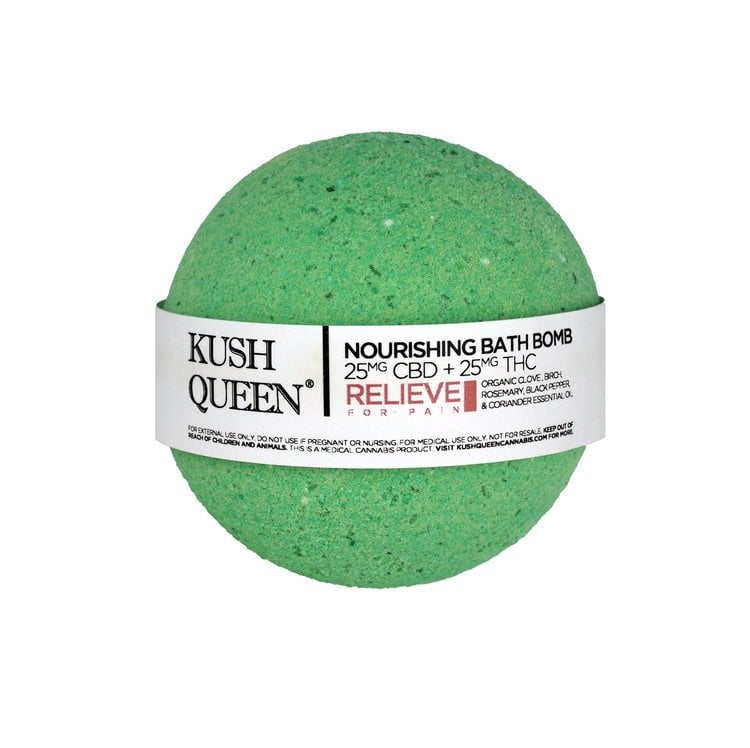 Kush Queen "Relieve" CBD-Infused Bath Bomb
Kush Queen's popular "Relieve" CBD-infused bath bomb can help relieve pain. Despite the bright and beautiful color, the bath bomb doesn't use any artificial dyes or preservatives — the shade comes from food coloring that won't stain your tub!
Ingredients: Available in two versions: 25 mg THC + 25 mg CBD (only in medical dispensaries) and pure CBD (25 mg). Organic essential oil blends, lab-tested C02 cannabis oil, and CBD isolate, organic clove bud, sweet birch, black pepper, and coriander seed essential oils.
02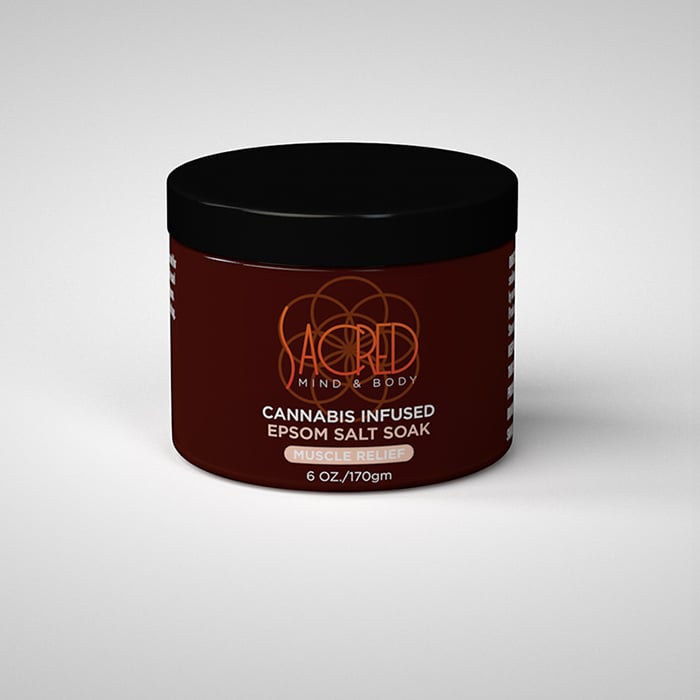 Sacred Mind and Body Cannabis-Infused Epsom Salt Soak For Muscle Relief
03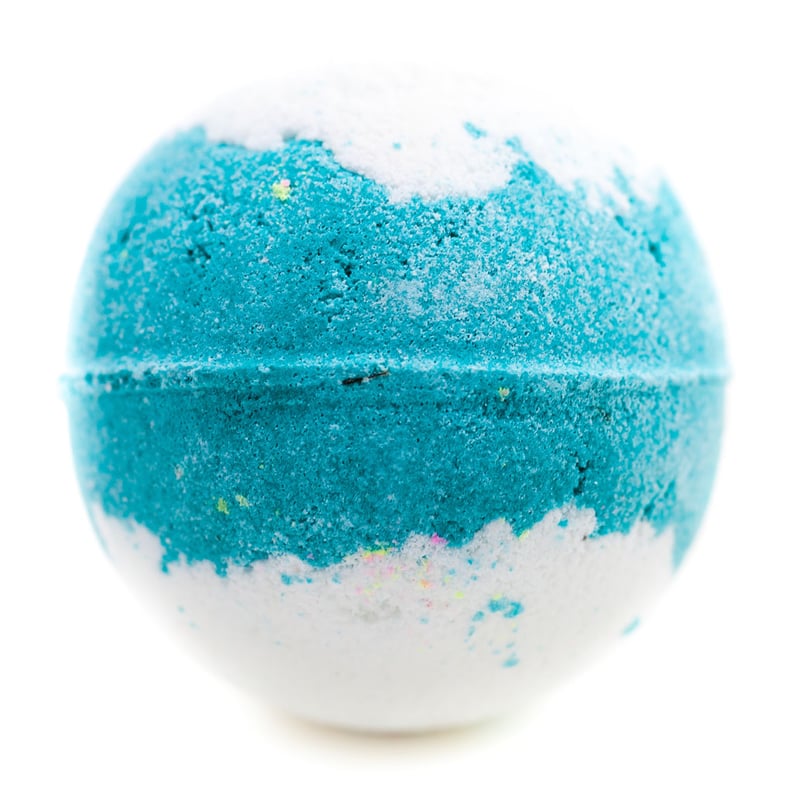 VIDA Deep Blue Sea THC/CBD Bath Bomb
VIDA Deep Blue Sea THC/CBD Bath Bomb isn't just pretty — the company says it can help with insomnia, stress, pain, relaxation, and even arthritis.
Ingredients: Baking soda, citric acid, corn starch, cream of tartar, sea salt, mica, seaweed, THC and CBD oils, essential oils, fragrance oils (options of lemon, mint, eucalyptus), cocoa butter. Contains 10 mg of CBD and 50 mg of THC.
04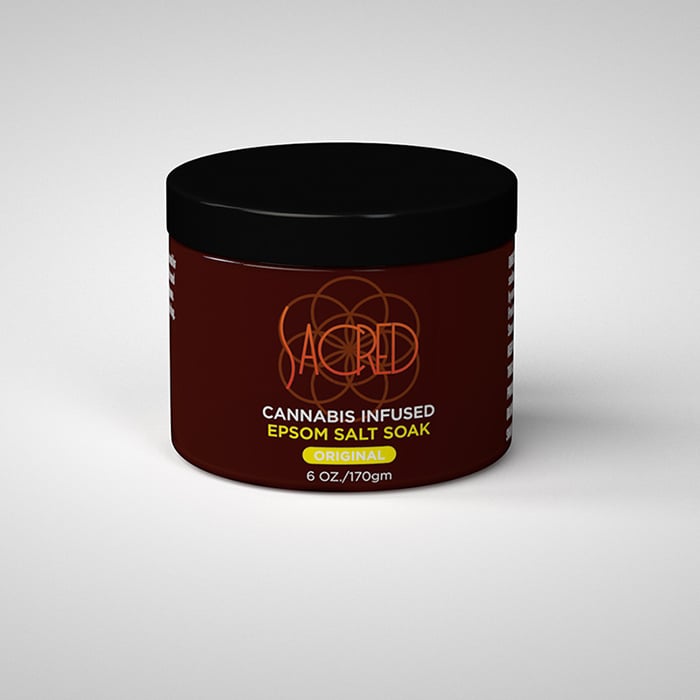 Sacred Mind and Body Cannabis-Infused Epsom Salt Soak
The Original Formula version of Sacred Mind and Body's Cannabis-Infused Epsom Salt Soak is designed to help you unwind. The soak is for relaxing, soothing your body, and relieving stress.
Ingredients: Hybrid cannabis, Epsom salt, avocado oil, jojoba oil, lavender essential oil, vitamin E oil. Contains THC.
05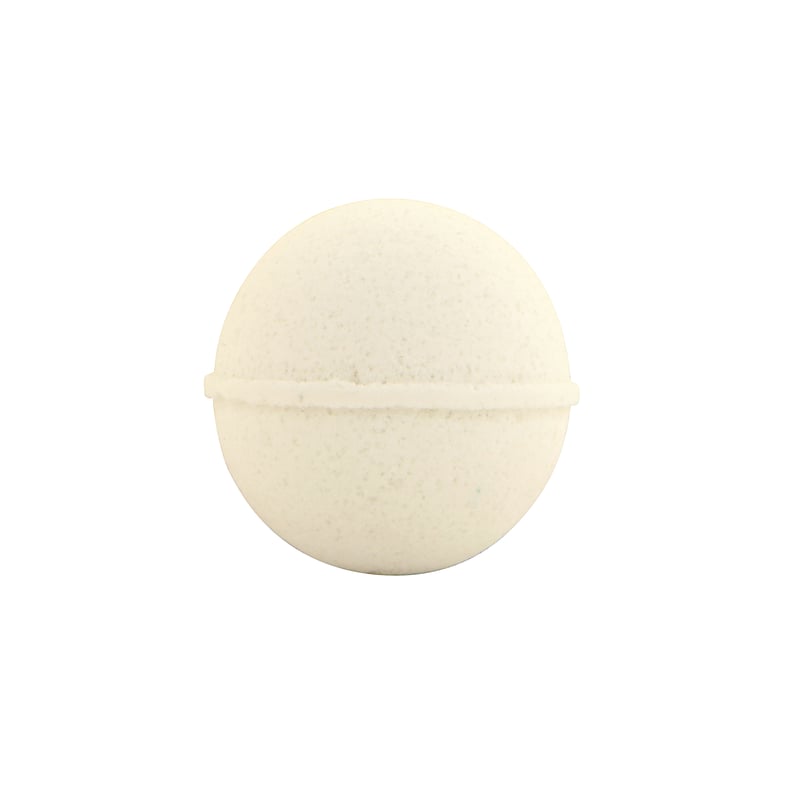 Mirai's CBD Bath Bomb With Deodorizing Persimmon
Japanese beauty brand Mirai Clinical has an all-natural CBD Bath Bomb With Deodorizing Persimmon designed to sooth sore muscles and help relax your body.
Ingredients: CBD, natural essential oil (lime), Japanese persimmon extract. Free of sulfates, synthetic dyes, artificial fragrance, and preservatives. All natural. Does not contain THC.
06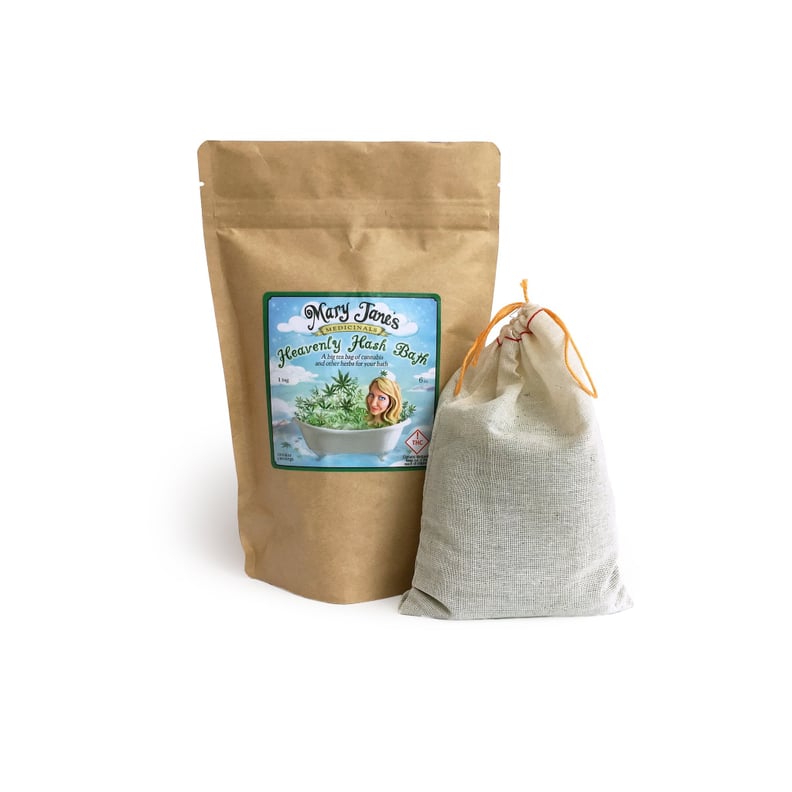 Mary Jane's Medicinals Heavenly Hash Bath
Mary Jane's Medicinals Heavenly Hash Bath helps relieve anxiety and pain and also can act as a sleep aid.
Ingredients: Cannabis leaves, Epsom salts, Dead Sea salts, lavender, chamomile, peppermint, and grape seed oil. Contains CBD and THC.
07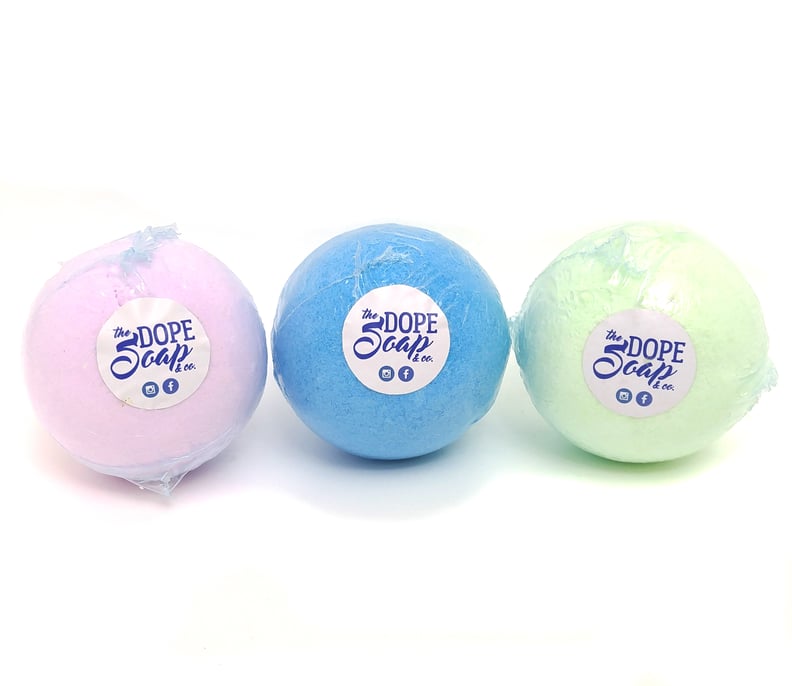 Dope Soap Bath Bombs
Said to help with alleviating sore muscles, inflammation, menstrual cramp pain, and more, Dope Soap Bath Bombs come in a variety of scents and aid in relaxation as well.
Ingredients: Baking soda, cannabis-infused coconut oil, citric acid, cornstarch, kaolin clay, polysorbate 80, water. Contains 65 mg of THC-A.
08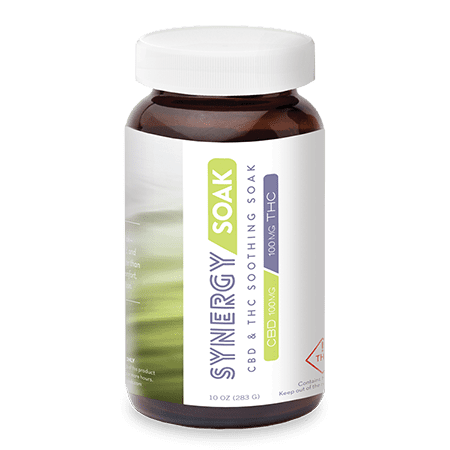 Dixie Synergy Soak
Dixie Synergy Soak has a balanced CBD:THC ratio and can be used to ease stress, relieve anxiety, and help with inflammation.
Ingredients: Sea salt, magnesium sulfate, lobelia extract (isopropyl alcohol, lobelia inflata seed extract), sodium bentonite clay, sodium bicarbonate, rosmarinus officinalis (rosemary oil), lavandula officinalis (lavender flower oil), cedrus deodara (cedarwood oil), pinus sylvestris (pine needle oil), THC oil, CBD oil. Contains THC.
09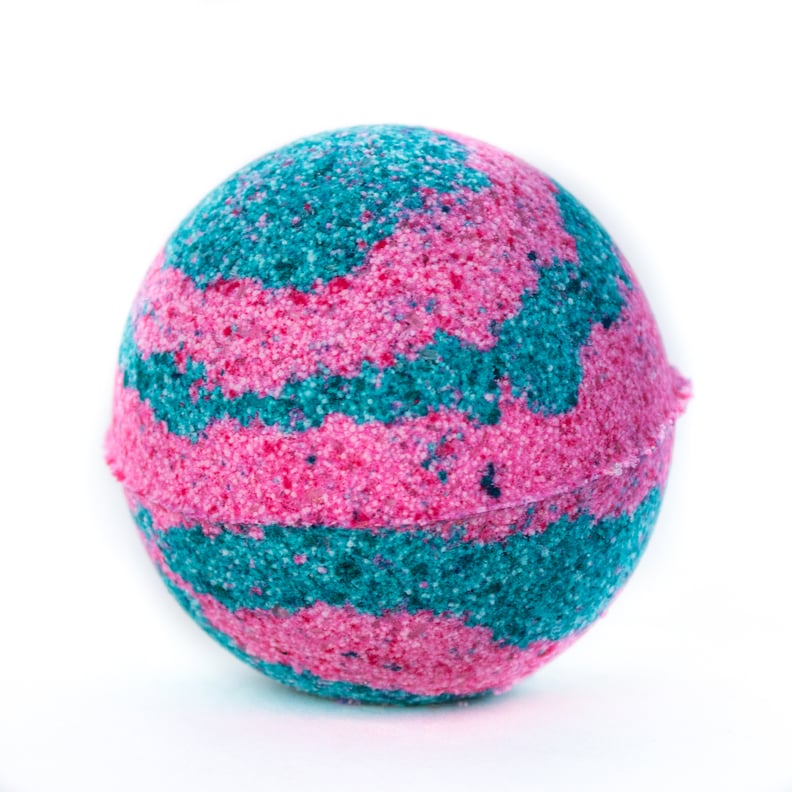 De La Beuh CBD Swirl Grapefruit Bath Bomb
De La Beuh has a wide selection of colorful, cannabis-infused bath products. The company says it aims to have items that allow cannabis to "marry bath and body." The De La Beuh CBD Swirl Grapefruit Bath Bomb offers aromatherapeutic grapefruit benefits in addition to CBD benefits such as pain and anxiety relief and muscle spasm aid.
Ingredients: Sodium bicarbonate, cornstarch, magnesium sulfate, citric acid, grapefruit essential oils, coconut oil, CBD extract, colorant. Contains no THC.
Any cannabis products referenced above are not intended to diagnose, treat, cure, or prevent any disease. The writer is not a medical doctor, and their experience is based on personal use, the results of which may not be typical or intended. The legality of cannabis products varies by state, and readers are encouraged to check their local laws before purchasing and using cannabis products. Nothing in this article should be construed as advice regarding the legal status of cannabis products. Any views expressed in this article by a third-party sponsor are those of such sponsor, and do not necessarily represent the views of POPSUGAR.