This New and Free App Will Help You Create a Routine You'll Actually Want to Stick To
You don't have to have every hour of your day accounted for, but a daily routine can help you optimize your day, alleviate and prevent stress, and keep you on task and organized. If your schedule has been disrupted and you find yourself waking up at different hours every day, forgetting or skipping workouts altogether, and needing more structure, a schedule will definitely help. If you're guilty of buying planners and calendars with the intention of using them but never doing so, consider going digital with the new Routines by Care/of app.
This free app allows you to create a daily routine, tracks how consistent each task makes you feel, then provides you with feedback on how your routine impacts your mood, sleep, and stress levels over time. If you create a routine and realize you were too ambitious or that you can accomplish more in a day, you can tweak the routine to better suit your needs.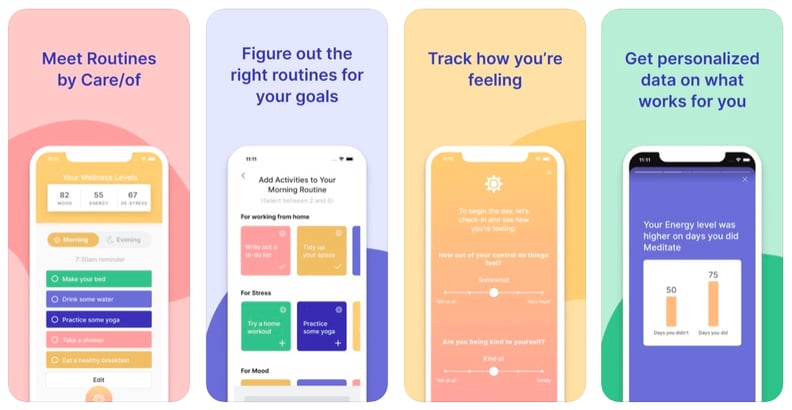 The Routines app has three key segments: goals, reflection, and the wellness score, which were designed to help you optimize your day. The goals feature allows you to track the activities you do each morning and night, and it also lets you track new things you want to try like stretching for 20 minutes, running three miles, and reading 30 minutes before going to bed. At the end of the day, you'll be prompted to answer questions about your energy levels, stress, and mood based on the goals you set for the day in the reflection portion of the app.
Based on your responses, a wellness score will be calculated, allowing you to track your wellness over time and discover which routines work the best for you. You'll receive insights at the end of each week providing information based on your habits and wellness responses. For example, when you shower and eat breakfast in the morning, you tend to feel more energized. The app is currently only available for iPhone users but will be available for Android users soon. If you're ready to get back in a groove, be sure to download it from the app store.