Spicy rosé is the It drink of the summer. Following previous TikTok food trends like baked feta pasta and pesto eggs, putting jalapeño slices in rosé wine has taken over social media — and now it's gone international. The trend has become so big that Amie Wine founders Abbie Roden and Will Sandbach have added spicy rosé to the menu of their wine bar in London. "Spicy rosé has been offered at our wine bar in Eccleston Yards in Belgravia since last week," Roden tells POPSUGAR. "We were hesitant at first but finally decided to jump on it here in the UK." Is this just another TikTok fad, or is there some method behind the madness?
What Is Spicy Rosé?
In short, it's adding jalapeño peppers into your chilled glass of rosé. "Unbeknownst to some, mixing fresh herbs, spices, fruits, and vegetables into drinks is a great way to enhance different flavors," the mixologist experts at NIO Cocktails tell POPSUGAR. "Jalapeños can diversify wine in a way that some find tasty and refreshing — some may say it is an interesting take on a classic Italian aperitif. The peppery, green flavors of a jalapeño complement the sweet, fruity tones in your rosé, adding a new depth of flavor to the drink."
If you're not a fan of heat, don't sweat it. Steve the Barman at Drinkstuff explains: "The jalapeños add just enough heat to take the edge off the sweetness of the rosé, making for a well-balanced and incredibly delicious beverage."
How to Make Spicy Rosé
To make this TikTok-famous rosé, simply combine a bottle of your favorite rosé with three or four slices of jalapeño in a pitcher or glass jar. It's as easy as that. You can drink it right away or wait a while for the chili flavor to diffuse into the drink. Steve recommends letting it sit for "at least an hour," noting the longer, the better. You should also serve it over ice for "maximum refreshment."
Any rosé will do, but a sweeter variety can help create a more balanced taste. "Sometimes the drier, more acidic wines can make the chili seem too spicy, bitter, or overwhelming in flavor," Steve says. You might also want to try it out with a cheaper bottle first, in case you're not a fan of the taste.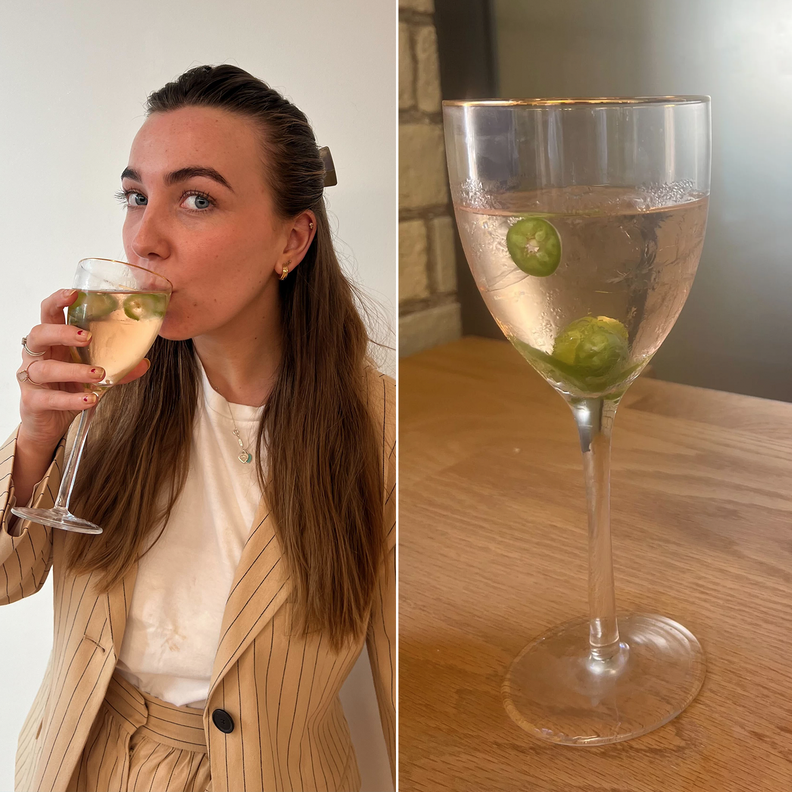 What Does Spicy Rosé Taste Like?
I didn't know what to expect from this trend and was initially hesitant. Why change something already so delicious? But after just one glass, I am hooked on spicy rosé — and that's coming from someone who isn't usually a big fan of spice. The heat was subtle to begin with, but it became spicier the longer I let the glass sit. It never became too overpowering, which was my initial fear, thanks to the refreshing ice. Jalapeños added an extra layer of interest and depth. Rosé wine is my summer go-to, but with this little addition, I can see myself enjoying a glass or two long into autumn thanks to the extra kick. So cheers, TikTok. I'll be reaching for the peppers for my next glass.