4 Survivors on What It's Like to Battle Breast Cancer — and How It Has Shaped Them Today
Hearing the words "breast cancer" from a doctor can be terrifying, but it's a reality one in eight women in the US will face during their lifetime. What's even more frustrating is that there's only so much you can do to reduce your risk, because while habits like diet and exercise play a role, there are plenty of risk factors, like your age and genetics, that are simply out of your control. If there's a silver lining, it's that advances in treatment, increased awareness, and early detection have contributed to a promising trend: there are fewer deaths from breast cancer today than 30 years ago.
Of course, statistics are little comfort when it's you or a loved one who's receiving the news. That's why POPSUGAR asked survivors to share their journeys through diagnosis and treatment, as well as the advice they'd give others battling this disease. While each woman's experience is unique, there's a common thread in what they had to say to those who are just getting started: you have to be your own advocate. Keep reading for their stories of heartbreak, hope, and survival.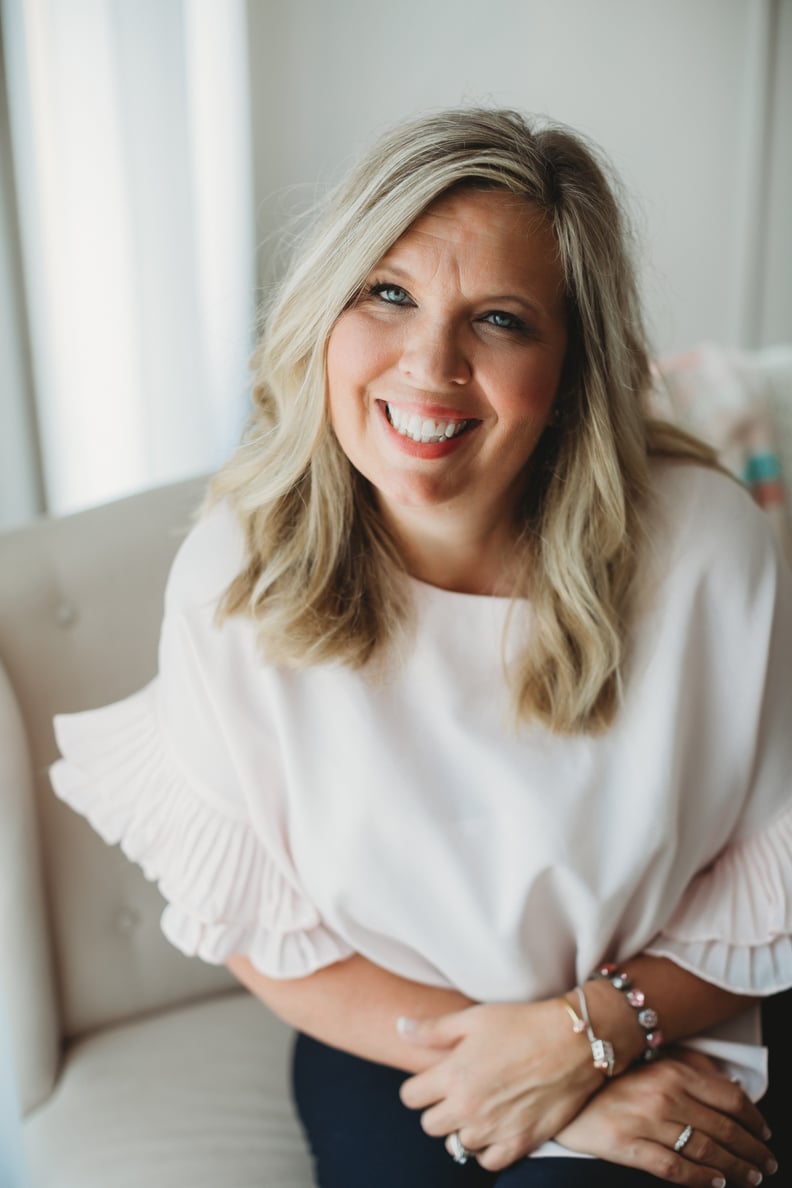 Heather Salazar, Diagnosed at 31
Heather Salazar, CEO of Pink Ribbon Girls and a mother of four, found a lump in her breast while doing a self-exam in the shower just before a weekend getaway with her husband to celebrate their anniversary. "I wasn't worried at all," she told POPSUGAR. "I had just turned 31, and I really thought I was invincible." But a trip to her ob-gyn followed by an ultrasound and biopsy led to a breast cancer diagnosis. "I was in shock," said Heather, now 45. "I couldn't feel my legs, and I couldn't stand up. I called my husband and couldn't even speak." What's more, the couple had just adopted their fourth kid after the child's mother passed away from the same breast cancer Heather had (though hers was at an earlier stage).
"I still don't feel like cancer was a gift. Quite honestly, if it was a gift I would return it. But it did teach me that life is fragile, and we never know when our expiration date will be," she said. "It lit a fire inside that helped me find my mojo and my purpose, and brought strong, empowering women into my life that have changed my outlook. It has taught me that brave people show up scared, but brave people keep on going." Heather also learned from personal experience that you're never too young to get cancer. "I was diagnosed at 31, and my adopted daughter's mother died of breast cancer at 23," she said. "Do your self-exam early and often! If you do find yourself diagnosed with breast cancer, always get a second, third, or even fourth opinion to ensure you understand your disease and your options."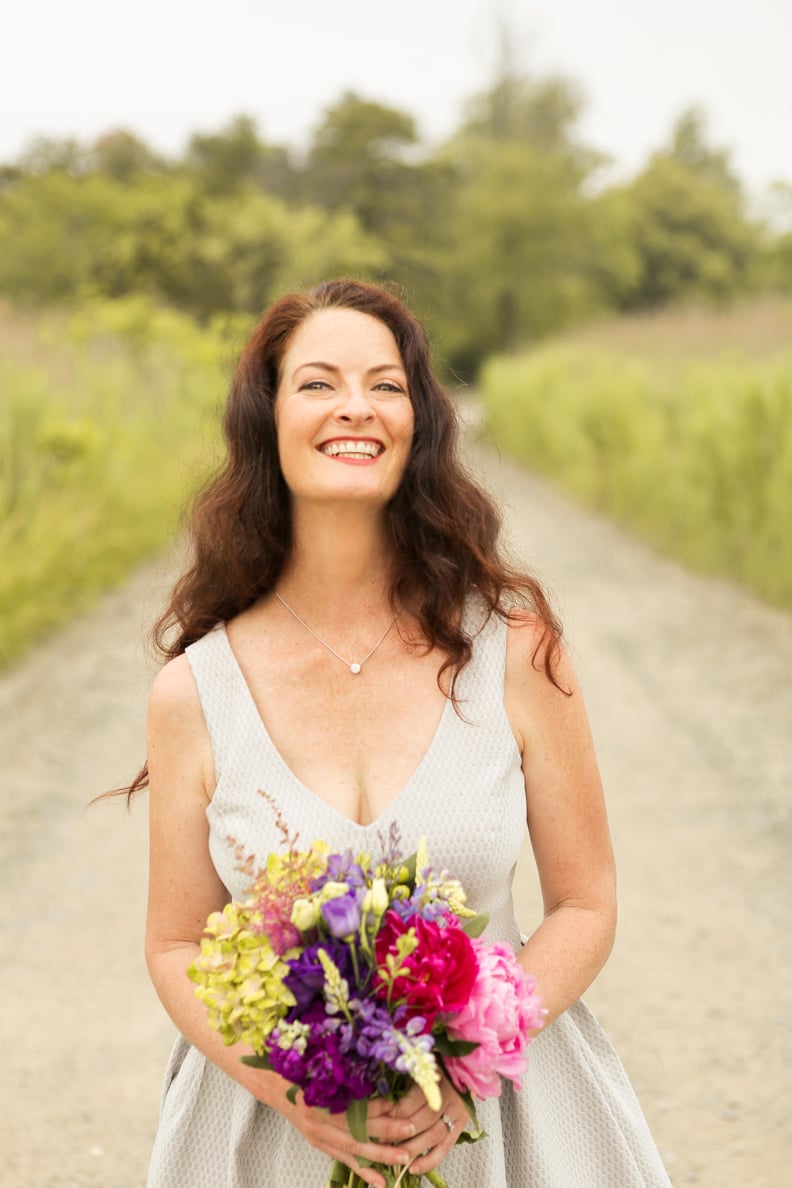 Christine Egan, Diagnosed at 42
For Christine Egan, a certified health coach and author of The Healthy Girl's Guide to Breast Cancer, man's best friend was also a lifesaver. Christine was lying on the couch one night when her dog Zoe began pawing at her upper left breast. There was a lump. Though Christine had just gotten a breast exam at her ob-gyn's office, "I followed through and made an appointment with the radiologist to have a mammogram," she told POPSUGAR. Christine was again given the all-clear, but sensing that something was off, she asked for an ultrasound. This time, doctors discovered that she had stage 2 breast cancer. "I was shocked," Christine said. "Being a healthy eater, runner, and mother, I never thought I would be the one diagnosed at the young age of 42. Cancer was the furthest thing from my mind."
Once she recovered from the news, Christine made it a point to keep up her healthy lifestyle and sharpen her focus. She took her treatment one step at a time, while creating space for the important things in her life. "I was forced to slow down while undergoing treatments, and that's when I realized all the activities I was saying yes to that didn't really matter," said Christine, now 50. "Being with my family, watching a movie, cooking a meal, walking in nature were all things I valued, and I never made those things a priority until cancer."
Asked what advice she'd give others with breast cancer, Christine said you have to become the CEO of your body. "I took it upon myself to become the chief medical researcher of cancer material, a healthy chef for myself and my family, and a great interviewer of doctors," she explained. "I never left any decision to be made solely by a medical practitioner. I did research, asked questions, said yes, said no, and — when I needed to — kept my head down to get through what was needed to get well."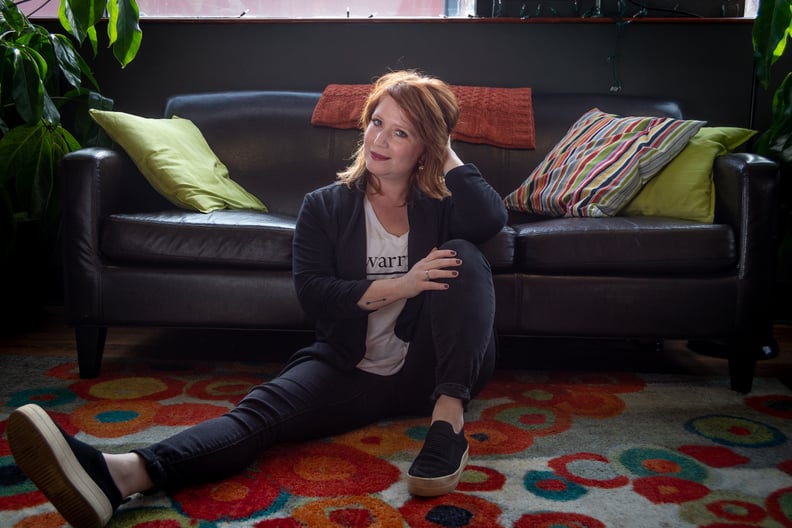 Sarah Kelly, Diagnosed at 36
"In March of 2015, I was 36 years old and 32 weeks pregnant with my second child," Sarah Kelly told POPSUGAR. "At this point in my pregnancy, I was seeing my ob-gyn every two weeks." Still, it was Sarah's arm brushing up against her breast one day — and the twinge of pain that followed — that led her to find a lump on the side of her left breast. "I associated it with changes in my breasts due to my pregnancy, but something inside of me thought it might be more than that," she said. Sarah called her sister, an oncology nurse who urged her to mention it to her ob-gyn. Just days later, after feeling another lump in her armpit, Sarah was diagnosed with stage 3 triple-negative breast cancer. "I honestly could not believe this was happening," she said. "I had no family history of breast cancer, or any cancer for that matter, so this diagnosis really hit me over the head."
Through her diagnosis and treatment, Sarah learned that cancer doesn't discriminate and nothing is guaranteed. "For my own health, I didn't want to continue working in corporate tech, and cancer gave me the push I needed to start my own company," said Sarah, now 40. She and her sister launched an organic cosmetic company, SaltyGirl Beauty, which was inspired by her own treatment process. "After losing my hair during cancer treatment, I felt like I'd lost a part of what made me feel beautiful," she said. "I ended up turning to my favorite lipstick and scarf to help me reclaim my confidence during that tough time." Sarah stressed that a diagnosis of breast cancer doesn't define a person. "Cancer is hard, it is scary, and it rocks your world," she explained. "But I hope people take from my experience that it can also be a second chance or that push to go after your dreams."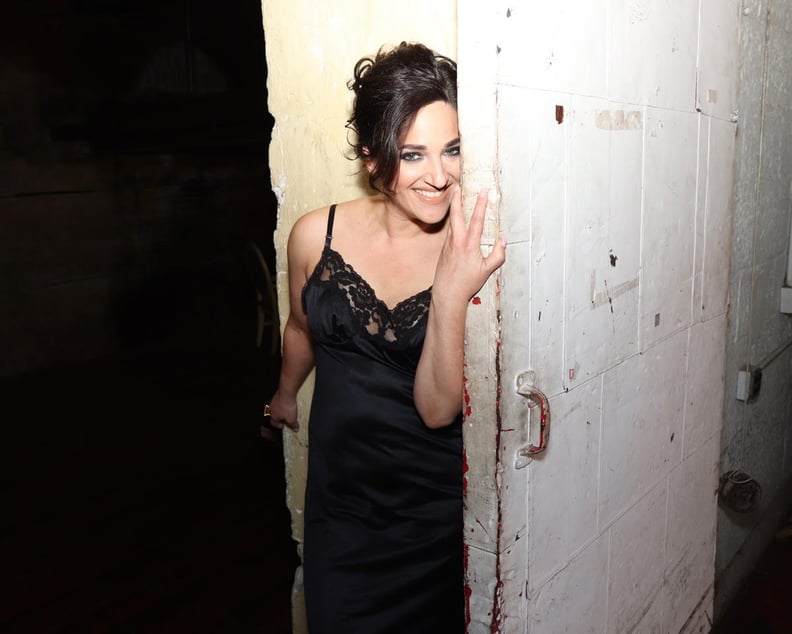 Melissa Berry, Diagnosed at 42
Breast cancer ran in Melissa Berry's family. "When I was 32 years old, my mother urged me to take the BRCA test," said Melissa, who's the founder of Cancer Fashionista, a site dedicated to help women look and feel their best throughout their breast cancer journey and beyond. "I tested positive for BRCA1, so I was closely monitored from that point on."
When Melissa was 42, a nurse found a small lump during a clinical exam; after an ultrasound and biopsy, she was diagnosed with stage 1 triple-negative breast cancer. "My first reaction was that this couldn't be real. It must be a bad dream or a mistake. You hear about breast cancer all the time, but you never imagine it happening to you," Melissa told POPSUGAR. "I actually remember thinking to myself, This must not be actual breast cancer. It's probably something else. It was nearly impossible for my mind to process everything in that moment."
With time, Melissa learned that life doesn't have to completely stop when you undergo treatment. "Losing your hair and your breasts can seem like the most defeminizing chapter of your life, but it doesn't have to be," she said. "There are fabulous wigs out there. Your hair grows back. There are many options when it comes to breast reconstruction and incredible products like post-mastectomy bras from AnaOno Intimates." With so many resources available, she emphasized that it's important to advocate for yourself throughout the process. "Ask questions," said Melissa, now 48. "For example, if you choose to reconstruct your breasts, there are many different types of implants out there. If you're considering reconstruction from the start, be sure to speak to both your breast surgeon and your plastic surgeon about it because it's truly a team effort."