Torri Huske solidified herself as a US swimmer to watch with a historic showing at the Olympic trials this weekend. En route to her first Olympic team, the 18-year-old broke a nine-year-old American record — then went ahead and broke it again the next day. Not bad for your first Olympic trials, and Huske's not done yet: she'll be vying to qualify for four more events before her competition is done.
Want to know more about this talented swimmer? Read on for six fun facts to help you get to know Huske before she makes her Olympic debut in Tokyo.
01
Torri Huske Broke Her Own 100-Meter Fly Record at the Olympic Trials
Torri Huske broke the American record in women's 100-meter butterfly twice during the 2021 Olympic Trials. In the semifinal, she swam 55.78 seconds to break the record (56.25) set by Dana Vollmer at the 2012 Olympics. On Monday night, she did one better, posting 55.66 to lower the mark once again. That's also the fastest time in the world this year, making Huske a legitimate medal threat in Tokyo.
02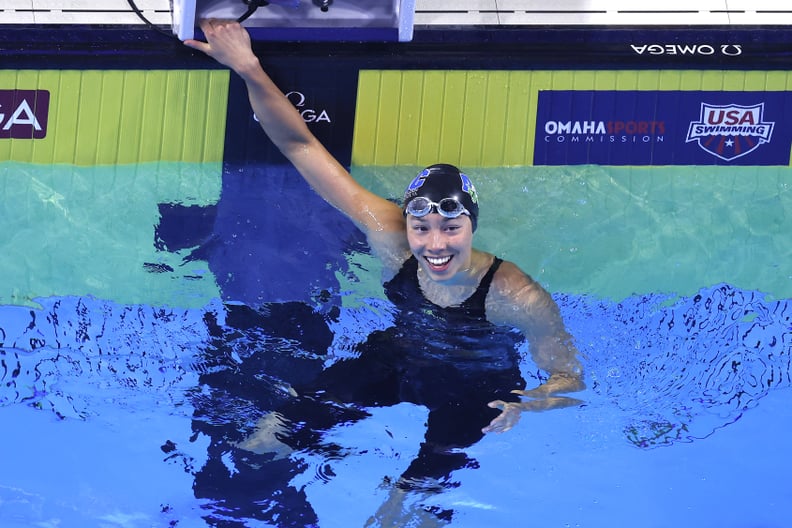 Torri Huske Used the Olympics Postponement to Improve Her Strength
Huske said she made the best of the Olympics postponement, using the extra year to get stronger and improve the second half of her 100-meter race. "The strength training made a big difference in my second 25," Huske said in a press conference at Trials. "I normally tend to just 'fly and die.' I just go out hard and kind of just see if I can hold on, so I feel like it really helped my second 50."
Huske's hard work is already paying off. Besides qualifying for Tokyo, she also posted personal bests in three events during the pandemic.
03
Torri Huske Is Committed to Stanford University
Huske committed to Stanford University last June and plans to start her freshman year in fall 2021, following the Olympics. The swimmer said she was "humbled yet proud" to take her talents to the Stanford swim team, following in the footsteps of Olympic medalists like Katie Ledecky, Simone Manuel, Lia Neal, and Maya DiRado.
04
Torri Huske Says Her Mom Is One of Her Inspirations
Huske shared that her mother grew up in a labor camp in China before earning her spot at a Chinese university. She later immigrated to America, studied at Virginia Tech, and became an IT professional, Huske said during the Olympic trials press conference. "My mom actually has a really cool story," she said. "She's a really big inspiration to me. I'm just lucky to have her."
05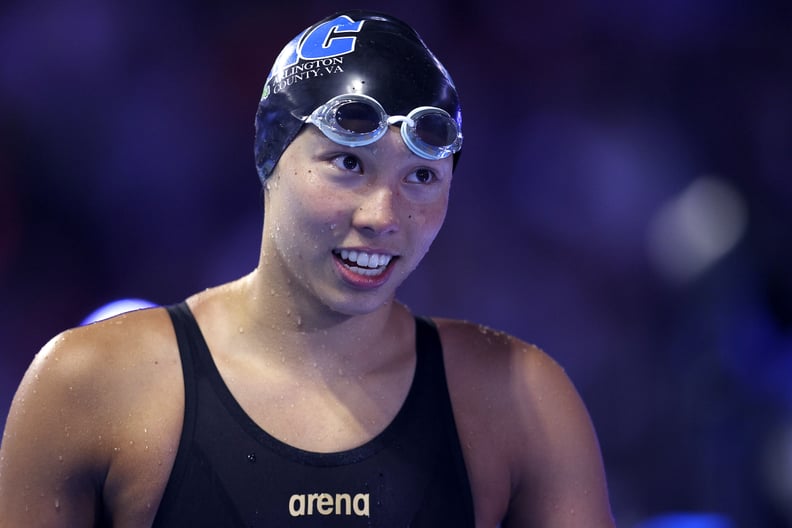 Torri Huske Swims Multiple Freestyle, Butterfly, and Medley Events
Huske has already clinched her Olympic spot in the 100-meter butterfly, but she still has three more events to go: the 50-, 100- and 200-meter freestyles and the 200-meter individual medley. Huske's ability to compete with the best in multiple events gives her an extra edge. "We love Torri's versatility, which is one of the best we've ever seen coming out of high school," said Greg Meehan, Stanford's director of women's swimming, in a Stanford Athletics article. Meehan, who also coaches the US Women's Olympic Swimming Team, said Huske is a "top performer" in her individual events with the added ability to impact relays "in any number of strokes."
06
Torri Huske Is a Talented Artist
Huske loves art and lists painting as one of her hobbies. For her senior mural (above), Huske painted a scene from Palo Alto, CA, which borders Stanford's campus.