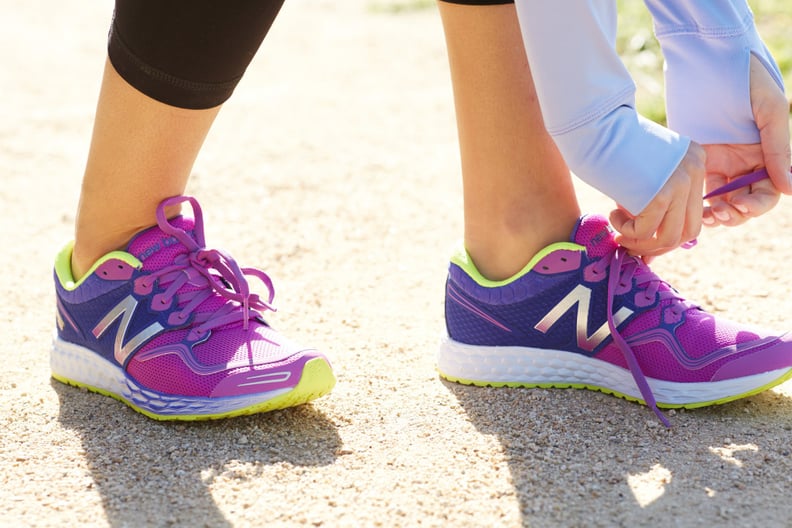 POPSUGAR Photography | Ericka McConnell
POPSUGAR Photography | Ericka McConnell
In light of recent comments showing support for President-elect Trump's opposition of the Trans-Pacific Partnership (TPP), New Balance is quite literally coming under fire from sneakerheads everywhere. The controversy started yesterday after Wall Street Journal reporter Sara Germano tweeted out the following statement from New Balance's VP of public affairs.
New Balance: "The Obama admin turned a deaf ear to us & frankly w/ Pres-Elect Trump we feel things are going to move in the right direction"

— Sara Germano (@germanotes) November 9, 2016
After Sole Collector shared the news on its Twitter feed, followers started to tweet photos of themselves burning their New Balance sneakers in protest.
It's important to note that Sole Collector's initial tweet on the issue may have led many to believe that New Balance was taking a wholly supportive stance on President-elect Trump. The company's comments were specifically about TPP, a proposed trade deal between the U.S. and 11 Pacific Rim nations, negotiated by the Obama administration. If passed, it would be the largest regional trade agreement in history and would strengthen ties between the strategic countries and, most notably, lower tariffs between them. Opponents of the TPP, who include President-elect Trump, Bernie Sanders, and Hillary Clinton, say the TPP would result in the loss of thousands of jobs in the manufacturing industry here in the US, amongst other concerns.
Of all the big-name sneaker brands, New Balance is the last to carry a "Made In USA" label, so it shouldn't come as a surprise that the company would have a position on the TPP. While a majority of New Balance shoes are made abroad, 25 percent of New Balance shoes sold in the U.S. are made in one of the company's New England factories, where more than 1,300 people are employed. This results in about four million pairs of New Balance sneakers being made stateside on a yearly basis.
When asked to clarify its position, New Balance issued the following statement to POPSUGAR:
As the only major company that still makes athletic shoes in the United States, New Balance has a unique perspective on trade in that we want to make more shoes in the United States, not less. New Balance publicly supported the trade positions of Hillary Clinton, Bernie Sanders, and Donald Trump prior to Election Day that focused on American manufacturing job creation and we continue to support them today.

We believe in community. We believe in humanity. From the people who make our shoes to the people who wear them, we believe in acting with the utmost integrity and we welcome all walks of life. Since 1906, we have carved our own path in being passionately committed to making things at our five factories in New England, even when nobody else did. New Balance and our thousands of employees around the world constantly strive to better our local communities. We always have and we always will.
When pressed further, New Balance declined to comment, but told Buzzfeed that is not interested in "getting involved in the politics of presidential elections," and that the comments previously reported were only in relation to TPP.