Cheeseburger Omelet at IHOP
Damn, IHOP's New Cheeseburger Omelet Looks . . . Insane, to Say the Least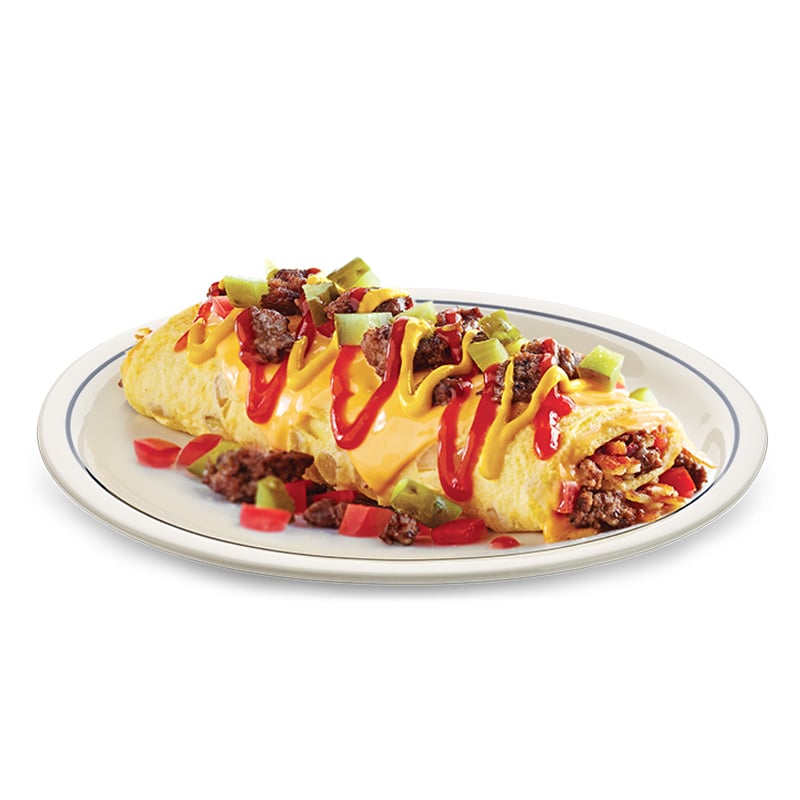 We've all been there: the clock strikes midnight as you settle into your booth at IHOP for some late-night grub. As you pore over the varied menu, you're immediately stumped on whether breakfast or dinner is the right choice. But now you don't have to decide between the two because IHOP just released a menu item that mashes up both into one glorious creation. Behold, the cheeseburger omelet.
Made with eggs, tomatoes, onions, American cheese, hash browns (OMG), and 100-percent USDA Choice ground beef, the omelet is topped with both ketchup and mustard . . . oh, and pickle chunks, too. IHOP recently added this intriguing food hybrid to its menu, along with other dishes like a patty melt and cheeseburger sliders, according to Brand Eating.
The inclusion of the yellow condiment personally makes me cringe a little, but surprisingly, the reviews on social media have been highly positive, with many praising how "freaking amazing" it is. One Twitter user claimed to have added bacon to their omelet, which sounds tasty AF.
@IHOP PLEASE NEVER STOP SERVING THIS CHEESEBURGER OMELET!!! pic.twitter.com/KGflyax0i7

— Robin Maughan (@kc8tyr) March 2, 2017
Y'all have got to try the new "Cheeseburger Omelet" with bacon at IHOP. It is soooo good! #ihop #freepromo pic.twitter.com/XbVXvTWUmF

— HipStars Ent. (@HipStarsEnt) February 18, 2017
The cheeseburger omelet from @IHOP is freaking amazing! 😍😍😍 pic.twitter.com/EmFFdfz2zz

— A. C. Carter (@Sharpellas19) April 9, 2017