Chrissy Teigen Cookbook Review
Is Chrissy Teigen's New Cookbook Worth All the Hype?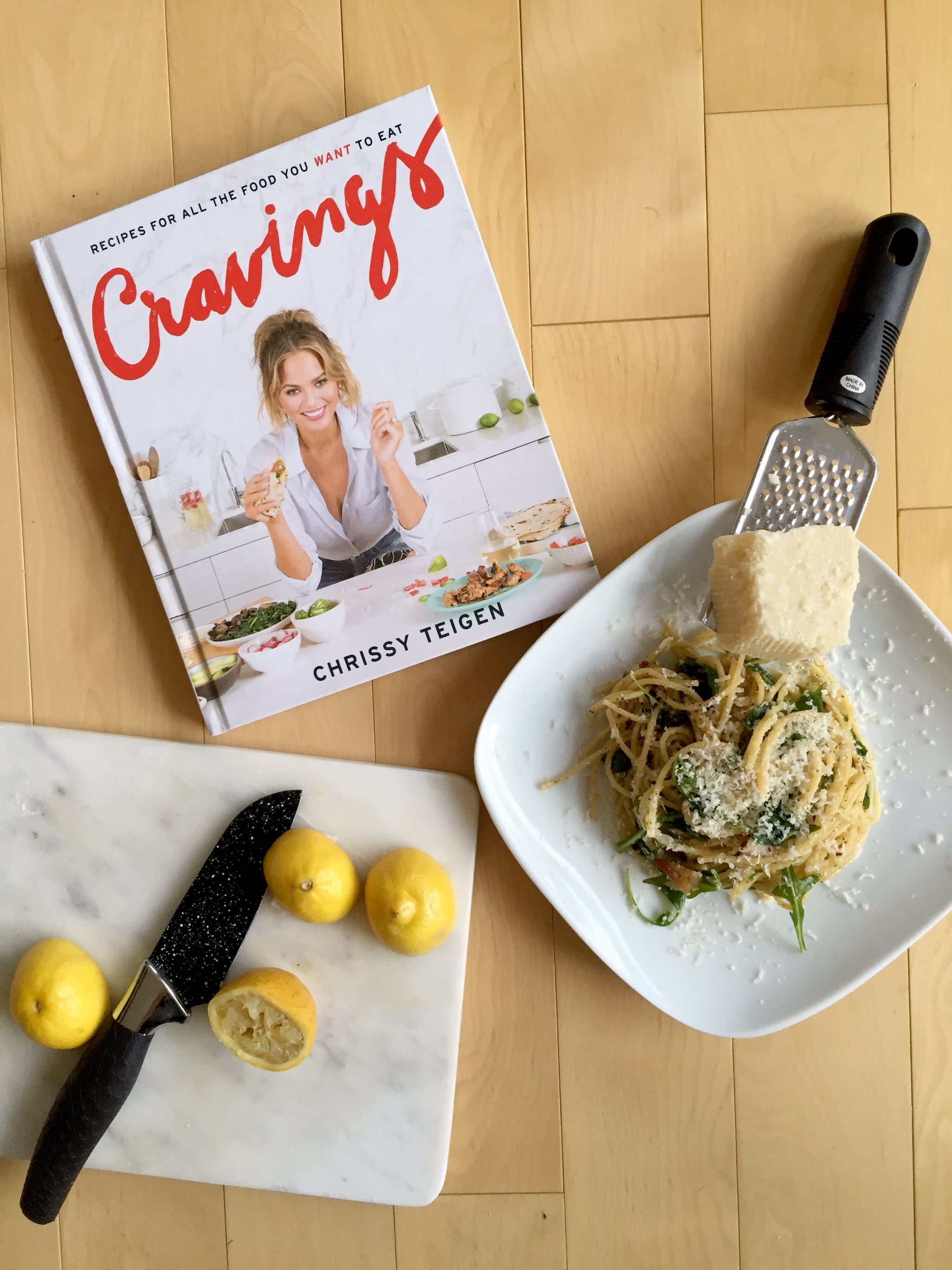 Chrissy Teigen is one of my top five favorite celebrities, and I've been dying to get her cookbook, Cravings: Recipes For All the Food You Want to Eat, since I found out about it through her Instagram. My immediate response was to comment, "@boyfriend, Christmas present plz." Since then, I've been stalking the sh*t out of her Instagram and drooling at the cookbook photos she's been posting for months. If you're one of those people thinking, "What is a model doing coming out with a cookbook? There's no way she eats like that," let me stop you there.
The culinary-school-trained cook is known for bringing honesty, humor, and sass to the table and will put you in your place if you try to put words in her mouth: "I don't want to seem like one of those annoying 'I can eat anything I want anytime' chicks. It's just that I wanted to be honest in this book about the kinds of food I love, the kinds of food I crave," she writes in the book's introduction. Chrissy told Eater, "I didn't want it to be a celebrity cookbook where you're not sure if they really cook or if they just put their name on something. I wanted people to know that these are really the recipes that we love at home."
So you can imagine my squeal of joy when an early copy made its way into my hands at work, and my exclamation of "oh my god" as I opened the cover and turned to page 4 — the photo is everything (spoiler: it's from the photo shoot where John Legend ate chicken wings off her butt). Let's just take a moment to talk about the photos: they are so gorgeous and make me say "I want to make that" every single time I turn the page (they're by photographer Aubrie Pick). Plus, the book scores major points for including photos of Chrissy and John eating breakfast sandwiches in bed, demonstrating the definition of relationship goals, etc. It's like a food magazine and a fashion magazine had a baby.
Then comes the food. The food. I've never been more excited to flip through a cookbook in my life. The book is broken up into sections entitled Breakfast All Day, Soupmaster, Salads (For When You Need Them), Noodles and Carbs, Thai Mom, Party Time, Sh*t on Toast, Vegetable Things, Things That Intimidate People but Shouldn't, and Supper. Being the carb-obsessed Italian that I am, I immediately lit up at the "Noodles and Carbs" section and knew I had to make the Lemony Arugula Spaghetti Cacio e Pepe, which is one of Chrissy's "top five in the book."
If there's one thing I know well, it's pasta, and let me tell you . . . this pasta is amazing. Here's everything that's in it: pancetta, olive oil, garlic, lemon juice, red pepper flakes, LOTS of black pepper, parmesan, and arugula. It's like a combination of spaghetti aglio e olio and cacio e pepe — heavy on the garlic, spice, and cheese. I've only made it once and I can already tell it's going to make its way to my list of go-to easy dinners.
Also at the top of my must-try Chrissy recipes was a soup — she doesn't call herself the soup master for no reason, I assumed. So I tried out her chicken pot pie soup with crust crackers because her intro spoke to me: "This needs to be in some sort of hall of fame. It needs a ribbon in the county fair, its own show on TLC. They will literally put anything on television." While I'm pretty sure you won't see a show on TLC sometime soon called Chicken Pot Pie Wives (no promises), I am sure that this deserves to be in the soup hall of fame. It's way easier than scratch-made chicken pot pie, and more enjoyable, too. Scooping up the creamy, hearty soup with crispy, pie-crust crackers is basically the definition of eating comfort food.
After my experience cooking from a book I've thought about for a long time, I can say it lives up to the hype 100 percent. Chrissy officially has my soupmaster-nickname approval, and I know that I'll soon crave much of the food in Cravings.
Related:
Image Source: POPSUGAR Photography / Erin Cullum