Disneyland Gingerbread Funnel Cake Fries
Important Announcement: Disneyland Now Has Gingerbread Funnel Cake Fries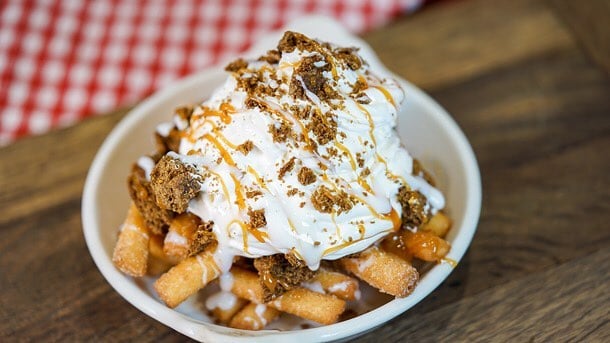 Image Source: Disney
Disney is constantly adding new menu items to its holiday lineup, and the latest one is really good. Exclusively at Disney California Adventure's Award Wieners, visitors can indulge in what might be the result of a dessert-themed round of Mad Libs: gingerbread funnel cake fries.
Disney announced the decadent holiday dessert in a recent post on the Disney Parks Blog. It basically consists of funnel cake that's been shaped into stringy fries and topped with gingerbread crumbs, a dollop of whipped cream, and a caramel drizzle.
Though it hasn't been available for long, parkgoers already seem to be catching on. A Disney event planner shared a picture of her gingerbread funnel cake fries, shown below, and they look damn delicious. Sure, they don't look exactly like the funnel cake fries shown in Disney's extremely glossy picture, but we'd enjoy them any day — holiday or not.