Freddie Prinze Jr. Cookbook
The 2 Recipes You'll Want to Make ASAP From Freddie Prinze Jr.'s New Cookbook
In an effort to get her husband, Freddie Prinze Jr., on Facebook, Sarah Michelle Gellar hosted a Facebook Live event to talk mostly about our favorite subject: food. We know and love Sarah's baking subscription service, Foodstirs (the brownie fries are ridiculously tasty!), but are you aware Freddie recently wrote a cookbook? It's called Back to the Kitchen: 75 Delicious, Real Recipes (& True Stories) from a Food-Obsessed Actor ($28), and it just came out this Summer.
Facebook Live special guest: Freddie Prinze Jr.

Posted by Sarah Michelle Gellar on Wednesday, September 14, 2016
Freddie tells fans they can expect more than just a book of recipes. "I put a bunch of stories in there that relate to every single recipe. I wanted to let you know that Sarah and I have very similar lives to you guys," he says in the Facebook Live video. Of all the recipes, his favorites include the steak. "I love steak so the steak rub. It doesn't make it too spicy, but it puts a little heat in there. I grew up in New Mexico, so everything has heat," he explains. But then . . . there's something called the "green sauce." "If I had to pick just one thing, it would be the green sauce, because we can use it on so many things. We put it on steak, we put it on tacos, we put it on chicken. We use it as the best guacamole you'll ever have."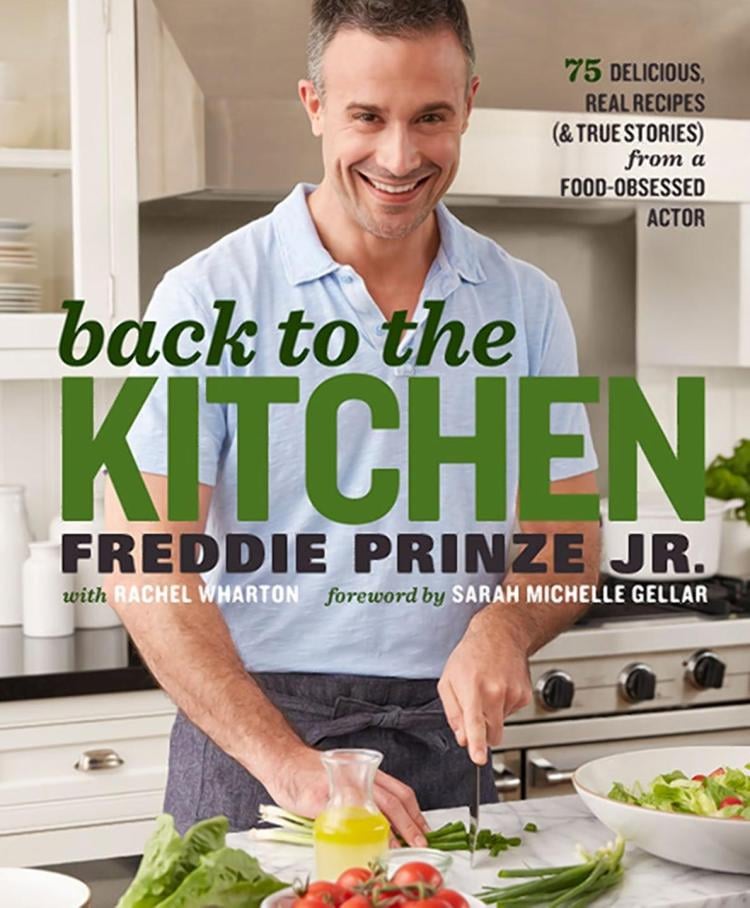 Being from New Mexico, it's no surprise that Freddie's go-to ingredient is New Mexico green hatch chiles. "They only distribute them once a year . . . That's my favorite ingredient. They're not readily available to everyone. We have to buy a ton and freeze them to use all year and even then we run out. So I substitute with a lot of Anaheim peppers [and] a lot of poblano peppers," Freddie says. Just remember the golden rule when it comes to freezing peppers. You must deseed them before freezing or the capsasin (aka the spicy stuff) from the seeds will seep into the flesh of the peppers, and they will "become super-duper hot." Noted! Here's hoping Freddie finally joins FB once and for all, so we can see more of his culinary chops in action.