How Chefs Make Chocolate Chip Cookies
This Is How All Your Favorite Chefs Make Chocolate Chip Cookies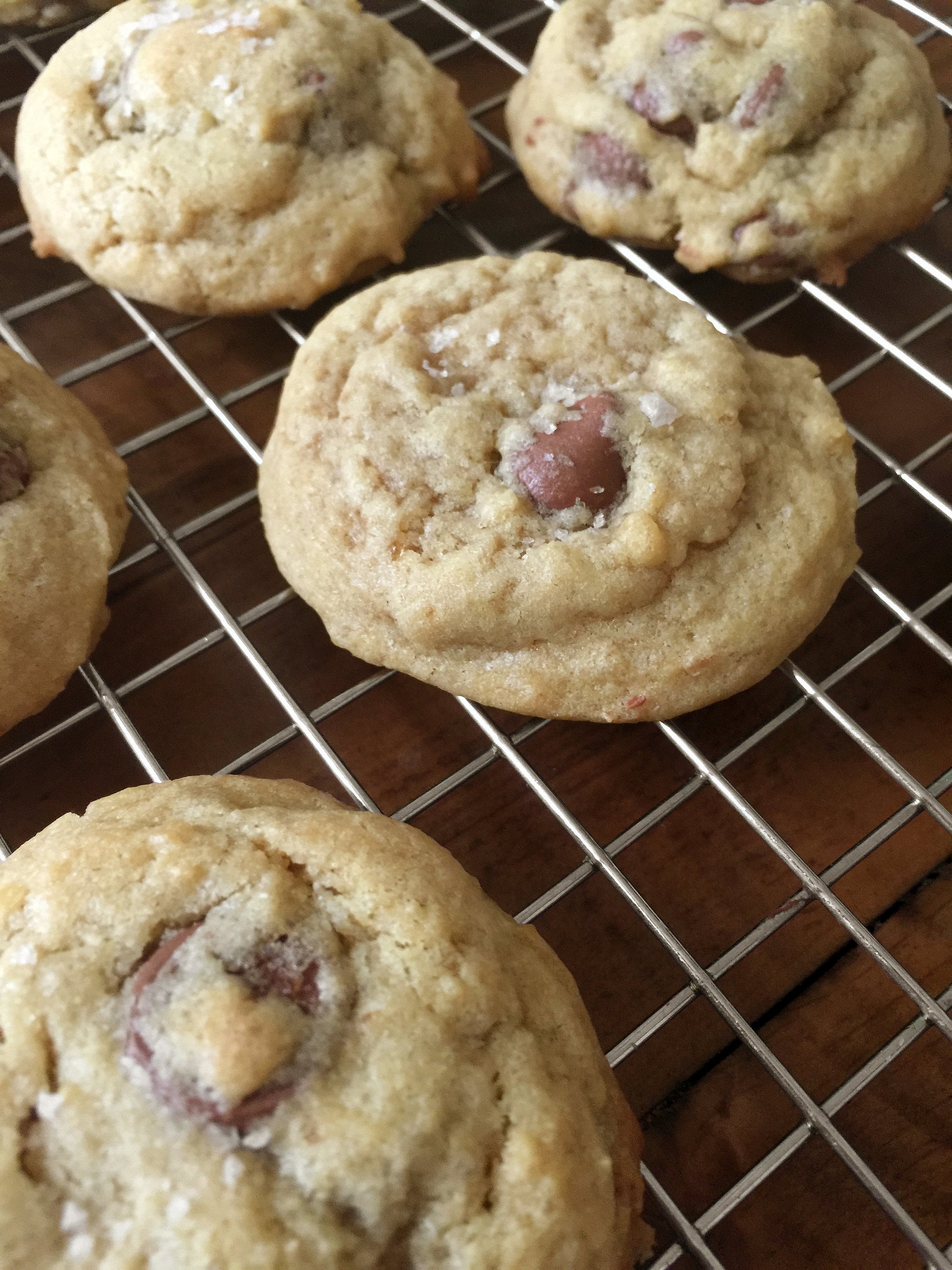 Chocolate chip cookies are one of those staples that are simple yet complicated to make. If you've ever screwed up a whole batch, you already know that following the recipe to a T makes all the difference, and that small changes can have a big impact. For example, using bread flour instead of all-purpose flour creates a cake-like texture, adding more brown sugar than white leads to more chewiness, and incorporating secret ingredients (like instant coffee) alters the flavor in the best way. When seeking cookie advice, who better to turn to than some of the best celebrity cooks? Here's what Alton Brown, Mario Batali, and more experts recommend.
Alton Brown: With Bread Flour
Alton Brown's "The Chewy" chocolate chip cookie recipe has a five-star rating out of more than 1,100 reviews, so you know he's doing something right. To ensure chewiness, he uses bread flour instead of all-purpose flour ("Bread flour can absorb much more liquid than all-purpose flour," he explains), one whole egg plus one yolk ("Egg whites dry out baked goods"), and a whole cup of brown sugar ("The darker the sugar you use, the chewier the cookies are going to be"). His recipe takes a little more time than average (you have to chill the dough for one hour), but if you'd rather have melt-in-your-mouth chewy cookies than firmer cookies, it's worth it.
Giada De Laurentiis: Add Hazelnuts and Toffee
Giada always takes a classic recipe and puts a slight twist on it, making us say, "Why didn't we think of that?" Her hazelnut chocolate chip cookie recipe requires toasting the hazelnuts before chopoping them, which brings out their flavor even more. With a combination of semisweet chocolate chips, supersweet toffee candy, and crunchy hazelnuts, there's a more complex variety of flavors and textures than the average chocolate chip cookie.
Ina Garten: Chocolate Chunks Instead of Chips
Ina Garten's chocolate chip cookie recipe is pretty standard, except she opts for chunks instead of chips (and extralarge scoops of dough on the pan) for maximum meltiness throughout the cookie.
The Pioneer Woman: 3 Different Ways
The Pioneer Woman has a chocolate chip cookie recipe for every mood (and every preferred level of chocolate). Her basic chocolate chip cookie recipe is "my go-to chocolate chip cookie recipe when I need 'em in 30 minutes or less. It's like the Domino's Pizza of all my chocolate chip cookie recipes," she says. It's actually not so basic, though, because she sneaks in two secret ingredients: instant coffee granules and flaxseeds. Things get even more interesting with her browned butter chocolate chunk cookies, and her third recipe is on the next next level: triple chocolate cookies.
Mario Batali

: 100 Percent Italian

Are you ready for the list of unexpected ingredients in Mario Batali's chocolate chip cookies? Heavy cream, olive oil, ground cloves, cinnamon, nutmeg, and cocoa powder. Batali's recipe is for traditional mostaccioli cookies, an Italian chocolate cookie popular during the holidays. As if the chocolate cookies aren't rich enough, they're topped with a smooth chocolate glaze. Needless to say, Mario's recipe is for chocolate-addicts only.
Bobby Flay

: All About the Brown Sugar

Bobby Flay's chocolate chip cookies get a darker color and chewier consistency thanks to two different kinds of brown sugar (light and dark muscovado sugar). He also uses an ice cream scoop to dollop heaping spoonfuls of dough on the pan — with plenty of space in between each one — to ensure there's enough space for the cookies to spread.
Emeril: Supersized
"Why make a bunch of small cookies when you could make a giant cookie cake?" Emeril must have thought when he developed his popular giant chocolate chip cookie cake recipe. As long as you have a pizza pan, you won't have to make much more of an effort than you would with a regular recipe, and you'll have a homemade cookie cake that's infinitely better than store-bought.
Image Source: POPSUGAR Photography / Anna Monette Roberts