How Chefs Make Quesadillas
This Is How All Your Favorite Chefs Make Quesadillas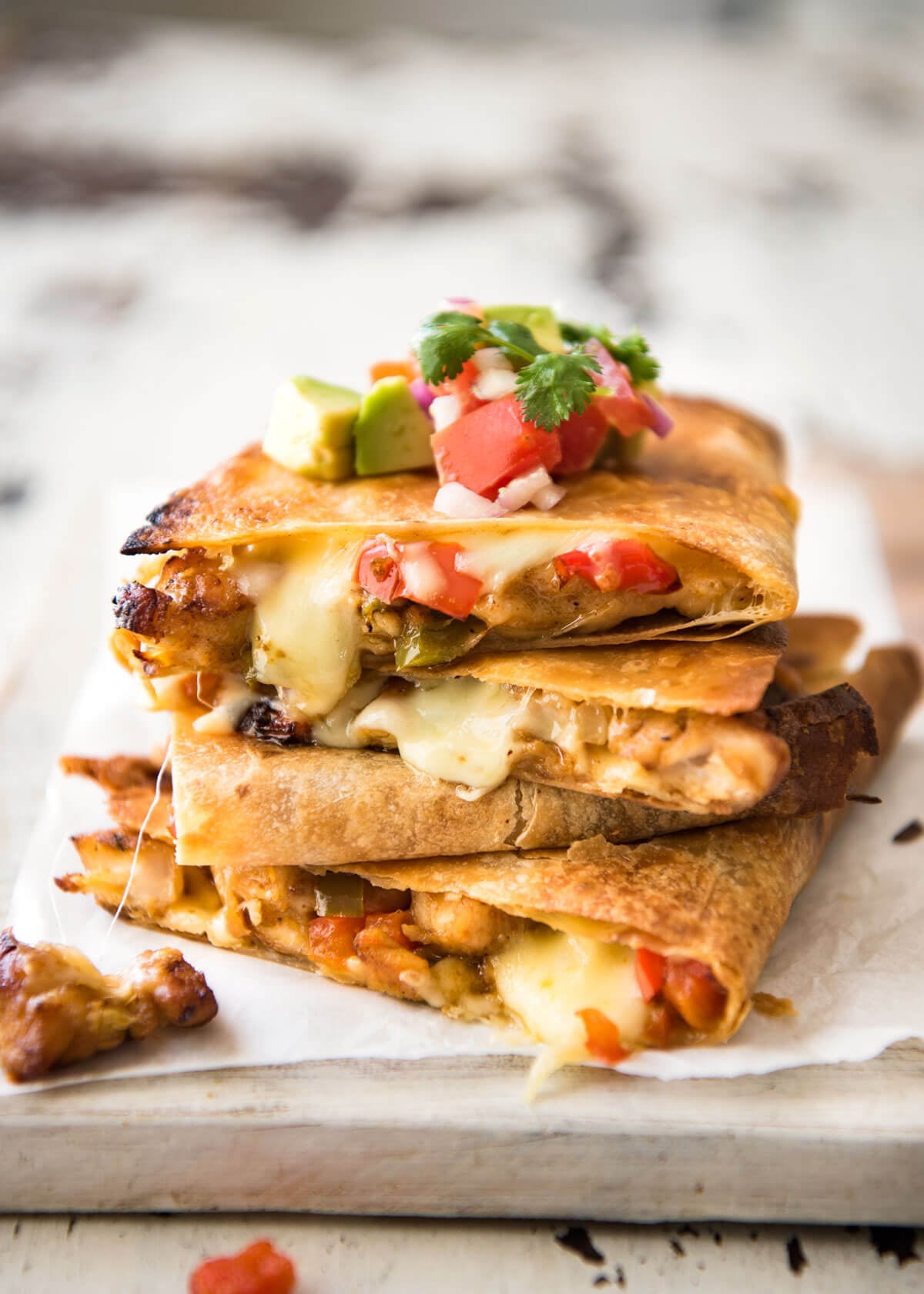 A basic recipe that almost every person learns in this lifetime is quesadillas, like this chicken quesadilla from Recipe Tin Eats (as pictured). Though you may think you've mastered it, these recipes from prominent Food Network stars and chefs will open your eyes to a whole new world of melting cheese in between a tortilla. While some of these contain traditional Mexican ingredients, many of these recipes take inspiration from other cuisines like Southern and Italian.
Giada De Laurentiis: Italian Quesadillas
Faster than pizza, Giada's Italian quesadillas are loaded with grated fontina, roasted red bell peppers, caramelized onions, and parmesan.
Patrick and Gina Neely: Smoky Quesadillas (Minus the Grill)
This cheddar and apple quesadilla received "two doses of smoke" according to Gina thanks to the smoked cheddar and bacon crumbles.
Marcela Valladolid: Ahi Tuna Quesadillas
Even seafood belongs in a quesadilla, as shown in Marcela's chile-spiced ahi tuna quesadillas. Shredded Oaxaca cheese binds beautifully in a corn tortilla with seared albacore tuna steak slices.
Rachael Ray

: Chorizo Quesadillas

Quesadillas don't need too many ingredients to still be flavorful. Rachael's chorizo quesadillas receive most of the spicy heat from the chorizo (which can be subbed with andouille for a Louisiana flair).
Sunny Anderson: Fully Loaded Southwestern Quesadillas
Do you have random things in your fridge lying around? Sunny Anderson recommends making a Southwest quesadilla stuffed with bell pepper, onion, corn, refried beans, and pepper jack.
Tyler Florence: 1,000-Layer Quesadilla
Pork tenderloin, corn, blue cheese, and pickled jalapeños combine for a triple-decker quesadilla that Tyler has cheekily dubbed 1,000-layer quesadilla.
Ree Drummond: Easy Chicken Quesadillas
"Fun fact: quesadillas were my number one pregnancy craving," Ree shares in her video for easy chicken quesadillas. She sautes the chicken in a cast-iron skillet and serves her quesadillas with freshly made pico de gallo.
Nigella's version of quesadillas includes cured ham, pickled jalapeños, and cheese. She "insist[s] this is the best use of the tortilla ever."
Guy Fieri: Coyote Quesadilla
What the heck is in a coyote quesadilla? Guy calls for "pre-crunching" the tortillas, ie, toasting them before loading them. They're loaded with refried beans, blackened chicken, mozzarella (or "motz," as Guy calls it), cheddar, onions, and more. "It's like 15 pounds of cheese," Guy jokes.