How Gordon Ramsay Roasts a Turkey
The 1 Thing Every Home Cook Should Own, According to Chef Gordon Ramsay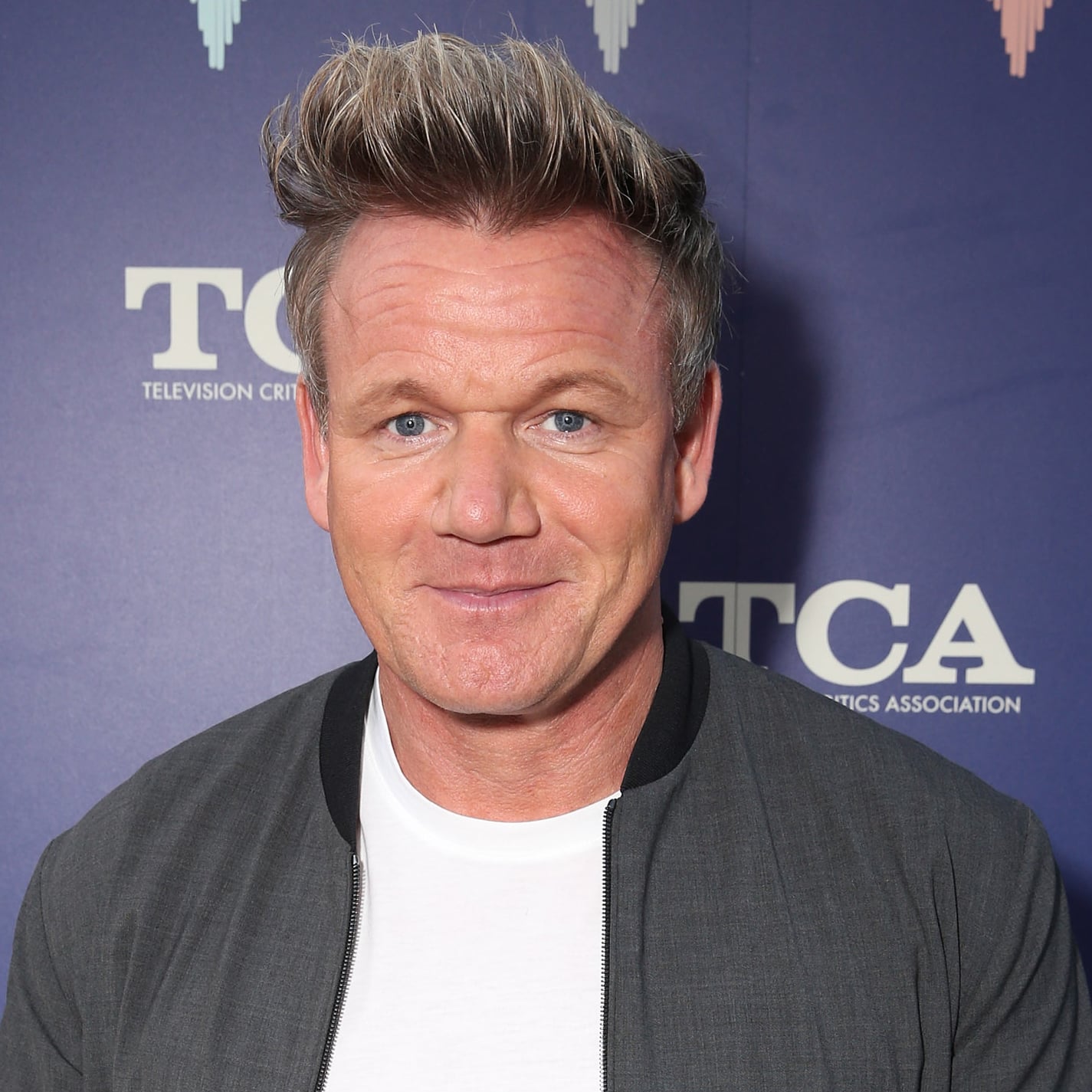 Image Source: Todd Williamson / Denise Truscello
Gordon Ramsay has had quite the year, which is why we've named him a top chef of 2016. Yet when I spoke to the chef in recent phone interview, the focus wasn't on his tremendous accolades, but rather on young people in the kitchen and equipping them with the right information and tools to gain confidence in the kitchen. We spoke about the upcoming season of Masterchef Junior, what cooking values he's instilled in his own children (now teenagers), and the essentials to stock in a kitchen, even on a budget. Spoiler: one's an airfryer.
POPSUGAR: Happy belated birthday!
Gordon Ramsay: Shh! No one is supposed to know that! I've lived 50; I'll live 50 more. I had the most amazing dinner. We're shooting right now, Masterchef Junior. We had two treats. One in Vegas. My 15-year-old daughter, Tilly, and I actually have the same birthday. So, we never have it apart and she said, "Dad, look, you have way too many birthdays under your belt. It's time to celebrate mine." We have some exciting stuff going on in Vegas with new Fish & Chips shop. We have dinner at Bazaar Meat by José Andrés, which was just incredible. She came and did the challenge with Masterchef Junior, with the kids, which was incredible.
We flew up to San Francisco. I had lots of friends fly in, 10 of us, and had dinner at Saison. It was exceptional. Honestly, it was even better than last time, which is quite rare when you go back for the second time . . .
We had golden caviar that was wrapped in seaweed and smoked from an albino sturgeon, which is quite rare. It sat over a bed of sea asparagus and tiny little broth. The big outstanding one was this briefly cured wild turbot that was done with a Japanese citrus broth [and] topped with peaceful salad leaves. It was exceptional. You got through nine to 10 courses and it was balanced. I think that's the secret. Leaving the table without having to feel like you have to take to bed for days afterward. Few chefs can get that right.
PS: You mentioned your new Vegas restaurant, Fish & Chips. How can home cooks make legitimately good fried fish at home?
GR: We get this incredible, sustainable Alaskan cod. Lightly salt the fish [in rock salt] in order to extract some of the moisture. Once you extracted some of the moisture it gets rid of the sogginess, so it becomes some what firmer and holds the batter so much better. [Cut the fillets] four to five inches long, one and a half inches wide. The problem sometimes when making it at home is that the fillets are so big. You worry about coating the whole thing. The thickening agent in terms of what makes our batter crispy is we use fizzy water. We season our batter a touch of custard powder. Custard powder gives it a touch of sweetness but also helps to make a really crispy batter.
PS: What's the best way to roast a Thanksgiving turkey?
GR: I mastered turkey a long time ago. The best way to [roast] a turkey is to separate the crown (and cook it with a beautiful citrus, herb-scented butter underneath the breast) and roast the legs off separately on a bed of vegetables with a touch of red wine. It brings a really nice flavor to the brown meat. Because, you know [roasting a turkey whole], if you cook the breast perfectly, the legs are undercooked. If you cook the legs beautifully, then the breast is way overcooked.
The secret behind any great turkey is letting it rest. And never slicing it piping hot, because it's so lean and the minute you slice it, it becomes dry. Stand it on its head, upside down, and turn it every 30 minutes to even distribution of the juices to make sure every slice is moist.
Image Source: Getty / Denise Truscello
PS: Do your kids want a career in food?
GR: They've all been cooking for a long time. I was in danger of having spoiled kids, four little brats that become food snobs and walk around thinking, "my dad's got Michelin-starred restaurants. I don't eat pizza and In-n-Out Burger." For their birthdays, about 10 years ago, I bought them turkeys, sheep, and pigs. To make sure they understood the importance of the traceability of bacon or a rib or pork and know where that meat comes from. They started to rear their own animals early on. We have pens in the back garden. They didn't get too close to them in the way that they fell in love with them. Tilly did, a little bit, but then she had to understand what happens to them once we've reared.
I think cooking should be conservative, because it's so fundamental that we understand how to cook for each other or cook for themselves to give that level of confidence, self-esteem, and a sense of achievement. If they follow in my footsteps, you know what? It needs to be a natural want and hunger. The youngest is 15. The twins are 16, and Megan is 18. They have a possibility of going into the industry, but they need to get their asses kicked first before they come back to their dad. That's for sure.
PS: How have your kids started using airfryers?
GR: When I introduced them to the Philips Airfryer, I told them it was the best sous chef they will ever have in their entire lives. Holly, one of our twins, she is into her kale chips. Jack will put anything and everything in there. He is a steak man, so he cooks rib eye. Tilly is a little more dainty. She likes, I suppose, if it's not a roasted vegetable salad, she's roasting fish in there. Megan, as any student would be on a budget — quite a breakthrough for us, because that's the first member of the Ramsay and the Hucheson family (my wife's family) to be going to university. She's now hosting these little dinner parties called Friday Fryer Parties. All her friends come around for a 10-course menu, all coming out of an airfryer. It's very funny.
Image Source: Getty / Steve Jennings
PS: What kitchen items are essential for young adults to own?
GR: First off, an airfryer without a doubt. Portable, easy to clean, and low-maintenance. Secondly, a good knife. The secret to a great knife is a weighted handle. Great set of knives with wonderful handles. If your grip is steady and you got that confidence running through that knife, it's all about the handle. A chopping board. And then, I always like the staples. A great microplane, for grating. Whisk, bowls, and then go to the staples in the pantry. Dried spaghetti, olive oil, dried chilies, onions, and garlic powder. You'll be surprised what you can eat with that on virtually $5. Even with those staple ingredients without any protein.
PS: Many people are ordering delivery meal subscription boxes these days. What are your thoughts on this trend?
GR: We work with Blue Apron on Masterchef Junior, where [the contestants] are creating food from the box. What scared me was the numbers that have been increasing of the people who have the subscriptions. My assistant Justin Mandel also confessed to me on the way home that night that he is also subscribed to Blue Apron. I don't mind you using that two to three times a week because of time restraints and pressure. I get that. But strolling through a supermarket and a farmers market, being spontaneous and going through incredible ingredients is quite refreshing, rather than everything becoming idiot-proof. But I understand time is of essence, so you can have it both ways. Just don't depend on it. Use it as a time restraint only, when it's only necessary.