Rap Songs With Food in the Title
Bon Appétit, B*tch: The Best Rap and R&B Songs With Food in the Titles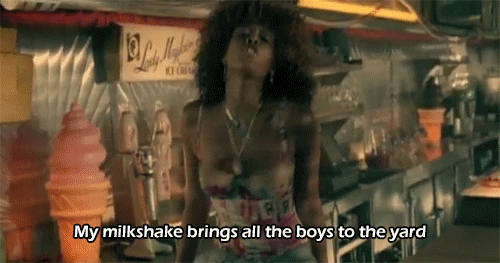 Source: Sony Music
Rap and food go hand in hand, from 2 Chainz's album liner notes cookbook #MealTime to the iconic Notorious B.I.G. line "go fill my belly, a T-bone steak, cheese eggs, and Welch's grape." With that in mind, we rounded up the best rap and R&B songs with food (metaphorical or otherwise) in the title. (Sorry, "Lollipop," you didn't make the cut.) Watch the videos below, or save the Spotify playlist to listen later. Warning: it should go without saying, but many of these videos border on NSFW.
1. "Ice Cream," Raekwon
2. "Lemonade,"
Gucci

Mane
3. "Diced Pineapples," Rick Ross ft. Wale, Drake
4. "Birthday Cake (Remix),"
Rihanna

ft.

Chris Brown
5. "Brown Sugar," D'Angelo
6. "Collard Greens," Schoolboy Q ft. Kendrick Lamar
7. "Sugar (Gimme Some)," Trick Daddy ft. Ludacris, Cee-Lo Green, Lil' Kim
8. "Pound Cake/Paris Morton Music 2," Drake ft. Jay Z
9. "C.R.E.A.M.," Wu-Tang Clan
10. "Milkshake," Kelis
11. "Cake," Trey Songz
12. "Ice Cream Paint Job," Dorrough
13. "Sippin on Some Syrup," Three 6 Mafia ft. UGK, Project Pat 14. "Cookie," R. Kelly 15. "Peaches & Cream," 112 17. "Fat Rabbit," Ludacris 18. "Laffy Taffy," D4L 19. "Molasses," Raekwon ft. Rick Ross Honorable Mention: Action Bronson's mixtape, Bon Appetit . . . B*tch!
With eight food-related titles — "Aged Manchego," "Mofongo," "Roasted Bone Marrow," "Chilli Chicken Hakka Style," "Shiraz," "Dabble in Truffles," "Ceviche," and "Amuse Pusche" — this mixtape from the former chef and Vice host had to be included. (Its title also inspired our headline.)
The Playlist
To listen to the playlist below, download the free Spotify software or app.
— Additional reporting by Andrew Armenante