Turn Your Cinnamon Rolls Into Chips and Dip
ZOMG! A Can of Cinnamon Rolls Transforms Into Chips and Dip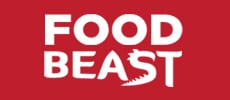 Our partner Foodbeast shares breaking food news, trendsetting recipes, and more with us. Today, Isai Rocha is sharing chips and dip made from a can of cinnamon rolls.
The warm and crunchy taste of homemade chips and dip can be the star of your party and if you remix it with a little sweetness, even better.
Inspired by food blogger Oh, Bite It's cinnamon roll chips recipe, we jumped in the kitchen and tried them for ourselves.
The step-by-step wasn't too crazy. We simply popped open some Pillsbury cinnamon rolls, floured them up, flattened them out with a rolling pin and cut them into triangle-ish slices.
Then the fun part came as we heated up some cooking oil and fried up these little suckers.
When they got nice and brown on both sides, we sprinkled some sugar and got ready to get our dip on.
For the frosting, we chopped up some bananas, topped them over some store-bought cream cheese frosting and had ourselves some dessert-friendly chips and dip.