Source: POPSUGAR Photography / Matthew Barnes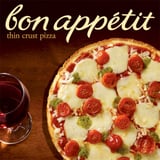 Valentine's Day isn't just about your significant other. We've partnered with Bon Appétit™ Pizza to bring you creative ways to show your best girlfriends just how much they mean to you.
When your girlfriends are the true loves of your life, a proper celebration is in order come Feb. 14. They've been there with you through the ups, the downs, and everything in between. This Valentine's Day, it's only fitting that they get the appreciation they deserve. From rounding up your gal pals for some quality time to sending them thoughtful little surprises, there are plenty of ways you can spread the love. Ahead we've rounded up six cute ways you can give your besties some major feels.